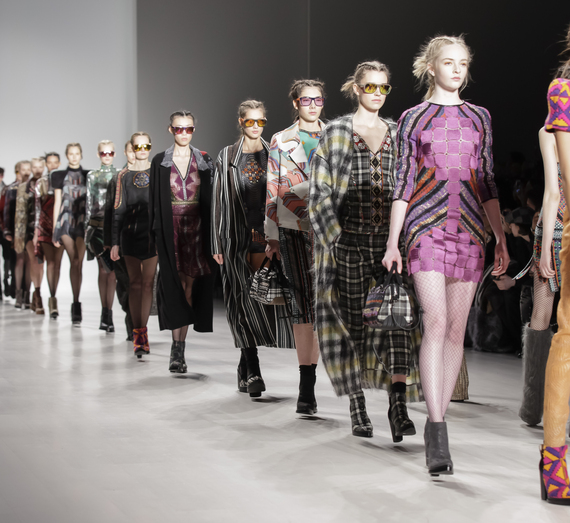 Open any business magazine and it seems like the technology and health industries are moving at the speed of light.  In 2016, so is fashion. Between fabric recycling technologies, closed-loop strategies and new business models, fashion is at the forefront of its biggest shakeup ever. Here are 7 start-ups that have the potential to bring big change, and we bet you've never heard of any of them:
Queen of Raw - A new digital platform for designers to connect with suppliers to source raw materials. Bypassing traditionally long lead times, large minimum orders, and shipping costs that often exceed the value of the raw materials, Queen of Raw features materials with short lead times, local inventory, and low minimums.
Why it's important:
Reduces the need for further manufacturing and reduces waste. Suppliers to the industry are able to offer unsold inventory and dead stock (rolls of fabric that are no longer in production) to a previously unreached audience of designers big and small.
FABSCRAP - Launching this summer in NYC, FABSCRAP offers convenient recycling and reuse of fabric scraps, cuttings, samples, headers, mutilated items, and unused bolts from fashion businesses.
Why it's important:
Reduces waste. Either as a one-time pickup or regular service, FABSCRAP ensures pre-consumer material is handled responsibly and provides waste diversion metrics for sustainability reports.
The Renewal Workshop  - Partnering with the world's best-loved apparel brands and retailers to renew their "unsellable" returns and excess inventory, The Renewal Workshop, in their facility outside of Portland, Oregon, gives each garment new life as Renewed Apparel through our proprietary processes. The Renewed Apparel is then either sold back to the brand, to be sold through their sales channels, or sold through their own retailer network.
Why it's important
: Reduces of waste. Especially for goods that have been produced and are ready for sale except they need a little mend. Plus any product that can't be renewed, The Renewal Workshop responsibly manages the upcycling, downcycling, or recycling of it in order to optimize the resources already invested in it.
Electroloom - The worlds first 3D fabric printer. Electroloom creates 3D seamless fabrics, opening the door for on-site manufacturing of finished clothes. The future vision of Electroloom is for it to serve as a distributed manufacturing technology for a variety of textile verticals--including clothing and beyond.
Why it's important:
Reduces the supply-chain required for creating a fabric good. Perfect for customization and small batch production.
TIPA Sustainable Packaging - TIPA has developed a new generation of flexible films and packaging that can go through a  natural recycling process following their original use, exactly like an orange or a banana peel.
Why it's important:
Reduces plastic waste. Every department store across the country requires apparel to be individually wrapped in polybags. If the industry switched to TIPA bags, the fashion industry will drastically reduce their plastic footprint.
dMASS - Has developed an innovation matchmaking platform that connects companies and innovators to deliver sustainable benefits. Its technology brings opportunities to grow from unexpected insights: fabrics that help cells regenerate, organisms that make lace, and sharing economy models of fashion.
Why it's important:
Speeds up innovation. By connecting innovators with mainstream brands, the industry can move forward at a faster rate.
Made Safe - Is America's first human-health focused certification program to cross consumer product categories (including textiles and apparel).  Full disclosure our EIC sits on their board of advisers. Made Safe certifies products against a comprehensive list of known toxicants to ensure that they do not contain known harmful chemicals. They take a look at how items are made, where they are sourced, and scour the manufacturing process for possible contamination points in order to determine if the ingredients or materials in a product are safe.
Why it's important:
Consumers can now look for the
MADE SAFE™
label to ensure products are
Made With Safe Ingredients™.
This article originally appeared on www.magnifeco.com
REAL LIFE. REAL NEWS. REAL VOICES.
Help us tell more of the stories that matter from voices that too often remain unheard.