What is the underlying essence of your brand?
If you've just developed a brand and are preparing to bring it to market or if you're working with a brand that's lost its way, identifying its essence can be tricky. One of the best ways to get to the root of question is to focus on the following 7 steps in 3 stages.
Identify Cornerstone Characteristics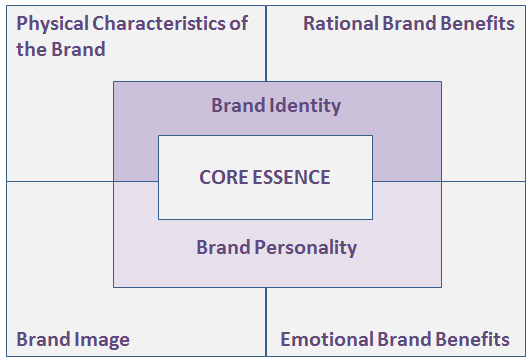 Identify High Order Personality
Once those four cornerstones are in place, the next step involves identifying higher-order functions of the brand.
Brand Identity. In this second level, the facts and symbols of the brand must be identified. Typically, these are the distinctive shapes, sizes, images, fonts, and other similar details that will represent the brand. Consumers and customers might even begin to recognize the brand based on these elements alone. Think about the unique shapes of the Heinz ketchup and Coca-Cola bottles, or the forest green colour of John Deere tractors and the robin's egg blue of Tiffany.
Brand Personality. The second level also includes identifying the brand personality. For instance, if the brand were a person, what would they be like? Relevant and differentiating personal characteristics are necessary to help create and reinforce loyalty. Examples could include being known as dedicated and trustworthy, family oriented and friendly, or fun and light-hearted. Think about how you know that the quirky strange commercial you're watching has to be an Old Spice commercial.
Identify Top Level Essence
The third and last level consists of one item.
CORE ESSENCE. At this top level, the brand essence is identified. A brand's core essence is the short form of what the brand 'is.' With just a few key words, the essence summarizes and links to the full brand promise or positioning. It combines its most important benefits (functional and emotional) with the desired brand personality. The best 'essences' lead to brand promises that are meaningful to the desired consumer target segments. They are also credible and ownable for the brand, and they provide a differentiated advantage versus the competition or other options.
Once these 7 steps have been completed, a brand will have all the necessary information to create a solid marketing plan and continue confidently to market.
REAL LIFE. REAL NEWS. REAL VOICES.
Help us tell more of the stories that matter from voices that too often remain unheard.
This post was published on the now-closed HuffPost Contributor platform. Contributors control their own work and posted freely to our site. If you need to flag this entry as abusive,
send us an email
.