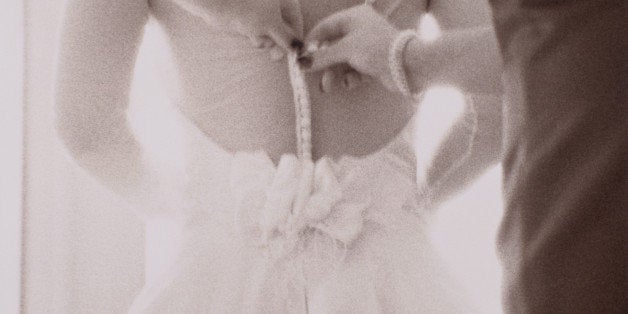 1. Set your budget and stick to it
No proper planning can begin until a budget is confirmed. Talk to the contributors and discuss realistic figures to ensure that everyone understands the true cost of a wedding.
Once you know how much you have to play with, allocate a portion to each major element of the wedding: food and drink; venue hire; the bride's attire; photography; entertainment and music; flowers and décor; stationery. This will provide you with a balance sheet to juggle as you gather quotes and costs.
Hive off a portion of cash as a contingency fund for mathematical mistakes or that unexpected dress alteration...
2. Address tricky family situations
Gone are the days when a bride and groom had simple family structures. Today, families come in all shapes and sizes, and traditional wedding etiquette has had to adapt to accommodate these changes.
If there are bad feelings between family members, for example divorced parents or estranged siblings, then address and attempt to solve them early on. As the wedding planning progresses, things only become more stressful. If you have sorted out the people problems, it's one important thing to cross off your stress list.
3. Choose a good team
The success of a wedding is not only down to good planning and coordination, but also great people. The bride and groom's supporting teams should be considered carefully and chosen not only for friendship, but also good organisation and communication skills.
The bridesmaids should know the bride well, and be prepared to support her during the planning process as well as on the big day. The ushers may be required to offer less emotional support, but they are essential organizers and ensure that everything runs to plan on the wedding day.
4. Find your dress
It's true what they say: you'll know as soon as you put it on. Wedding dresses are like no other item you have ever worn, not least because of their ability to provoke extreme emotion.
Shop with an open mind and limited company. This is the time to be with just your mother or best friend; many wedding dress shops will not allow lots of friends to accompany brides to fittings. Fall in love with your dress without the interference of many opinions, and then surprise and dazzle everyone on the big day.
5. Decide on children
Some couples love the idea of a wedding day filled with children, whereas others find themselves terrified of the unpredictability and chaotic nature of little people. If a no-kids policy is decided, handle it carefully and be clear. Stick to your decision and don't make any exceptions to the rule.
It's likely that the majority of your guests will respect your wishes and make suitable arrangements (and relish the thought of spending a great day without the kids), but it's also likely that there will be a few guests who make you feel uncomfortable or even guilty. Remember, it's your day, and your decision.
6. Prioritise Seating Plans
Never underestimate the time-consuming nature of the dreaded seating plan. Some tables will come together naturally, whereas there will be a handful of individuals -- exes, arch-enemies, incompatibles -- who cause a headache. There may also be family situations to manage, meaning that there are many tables with family members rather than one 'top' table.
Seat guests as best you can, with a balance of personalities and interests, ensuring that everyone knows or at least has something in common with one other person on their table. If things really get too political, then consider a sweetheart table and hope that everyone else can put aside their differences for just one happy day.
7. Have fun!
Planning a wedding is a once-in-a-lifetime experience, so try to enjoy it. There will be tricky situations and important decisions to make, but some humour, good communication and a sense of balance will go a long way in the months up to the big day.
One thing that many people forget to tell the bride and groom is that the wedding day is fun. The planning can create so much angst and be so time-consuming that it overshadows the true joy of celebrating with your nearest and dearest, and marrying the love of your life.
Related