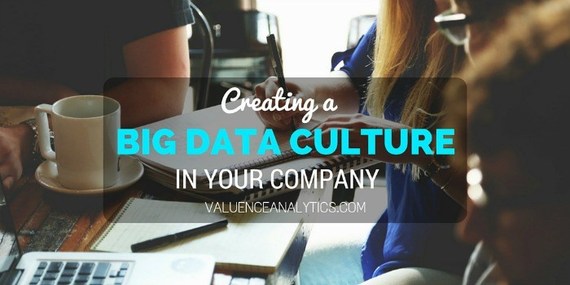 You know that big data can transform your company's business results. But do other people in your organization share your view?
Throughout history people have been taking business decisions on the basis of gut feeling or their past experiences. Relying on data is a phenomenon which came about only in the last few decades. Now we are taking the next big step in using data - asking businesses to move beyond the realm of everyday data and adopt big data analytics.
For most people and organizations, this is not an easy thing to understand or appreciate. People would have numerous questions and objections. They might look at big data as another passing management fad.
Many are quite happy with the analytics they have been using so far and find it difficult to see why they need to take a new approach to analytics and decision making.
For any major organizational initiative to succeed, you need your people to support it. Big data will need to become part of your culture for you to realize the gains from it in full. Here are seven steps to building a big data culture in your organization.
1. Be clear about what you want to achieve
Before you begin to build a data driven culture, you need to have a clear idea about what you want to achieve through a big data initiative. What are your expectations? Which areas of your business will you target?
Do you want to optimize your supply chain? Segment your customers or prospects more efficiently? Reduce financial risk?
Before talking to a large number of people about big data, talk to a small group of key people to develop an initial direction for the project. Do your research and make a basic plan. This will help you build a strong case for what you want to achieve. Before you can convince others to support the project, you will have to develop a certain level of clarity about what you want to achieve and what the project involves.
Keep in mind that your big data analytics goals should be aligned to your company's strategy. That will make it a lot easier for your people to appreciate the importance of your big data project.
2. Get key people on board
Begin your big data journey with a small project. That project will help you to understand what is involved in this new approach to analytics and decision making.
You will need to create a group of stakeholders for this project. This should include people from the division to which the project pertains, as well as people from other divisions who have a secondary role in the project.
For instance, if its a marketing project, you would naturally need to involve the marketing head and key people from the marketing team. but you might also need to involve people from your IT team and your product team.
To expedite the success of your big data project, the senior leadership of the company will need to be involved. An Economist Intelligence Unit Report from 2015 indicated that the ownership of corporate data strategy has been migrating upwards. While big data projects were earlier being owned by executives at the business unit level, more and more CIOs and CEOs are taking ownership. Ownership at a C-suite level makes it far easier to get something done.
The key stakeholders will be responsible for executing the big data project as well as act as champions for creating a big data culture. In time you should create roles for people with specialized expertise who will take care of big data projects. Many organizations are creating a C-Level role of Chief Data Officer.
3. Promote a data-driven mindset
Everyone in your organization will not be involved in your initial big data project. However, there is an extremely important direction that you need to take your organization in right from the beginning of your big data journey. Your entire organization needs to begin taking more decisions that are based on data and evidence.
This cause needs to be championed by the senior leadership. They need to lead by example by using more and more data in their analysis and decision making process. Your senior leaders should ask managers to support their all their propositions, reports and presentations with data. Everyone needs to appreciate the importance of accepting data and metrics as being crucial to their success. This is a foundation that needs to be built before you can truly create a big data culture.
Create champions who will evangelize a data driven approach to decision making. Reward people who adopt a more data driven approach in their everyday work.
You company's past successes have not been built with big data analytics. Even if you are already a data-driven organization, many decisions that your people have made have been on the basis of gut feelings and past experience. Therefore, be prepared to expect a lot of skepticism about what big data can do. Many people might feel that it's unnecessary. Some might feel reluctant to share data across departments. Others might feel threatened by the advent of a technology they understand little about.
It's really important that you anticipate these objections. What do the senior leaders feel about big data? What will other influencers within the company think? Only once you anticipate these objections will you be able to address concerns and align the priorities of various people across the organization.
While addressing objections, you must take into account people's emotional responses.
Alan D. Duncan, Research Director, Gartner, recommends that leaders trying to build a data-driven culture must actively address people's emotions. "When it comes to using analytics for influence, the facts are of little importance until the psychological and emotional aspects of an issue have been addressed," says Duncan.
Don't just state the facts about the benefits of big data. Appeal to people's emotions and address how it will make their jobs easier and help them grow in their careers. Make them feel safe about the transition. Make them feel excited about the possibilities that big data will bring - for the company and for themselves.
To create a big data culture, you will need to systematically educate your people about its benefits. Big data will make people's work a lot easier, eliminate guesswork and reduce waste. Create a formal mechanism to train the people who will be directly involved in the big data project.
To create a culture of big data, you can't limit yourself to only the people involved in the project. They will need the support of their colleagues across the organization to make it a success. Before people extend their support, they will need to appreciate the importance of big data. That's why you need to educate everyone. Get influencers on board to play the role of big data champions. They will have to formally train people as well as informally build a big data culture across the company.
Once you begin to derive insights from your big data analytics project, make sure you take action on those insights. Taking action is another step in sending the message how important data-driven insights and decisions are to the company.
Educate people about the insights that have been gained and celebrate the win. That will inspire people even more to adopt a data driven approach and be keen to take up more big data projects.
Imagine an organization where everyone understands the importance of big data - where using big data analytics is part of a company's culture. That organization will have the ability to significantly outperform it's competitors. That's why it's so important to take serious initiatives to build a big data-centric culture - to get that extra edge!
What action will you take today to create a more big-data driven culture in your organization?
REAL LIFE. REAL NEWS. REAL VOICES.
Help us tell more of the stories that matter from voices that too often remain unheard.