The Philippines is an island nation located in Southeast Asia. The country consists of over 7,000 islands, each offering its own unique culture, scenery and vibe. You could spend a lifetime trying to see the many faces that this country has to offer, so each time we visit we travel slow, enjoy each place we come across and try to capture all the beauty of the Philippines along the way.
This is a small collection of drone photos from our most recent trip to the Philippines. We made it our mission on to create amazing images and video of the Philippines and inspire people to travel outside their comfort zones and see more of the world.
Caution: You might want to buckle up, these kinds of photos have been known to cause severe, untreatable wanderlust that often results in impulse flight bookings and the urge to explore. You've been warned.
Pass Island, Calamianes
Pass Islands is part of the Calamianes and is accessible by special request on a day trip from Coron Town. While one might think it to be crowded due to its proximity to Coron, it surprised us in being quite remote and quiet. Most people take trips to Coron Island and very few hire boats and venture off to the surrounding islands in this group. This is why we love spending time in this area and of the 8 collective weeks we've spent in the Philippines, the reason we keep coming back.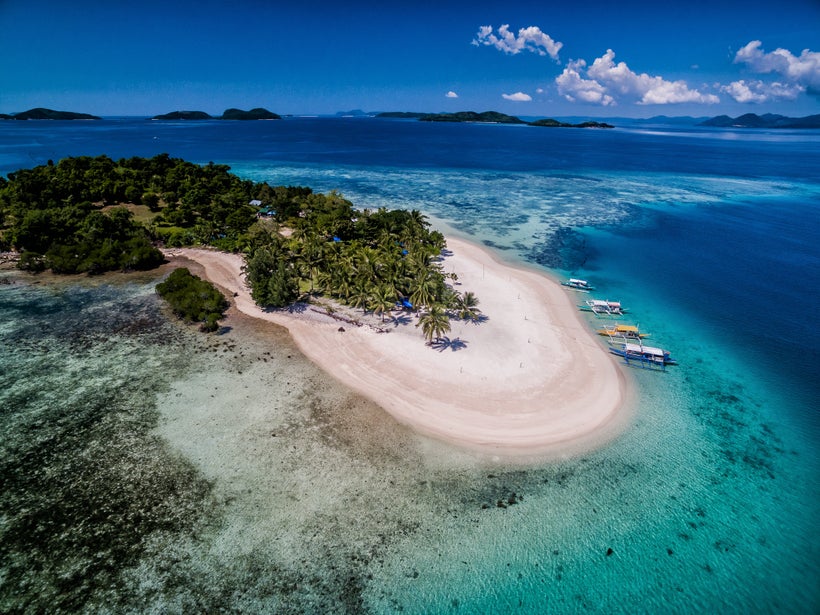 Lusong Gunboat Shipwreck
Northern Palawan is world renowned for it's abundance of WWII shipwrecks. Most of them are accessible for diving and some are even accessible to snorkelers. This particular shipwreck was our favorite out of the sites we visited. It sunk in shallow water so the depth ranges from 0m to 20m, meaning you can get a really close look at the gunboat when you are in the water. The gunboat is covered in a wide array of healthy coral and we even spotted a clown fish family living on the wreckage. It also meant it was very visible from the air, making a great opportunity to capture this unique aspect with the drone.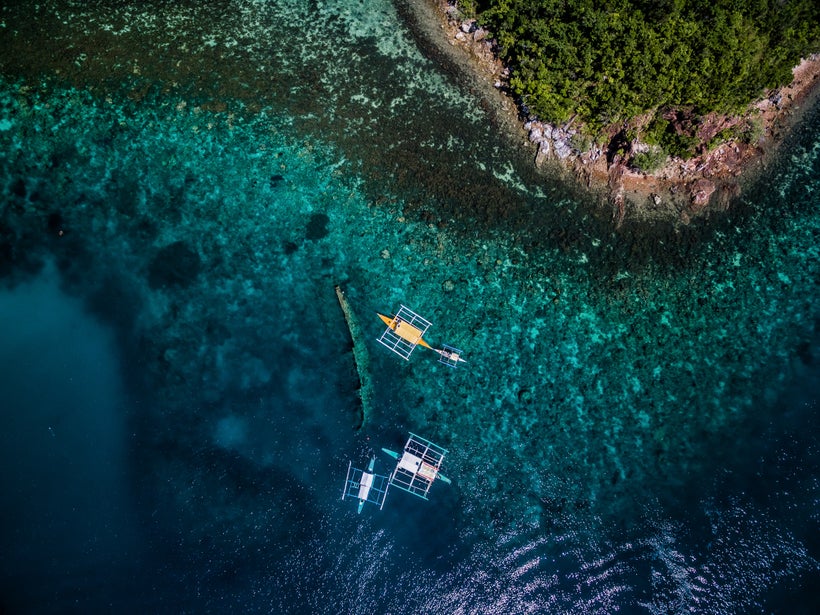 Busuanga Island
Most people book a flight to Coron from another place in the Philippines, land at the airport and head straight to Coron Town. They spend a day in the town and make a day trip to Coron Island before leaving the area, never to return again. If you do this, you are seriously missing out on one of the last frontiers in the Philippines.
Busuanga is rough, rustic and virtually untouched and we discovered this gem on our last visit to the Philippines in 2014. When we got the chance to return again, we jumped at it. We based ourselves at the nature inspired Palawan Sandcastles and enjoyed our days hiking, swimming, snorkeling and kayaking around the area. It's a long trip from Coron Town on unpaved, washed out roads accessible only by 4×4 and it's a marvelous adventure.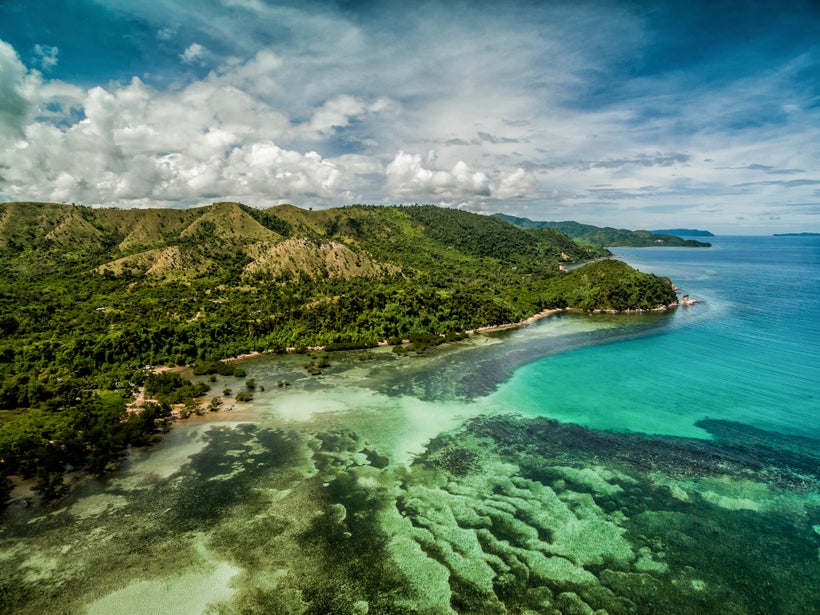 Bulog Dos Islands
While this group of islands is a fairly popular stop with day trippers from Coron Town and located right next a posh resort property, they are worth a stop if you find yourself boating around the area. The snorkeling is great here with shallow reef to explore. When you get out of the water, make sure to strap on some shoes and climb up to the top of one of the islands for a better view of the area, it's a short hike and not very steep.  Of course, it won't look like it does from the drone, but it will be the next best thing.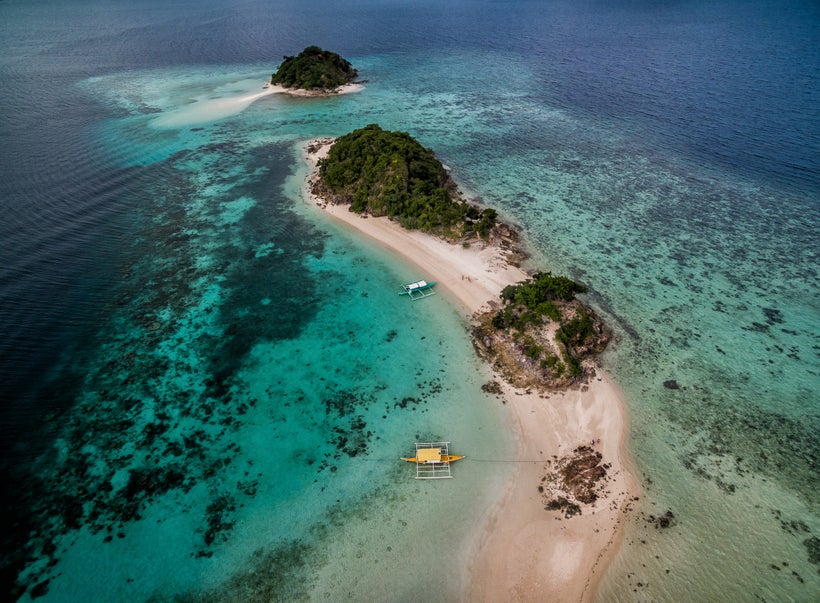 Banana Island
From the air, Banana Island is very dramatic and the vision of tropical calendars. We had docked at this island for a lunch break on our second day of boating through the area. We knew the photos would be great when we saw white sand beaches and shades of water but had no idea just how great this island would look from the air. These photos scream the Philippines on so many levels.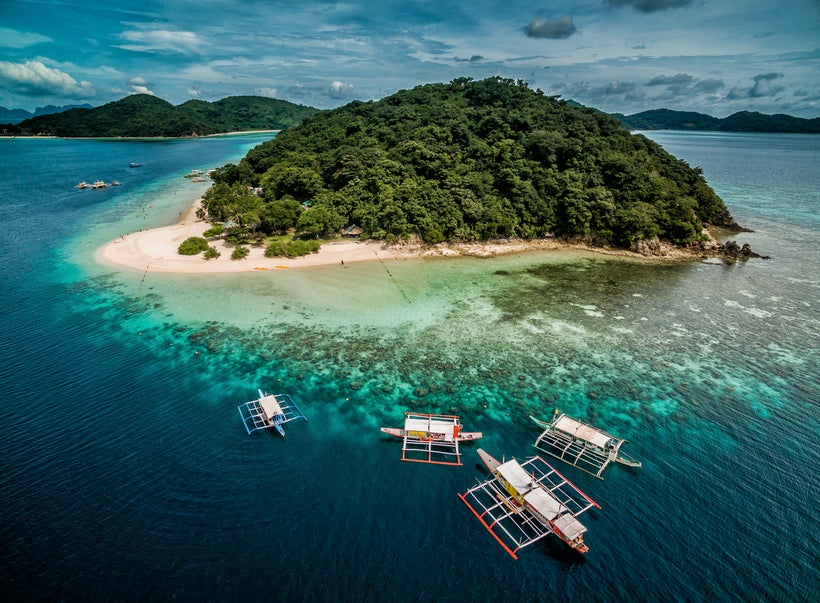 Coron Island
Coron Island is the reason people travel to this part of the Philippines. It is the most visited island in the area and for good reason. Dramatic limestone cliffs, crystal clear water with varying shades of blue and a stunning interior or sacred lakes make this island a special place. There are plenty of stories of people losing contact with their drones and losing them in the limestone cliffs. We played it safe and managed to capture beautiful photos of the Kayangan Lagoon and Twin Lagoon entrance.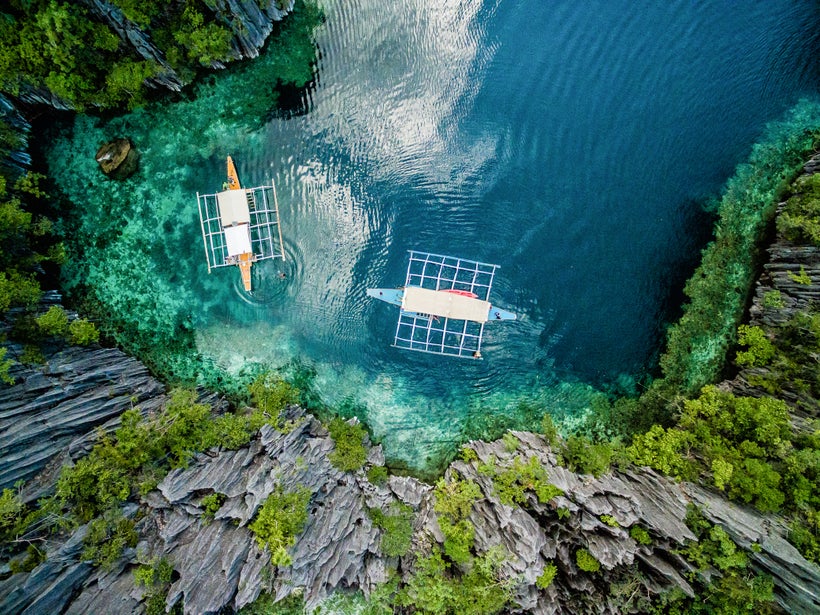 Malcapuya Island
Of all the islands we visited, this is the one we heard the most hype about. Despite this fact, it was virtually empty when we were there. No groups, no crowds, just pristine nature. Malcapuya Island is paradise with a long stretch of white sand, shallow water and lush green interior. It's the kind of place most people only dream of visiting in their lifetimes.
REAL LIFE. REAL NEWS. REAL VOICES.
Help us tell more of the stories that matter from voices that too often remain unheard.
This post was published on the now-closed HuffPost Contributor platform. Contributors control their own work and posted freely to our site. If you need to flag this entry as abusive,
send us an email
.