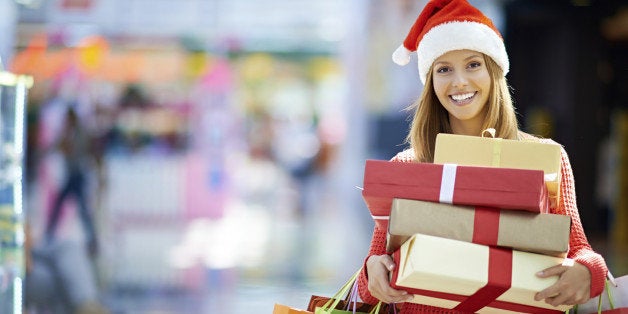 There are only a few days left to shop for Christmas gifts this holiday season, and if you are like millions of other Americans, panic mode is starting to set in. Maybe you got too busy decorating the house in preparation for the big day that the thought of Christmas shopping slipped your mind. Maybe you enjoyed drinking eggnog in front of the fire a little too much this year and forgot it was Christmastime altogether. Maybe you got so caught up in watching old Christmas movies and partying your life away at all of those Christmas celebrations that you didn't take the time to finish your holiday shopping. Whatever the case may be, you are here, weeks have passed, and there is nothing you can do about it now. Or is there?
If you have yet to complete your Christmas shopping adventures this year, don't worry. I'm an expert at the last minute shopping game (for all of the reasons above during one time or another), and I have put together a few tips to help you survive last minute Christmas shopping this year.
1. Never let them see you sweat.
Take a deep breath, have another eggnog, get your list together and get prepared. The trick to successful last minute shopping is to relax, stick to your list, and above all; don't panic.
2. Shop online if possible.
A number of merchants offer rush processing and overnight shipping so you still have time to have your gifts delivered if you are careful. Be sure to check shipping deadlines and processing times before you place your order, however.
3. Think outside the box.
There are thousands of gifts that you can print right from your home computer. Think about things like gift of the month clubs, experience gifts and other types of memberships or gift certificates. While your recipient will still receive an actual gift later, at least you will have something to put under the tree for now.
4. Take advantage of merchant's extended holiday hours.
Many stores open early or stay open late during the holiday season to make their products more accessible to busy shoppers.
5. Don't shop until you drop.
Take plenty of time to rest, get something to eat or drink and gather your thoughts. While it is true that you are limited on time, if you overdo it chances are you will overspend or settle for gifts you normally would not have purchased.
6. Consider DIY this holiday season.
There is still plenty of time to gather a few supplies and create your own last minute Christmas gifts. If you can't think of a single homemade idea, consider purchasing inexpensive containers and creating your own gift baskets with things like bath and body supplies, candles, movies and treats, or a variety of puzzles and games.
7. Consider making a charitable donation in the name of your loved one this Christmas instead of purchasing a material gift.
So many of us get frustrated with the commercialization of Christmas that a charitable donation is a refreshing gift that brings back the true meaning of Christmas.
For more ideas and tips to help you find the perfect last minute Christmas gifts for your loved ones this holiday season, check out our blog at ChristmasGifts.com.
Related