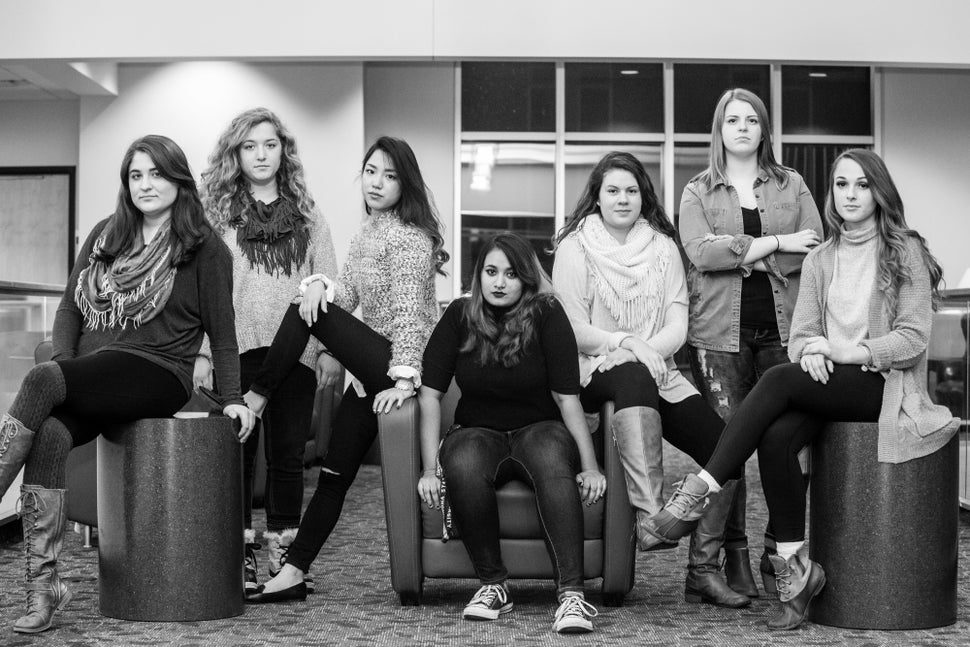 Sarah Ortega, a 20-year-old student at Winona State University (WSU) in Minnesota, is a survivor of sexual assault. And in the wake of a triggering presidential campaign, the healing process has become more difficult. 
"The hardest part of the election for many of us is the outright acceptance of sexual assault," Ortega recently wrote in a powerful Facebook post. "This election was eerily similar to the rhetoric that was spewed at me when I reported my assault to police and campus authority. I don't go a day without thinking how normalized rape has become in our culture and I can't help but fear for the future."
For Ortega, that personal call to action meant creating a photo campaign featuring seven WSU students, including herself, who are all survivors of sexual assault. In the coming weeks, the images (shot by local photographer Cynthya Porter) will be turned into posters that will be hung around WSU's campus. Each poster will feature a photo of a survivor and information about online resources for victims.
Ortega hopes that the campaign, which she created for her Women's, Gender and Sexuality Studies minor, will foster conversations surrounding sexual assault on WSU's campus. 
"According to a recent campus survey, 1 in 5 Winona State students are victims of gender-based violence," Ortega told The Huffington Post. "The campaign is meant to showcase this statistic, to show people that these numbers are real."
This election was eerily similar to the rhetoric that was spewed at me when I reported my assault to police and campus authority.

Sarah Ortega
Ortega said she had always been an advocate for survivors, but she didn't realize how insidious rape culture really is until she became a survivor herself.  
"In January I was raped. Despite reporting it to law enforcement immediately after, it took me months to accept what had happened to me," she said. "I didn't realize how internalized the stigma of being assaulted was until I was raped... I faced extreme retaliation after Title IX made the decision to expel my rapist from campus. Colleagues told me that I ruined my rapist's life and that I would do anything for attention, negative or positive." 
Now, Ortega hopes to use her voice to heal and help other survivors do the same. "The most frustrating thing I have faced through my healing process is the silence of people close to me," she said. "Silence NEVER favors the victim... The first step in changing rape culture on Winona State's campus is to simply talk about it. The conversation will be uncomfortable, but it must happen." 
Scroll below to see the seven women featured in Ortega's project. The Huffington Post reached out to each of the women and asked them what it means to have an accused sexual predator heading to the White House.
Calling all HuffPost superfans!
Sign up for membership to become a founding member and help shape HuffPost's next chapter
BEFORE YOU GO
PHOTO GALLERY
40 Powerful Images Of Surviving Sexual Assault