I really thought I understood a few things about my gender-diverse brothers and sisters. Then, I moderated a panel of six incredible people who identify as either trans or gender fluid.
Don't get me wrong, as founder and moderator of LGBTs In The News, a nationwide, live-discussion panel series that brings newsmakers, members of the media and the public together in a brick-and-mortar environment to explore issues of import to gender and sexual minorities and our allies, I've had some pretty deep and wide-ranging conversations with trans folks.
At the very least, I knew before last week that sexual orientation and gender identity are two separate issues. Of course, people can be lesbian, gay or bisexual AND transgender. Many people are also trans and straight.
Though not transgender myself, it has long seemed self-evident to me that gayness--I'm using that word as shorthand in reference to being lesbian, gay or bisexual--and gender non-conformity, e.g., being transgender are natural, healthy human traits that have always been with humanity.
What I didn't know is that, in fact, even today many if not most people who are not transgender don't necessarily understand some really basic things about what it means to be transgender. The good news is most people want to know more. Non-trans people want to understand and accept transgender people for who they are.
Strong public and media interest was evident at the most recent engagement of the LGBTs In The News panel series. After three years on the road visiting cities coast to coast, our first panel comprised solely of newsmakers from the transgender community was by far our best-attended engagement yet. At least 110 audience members and thousands of online viewers watched and participated in a lively and candid talk. Two local television stations came, as did several reporters, including one from the San Diego Union-Tribune.
The 'T' Belongs
Despite unfortunate past resistance from a vocal minority of activists in our community, the "T" in LGBT belongs there. In other words, it doesn't matter that gender identity and gender expression, versus sexual orientation are distinct matters--we who fall under the roomy umbrella of LGBT have always, and should always help one another secure our rights and help one another make better lives, create more liberty and ensure greater access to the pursuit of happiness.
It's worth noting that this month's LGBTs In The News panel engagement was presented under the banner "Transcending Stereotypes: What it means to be trans in America today." Generous sponsors eager to shed light on one of the seminal issues of our time, including the San Diego Press Club, SAG-AFTRA, Dr. Bronners, Gender Illumination, Mo's Universe and others made the event possible.
An estimated 125 members of the media and the public showed up at San Diego's most popular gay nightclub, Urban Mo's, which converted its dance floor to a town hall forum for the event. The diverse array of activists and other newsmakers I invited to participate on the panel spoke and answered audience questions even more engagingly, insightfully and honestly than I expected.
Enjoy this slideshow from the July 7 engagement in San Diego of LGBTs In The News with Thom Senzee, featuring headliner, Kristin Beck, illustrating eight things I learned about what it's like to be trans in America today: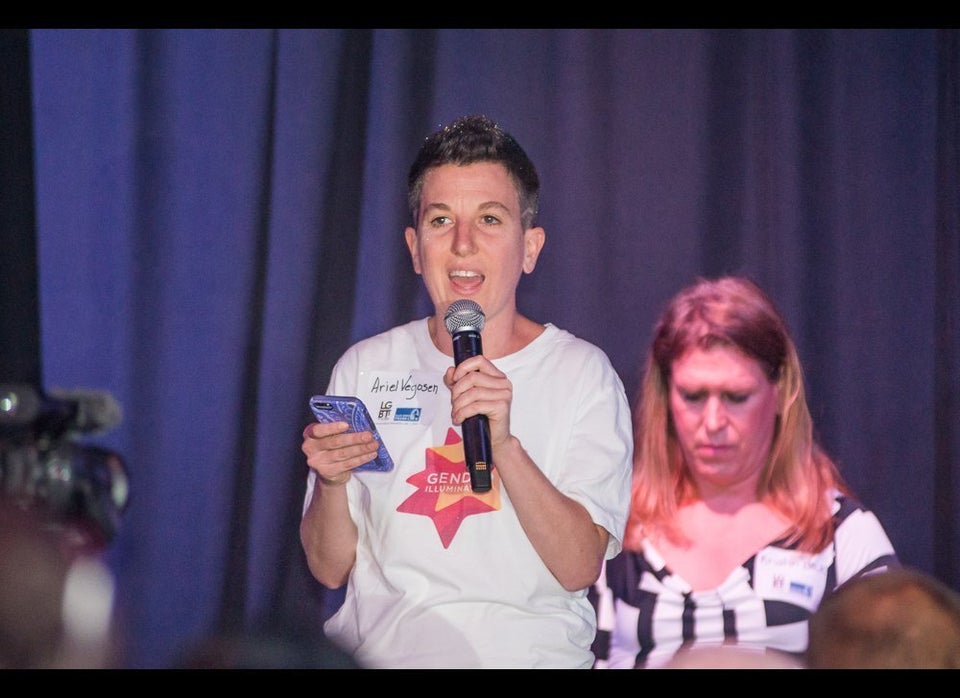 7 Things I Learned from Kristen Beck and a Panel of 5 Other Transgender Newsmakers
Popular in the Community