You have the ring you wanted, the partner you wanted and you're planning for the future you wanted. You and your partner have a unique relationship. So why would you want to have the same marriage everyone else has? You don't want to just create a life with your partner; you want to create a specific kind of life. Here are some questions to ask yourself and your partner before your big day, so you can couple consciously.
1. Why are we tying the knot?
If you're like many couples, you may have been living together for a while. You could have continued on that way without the stress and expense of planning a wedding. Gone are the days when people had to marry to have kids, have a live-in partner, financial security or sex. So you need to ask yourself and your partner, "Why are we marrying?" Are you feeling pressured by your family or your biological clock? Are all your friends marrying and moving on with their lives? Do you just want to make a formal statement of your commitment? You might be surprised by how much clarity your answers will bring.
2. What do we want to happen in the first three to five years?
How your marriage begins matters. The early years lay the foundation for the many anniversaries to follow. Map out what you'd like them to look like: Do you want to have kids right away or wait a few years? Do you want to live in the city, the suburbs or on a ranch? Does one of you need to finish earning a degree or do you want to travel? A marriage map keeps you on the same path. Just like in business, it's a good idea to make short-term goals in addition to long-term goals.
3. What about kids?
If you haven't talked about kids, now's the time to do it. Kids are one of the greatest marriage and life game-changers so ask a lot of questions of yourself and your mate. Don't assume your betrothed wants children just because you do. Talk about your desires openly and honestly. If you both want kids, share what you believe your strengths and weaknesses might be as parents. Will one of you stay home or will you hire a nanny? What will schooling look like? What about discipline? It's better to know your differences now so you can address them as early as possible.
4. How will we handle our finances?
Money is one of the top subjects couples fight about so it's important to talk frankly about debt, what each plans to contribute, whether one of you hopes to stop working, if there will be a main breadwinner and who will pay the bills. If you have concerns about your partner's money matters now, pay attention; you'll want to resolve any issues before you become fiscally entwined and legally bound.
5. Let's talk about sex.
No one wants to think about infidelity when you'd rather be searching for the perfect gown, but we all know that cheating happens -- a lot. You can't affair-proof a marriage -- it's impossible to control your partner's actions -- but that doesn't mean you shouldn't be talking about monogamy, sex and infidelity anyway. Monogamy is assumed once a couple becomes committed, but it's actually a choice; are you both willingly choosing it? Are you good at it? Do you like it?
Then there's sex, a source of conflict for many couples. Do you have different sexual energies and needs? How are you addressing them? What will you do if kids come along (they challenge every marriage's sex life, especially in the first two years)?
Finally, how do you define infidelity -- is it just intercourse or does it include watching porn, sexting, flirting? By agreeing about these things now, you'll save yourselves a lot of heartache in the future.
6. Will we become our parents?
No matter how you feel about your parents, they were your first marital model -- not a fairy tale in which the prince sweeps the princess off to his castle and they live happily ever after. Some of the patterns and behaviors you learned from them may creep into your marital life. You aren't necessarily doomed to repeat them, but it would wise to explore how they have helped shape your view of relationships, love and marriage as well as your partner's.
7. Should we get a prenup?
A prenup is to marriage what insurance is to your health and possessions; it provides protections in the event that something goes wrong. But there's a much better reason to get a prenup than protection in the event of a divorce: It forces you and your partner to talk about expectations around money, work, home, kids, family and lifestyle. Not only do you get to plan married life together, but you also get to see how you each deal with difficult subjects. Given that you each may already have assets of your own, we encourage you to consider whether a prenup makes sense. If you can't decide, seek advice from a professional.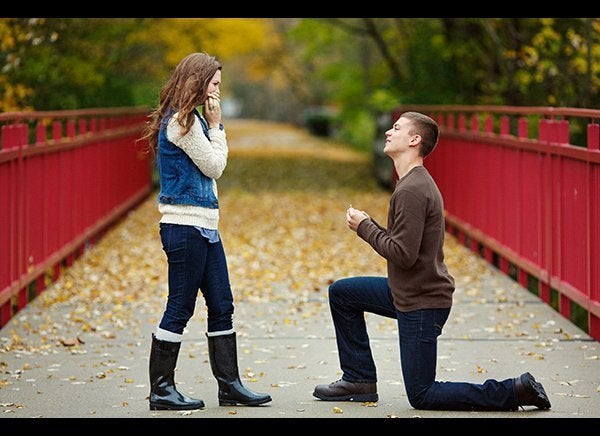 90+ Adorable Marriage Proposal Reactions