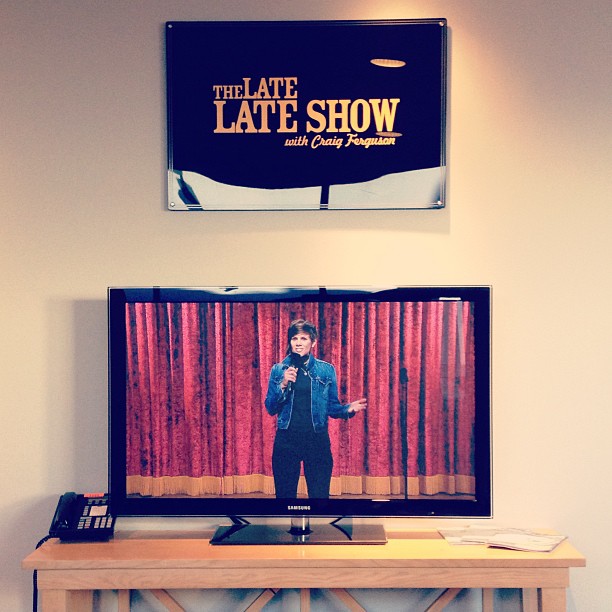 1. I'd find out the night before.
Got the call on Labor Day -- late in the evening -- that I'd be appearing on Late Late with Craig Ferguson the next night. I think Craig is charming and smart and great at his job, so I was stoked on the booking. And I actually appreciate that I didn't know sooner so I didn't have too much time to lose my mind about it. It was wild, though, to realize that I wouldn't have any time to run my set between getting booked and doing it on network tv. I had just taped that particular set to it submit the week before at Put Your Hands Together, my show at the UCB Theatre. On the Friday before Labor Day I went up to San Francisco to do two shows at Lost Weekend Video's Cinecave, an awesome twenty-seat room built into the basement of a video store in the Mission. I love that the last sets I got in before taping the show were loose and calm and LITERALLY IN A BASEMENT.
2. Margaret Cho would be there.
The first comic I ever saw perform live was Margaret Cho. I saw her at the Wilbur Theater while I lived in Boston during college. Bruce Daniels opened. Bruce is hilarious and I was so taken with Margaret's performance that I attended a book signing of hers about a year afterward. I stood in line trying to figure out what I would say to seem coooooool when we met, but I think instead I just handed her a book and stared at her and maybe tripped walking back out the door. Ten-ish years later, I actually know Bruce and have done his rad show at Akbar here in Los Angeles a bunch of times. I'll also be performing at the Wilbur myself for the first time on Sept. 22, opening for Anthony Jeselnik. Last week, Margaret was in to tape a segment of the Late Late Show and stopped into my dressing room to wish me luck on the show. It was the first time I had the chance to really meet her. I still do not think I seemed cool at all.
3. So would Isabella Rossellini's daughter.
Walking into CBS studios, a producer on the show introduced me to another gal taping a segment for Late Late. She was probably the most beautiful woman I have ever actually chatted with (my fiancee agrees with me on this!). Just like wearing some sheath dress that looked perfect and gliding around on spike heels and also being really kind and friendly. Good gravy. I mean, she looked amazing. I was wearing a Harley Davidson shirt I had picked out to sweat through during the drive over and then arrive in. I love to make a sweaty entrance. I found out, as Elettra was running through talking points -- that's her name, Elettra -- that she's not only a model with a successful cooking show -- what?!? how. -- she also happens to be Isabella Rossellini's daughter WHICH MEANS SHE IS ALSO INGRID BERGMAN'S GRANDKID. So of course she looks amazing! That's some serious blood. I am, however, Brenda Esposito's daughter. And that's why I look sweet in a Harley tee or just whatever I throw on.
4. Wardrobe would steam my t-shirt.
I always bring a back-up outfit to shows. At least a top anyway. Sometimes also backup pants. Again: this is because I get sweaty. And because sometimes I arrive in a jean jacket and then I really want to be wearing a denim shirt AND a jean jacket. So I roll with both. The sweet gent who runs wardrobe for Ferguson came in to ok my outfit and thought my grey tee was gonna look sick on camera -- he was right! -- but also suggested he take it to have it steamed so I looked fancy. So, yeah, they'll steam your tee.
5. I'd get to use bullet points.
For me, remembering the jokes I've planned for a given set is THE WORST. I always imagine I am going to forget everything I've ever written, said or thought and then just be onstage like "Well, I forgot to know anything. Goodnight!" So I bring a set list onstage with me. Pretty much all the time. Some folks aren't into bringing set lists out and some clubs don't want you to -- but I figure a.) bands use set lists. I'm like a band! b.) you payed me to bring good jokes up here and if I need a tiny slip on paper to remember em, let it be! Of course, that doesn't work for TV. You can't have a paper. But! They do let you send in bullet points and then put those up on the teleprompter. I still felt weird without my teeny paper but them bullet points sure looked sharp onscreen.
6. It'd be in front of two late night hosts.
It's pretty rare that late night hosts have an opportunity to guest on one another's shows. I mean, they all work similar hours, for particular networks, and most of the time, they don't overlap. So Jay Leno's being the other guest on my particular episode of Craig's show is unusual. Think like a Jetsons/Flintstones crossover type of situation. And! it was just us two on the show. Two guests. Me and Jay Leno. I was pacing around in the green room before the show, pouring over my notes, and Jay said to me, "I could tell you were a comic when you walked in. You don't need to look at that. Put it away. It's your act -- you know it." This was probably the kindest thing he could have said to me. Not only is it great advice -- I mean, I wasn't going to drastically change my performance by pouring over jokes I'd already written -- but also: he saw me as a comic. And he treated me as one. He asked me where I usually played and we talked shop a bit. Later, during the show, Craig came over to meet me before I went on. He was friendly and told me, "Jay's gonna stay and watch you." In fact, they both did.
As I walked out of the curtain to hit my mark, I was facing the audience. But really, I could see out of the corner of my eye, Jay and Craig, about twenty feet away from me, watching. Comics always play to the other comics in the room -- they're who we want to get a laugh from. That night, I got to play to two legendary comics who also happen to be late night hosts. And for some reason, because I love crowd work or because I felt especially connected to them as other comics, I decided to refer to Jay in my act. It was improvised -- I mentioned his love of denim, directly to him, during my set. This is generally, not done. Craig called back to me, asking if I had called Jay a lesbian. I pointed to Jay's pompadour. We had a great back and forth that felt casual and easy and very real. They also saved my ass a bit. They are pros and they read correctly that I want to speak with them and they let me. It is a great honor for a comic to be invited to the couch to sit with the host after a late night set. Not all comics are invited, and certainly not all comics are invited to sit after their debut. But they invited me. To be invited to sit between TWO late night hosts? And to have a chance to banter a bit and shake their hands and then have them tell you, "You're the future of television." I just... as my friend and fellow comic John Roy said to me in a message after seeing the set, "Who would even think to ask a genie lamp for a first TV appearance where you do panel with two hosts at once, make fun of Leno and then he literally says "you're the future?" Not me.
7. I'd be able to casually mention my engagement to a woman on network television.
CBS is prime-time's most watched network. And some of its programming is very middle of the road. Of course, it's also home to the more alternative sensibilities of David Letterman and Craig Ferguson but my point is: It's not LOGO. And same-sex marriage is still illegal in 37 states. Twelve years ago I came out while attending a Catholic college that refused to put sexual orientation in its nondiscrimination policy. Meaning: They could have kicked me out of school for being openly gay. I wasn't kicked out -- I also wasn't out out, only my close friends knew -- but the idea that I could be was scary. I could be forced to leave my friends, housing and education behind because of honesty. Beyond this message passed down from me from that college, I also had a very bumpy time coming out to friends and family. I really didn't believe that things would ever get better for me. I thought I had no future and no possibility of happiness. Incidentally, this college was in Boston, and I lived there as Massachusetts became the first state to legalize same sex marriage. I was at City Hall, cheering on the newly married couples, the first day same sex couples could legally marry. That was the first time I thought maybe I would be ok.
Nine years later, I am engaged to a wonderful woman who also happens to be an amazing comic. We live in a state that will recognize our marriage. The Supreme Court has ruled DOMA unconstitutional and our marriage will be federally recognized as well. Nine years later, Ellen Degeneres uses the word "wife" to describe Portia de Rossi on daytime TV because that's what they are the one another. Nine years later, you can see out gay high school kids on GLEE. Nine years later, I got to go on TV, and using silly jokes about being a little gay kid and about wearing denim to my wedding, I got to talk about my life. I got to talk about myself honestly, I got to hear Jay Leno and Craig Ferguson use the word "lesbian" to describe me -- not something gross or wrong. Just me, a lesbian. We aren't done. There are still those 37 states. It doesn't feel like I can go to a movie without hearing one character call another character gay for an easy laugh. I hear f-bombs dropped at comedy shows all the time - I'm talking about the gay f-bomb here. People are still beaten to death because of their sexuality and human beings are still kicked out of colleges, jobs and their own homes because they are attracted to and fulfilled by people of the same sex. We've got a long way to go. But we've come so far. And I have too. I got to sit next to Jay Leno, host of The Tonight Show, and hear him say "Lesbians rule!" Hey, he's right.
REAL LIFE. REAL NEWS. REAL VOICES.
Help us tell more of the stories that matter from voices that too often remain unheard.