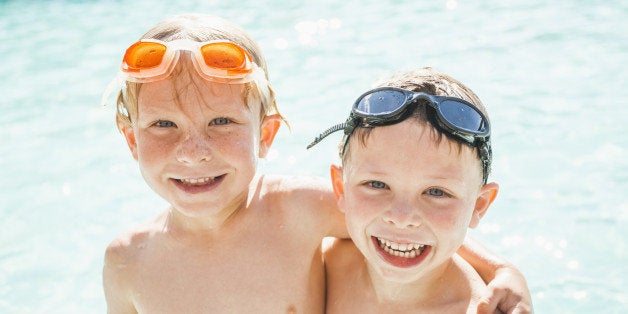 The story, told by an old family friend, went like this: She took her child to a street fair. The kiddy ride was little boats on a metal spoke that went around a circle. It was for kids so young they could be fooled to think they were steering their boat through the water.
She bought three tickets with her last quarter. It was 1957, and 25¢ could buy a lot: a loaf of bread, a pound of hamburger, a gallon of gas, a quart of milk. The music began and the ride started to move. His back was to her as he went around the bend.
"I held my breath a little as he came around the turn. I just hoped he was smiling."
I've always thought that story to be the quintessential parenting tale of all times. The monetary value has changed. That feeling of wanting to see your kid happy never will.
So I took three of my grandchildren to Great Wolf Lodge in the Pennsylvania Pocono Mountains last week. And there I happily spent my last quarter.
Here's what I learned for those of you who are thinking along the same lines.
1. This place is run by folks who have two main traits. They scurry and they smile. Whoever has trained this team (college students in the last gasp of summer vacation was my guess) is very good at what they do. Everyone is helpful. Not a snarky side glance to be had.
2. There will never be a lull in your fun. We were there for two nights, and my grandchildren (ages 8, 6 and 3) never once got near the chance to say, "I'm bored." They slept like champs, their parents reported. As did I.
3. Reviews of Great Wolf Lodge are replete with suggestions to go off site to eat. Since we were a party of seven, this idea was scrapped since the logistics of getting in the car seemed too much for us. We opted for the on-site buffets for breakfast and dinner. We didn't find the prices exorbitant (dinner about $10 for the kids, with the 3-year-old free; $21 for adults). And a bonus we didn't expect: the food was terrific. Fresh, appetizing and of course plenty of it.
4. The water park is the main attraction, but beware. The genius behind Great Wolf Lodge knows that add-ons are a language parents and grandparents speak fluently. I bought Paw Passes for the older two kids. The sweet young man who checked me into our rooms (two hours early!) let me know it wouldn't be a good buy for the youngest. Those passes ended up saving a considerable amount once the kids realized there was life beyond the wave pool.
5. Was it crowded? It was sold out on our first night but never felt congested. Noisy at times? Yes. Was it controlled chaos? Definitely.
6. My only disappointment was with wobbly or sometimes non-existent Wi-Fi. When I called the desk to complain, I was given this explanation: "That's because everyone is using the Internet right now." I could have figured that out on my own. GWL needs to figure out that with busloads of teenagers arriving regularly at their front door, they need a better system. In the end, they reimbursed the Internet connection fee for both of our rooms.
7. Great Wolf Lodge is not the place for grandparents to bemoan the days when we would pass a summer day with a stick and the sprinkler in the back yard. This venue will get you up to speed on the breakneck pace that childhood travels at these days.
My advice is to open your wallet, spend your last quarter and reap those smiles.