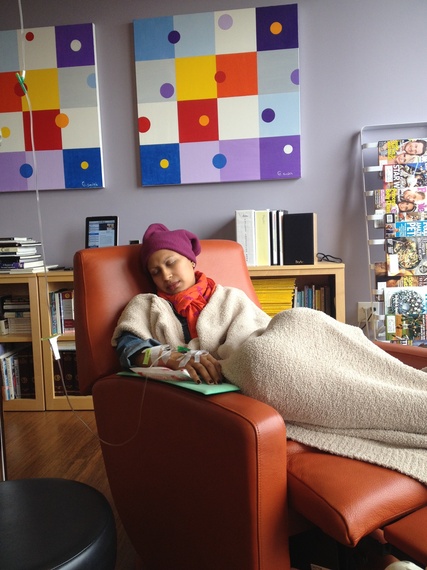 When I was diagnosed with breast cancer in October 2012 at the age of 37, my world was turned upside down. My particular flavor of cancer was stage 1, grade 3, triple negative infiltrating ductal carcinoma. That's a mouthful, huh? I had my bi-lateral mastectomy performed and one month later I began six months of ACT (Adriamycin, Cytoxan and Taxol) chemotherapy.
While I can't guarantee that your road will be without bumps, in fact, I can almost assure you that there will be bumps, I can offer you some insights that helped me along the way. So, buckle up and hold on tight, you can do this.
Good luck to you my friend. I'm sending you love and strength.
1. Get a temporary handicap placard
Cancer is a full-time job with a million and one doctor's appointments. Do yourself a favor and sign up for this with your local DMV. Most states let you do it online. Be warned, it can take a few weeks to process and receive the darn thing, so put this one near the top of your list if you can. Trust me, you will be overjoyed when you easily locate a spot by the front door of your destination.
2. Discuss your fertility preservation options
I'm always amazed at how many women and men aren't told about the effects that chemo can have on your ability to conceive. If your team of doctors hasn't discussed this with you, make them. Ask questions and demand answers. Since we haven't yet figured out how to turn back time, I don't want you to regret not knowing about this. Don't let anyone pressure you one way or the other on this front. Do what feels right for you.
3. Start a blog or CaringBridge site so you don't have to answer the same questions again and again
When a medical event like cancer happens to you, everybody wants to know what's going on. It'll become difficult to talk to every single person who cares about you, so use social media to keep everyone in the loop.
The crazy thing is social media will ultimately keep your spirits up. Your friends and family, far and wide, will rally around you. You can read their notes and comments when you're feeling down.
You can also use your blog to ask for help. Everything from food delivery, babysitting, carpooling, errand running or just having someone stop by to sit with you, You name it, they'll do it. I promise you. People are good, and they desperately want to be of service, so let them, because they love you and want to help you. P.S. I assure you that they don't think you're a burden (I know your mind was drifting there, so let me stop it for you).
Nothing makes the shitty cancer journey more bearable then a bunch of crazy, been-there-done-that like-minded individuals. It's been my experience that my support group friends have become my family. They party the hardest, love the strongest and know exactly where I'm coming from.
We talk about our experiences but are very respectful of the fact that no two individual's cancers are the same, even though the diagnosis might be very similar. Everyone's journey is intensely personal. Surgical and treatment decisions are yours to make alone, but your support group will be a wonderful, and helpful sounding board for you.
If you are like me and were diagnosed at a young age, check out the young survivor groups in your town and nationally.
5. Have a plan for your hair
If you have small children you may opt to get a wig for continuity's sake. Or you may opt to rock the bald look like I did. You may even be going to cold cap route. All of these options require advance planning and lots of mental preparation.
My plan was to cut my hair into a short bob and donate my ponytail to love for locks at the very start of chemo. Two weeks later when, when it started to fall out, I buzzed it close to my scalp. A few days later, when those tiny hairs were raining down onto my floor, I lathered up and used a straight razor. Nothing can really prepare you for the hair loss part. My husband tried to pump me up by playing the Demi Moore video from GI Jane. If I'm being honest, the whole thing was really difficult for me, though.
You will also want to have lots of cozy, soft head coverings at the ready. Most oncologists' office will have a basket with tons of options that are free. Take advantage -- I got some of my cutest hats that way.
6. Get your medical marijuana card
This assumes you live in a state where this is possible. I never, in a million years, thought I'd be vaporizing in the middle of the day. But, heck, when you're feeling as green as I was, you'll do just about anything to make it go away. Medical marijuana really helped me with nausea, pain relief, and insomnia.
7. Ativan can be your friend
Often times I was scared shitless that I got cancer and had to have a bilateral mastectomy and do chemo. When my mind raced and my thoughts backed me into a corner, Ativan really helped me settle down and face the next hurdle head on (albeit bald!).
I hope these tips and suggestions help you to prepare yourself in the days and weeks leading up to chemo. Stay tuned for my second installment, "7 Things to Know While You're Undergoing Chemotherapy."