April 8 is Equal Pay Day 2014, the symbolic day when women's earnings finally catch up to men's earnings from the previous year. It takes a few extra months because of the 23 percent gender wage gap that women typically face. To mark the occasion, the American Association of University Women (AAUW) is hosting an Equal Pay Day (un)happy hour at our national headquarters to raise awareness about this persistent problem. For those marking the day with us in D.C. or at events across the country, here are six (un)happy facts to know, plus at least one reason to be glad.
1. Raise your hand if you could use an extra $400,000. Even in the best economy, no one would leave that kind of money on the table. But the sad truth is that the pay gap hurts families, typically costing a woman at least $400,000 over the course of her career.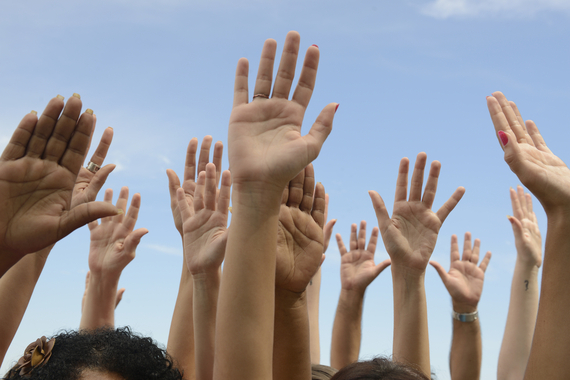 2. Retire (un)comfortably. AAUW researchers have long said that women are more likely than men to be living in poverty in their retirement years, due in part to the gender pay gap. Increasingly, the face of poverty is an older woman.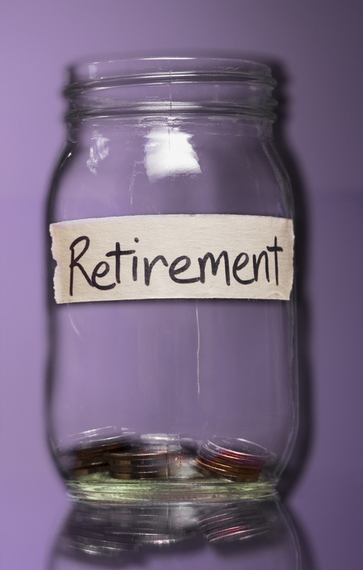 3. Imagine marking Equal Pay Day even later in the year. For African-American and Hispanic women, the wage gap is worse, which means it takes even longer for their salaries to "equal" the salaries of their white male counterparts. White men are used as a benchmark because they are the largest demographic group in the labor force. African-American and Hispanic women are paid less than their white and Asian-American peers, even when they have the same educational credentials. Asian-American women's salaries show the smallest pay gap, at 87 percent of white men's salaries. Hispanic women's salaries show the largest gap, at 53 percent of white men's salaries.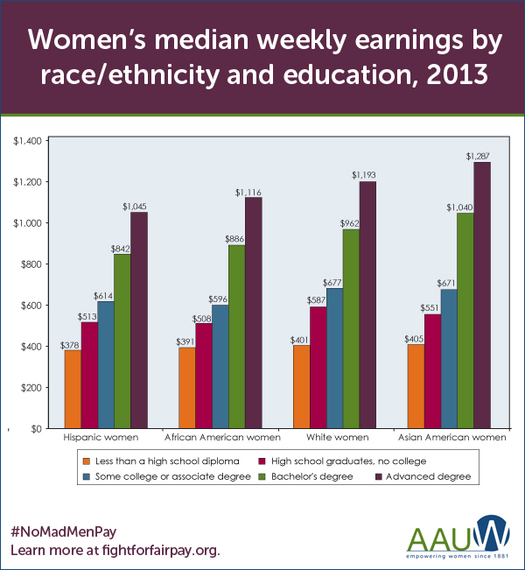 4. Check your zip code -- some areas are better than others when it comes to the wage gap. Industry and demographics play a role in why geography matters. The best place in the United States for pay equity is Washington, D.C., where women were paid 90 percent of what men were paid in 2012. At the other end of the spectrum is Wyoming, the worst state in the country for pay equity, where women were paid just 64 percent of what men were paid.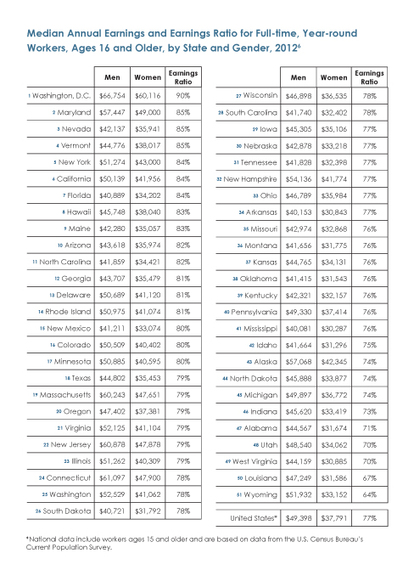 5. Shoot for the stars, even though prestigious job titles won't protect women from the wage gap. Higher learning is important, but you can't educate your way out of the pay gap. AAUW encourages young girls to consider joining the science, technology, engineering, and mathematics (STEM) workforce, in part because STEM jobs tend to pay better than other jobs. Women in STEM face a smaller pay gap, but it doesn't disappear completely.
6. Get ready to celebrate the close of the wage gap -- in about four decades. The Institute for Women's Policy Research found that at the current rate of "progress" the gender pay gap won't close until 2058 -- a date so far in the future that even most millennials will already be retired. What a gloomy prospect for American workers and their families, who can't afford to wait more than 40 years to start being paid what they deserve.
7. And now for one really good thing: Momentum is on our side. During the week of Equal Pay Day, a U.S. Senate vote is expected on the Paycheck Fairness Act, which would give women additional and much-needed equal pay protection. At the state and local levels, mayors and governors across the nation are issuing Equal Pay Day proclamations. It's encouraging to see that more people are paying attention to this issue. After all, we do want a world in which our daughters and sons are paid fairly. Agreed?
Related
Popular in the Community