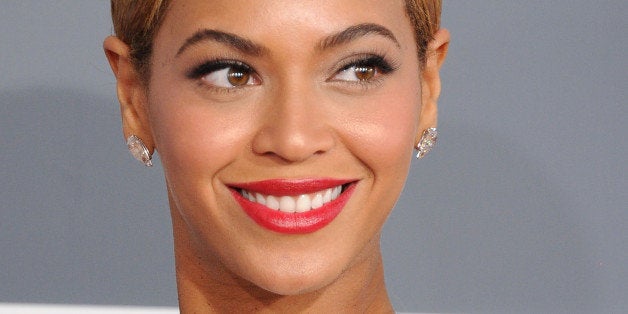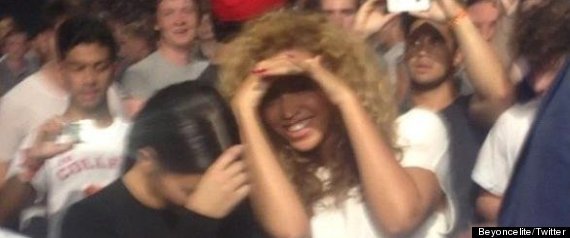 Let me preface this by saying "meet" is a very strong word. Two years ago, while doing a legal internship in London, I had the privilege of standing next to Queen Bey in a moshpit at a Watch the Throne concert. Standing next to one of the most powerful people on Earth, I had a few powerful revelations myself.
1. You forget about death.
Standing next to Beyoncé, I had this overwhelming feeling that my problems were gone and all was right in the world. One smile from Mrs. Carter and suddenly I forgot that my worst fear is of dying in a car that's slowly filling with water after accidentally driving off a bridge. That fear has now returned. Where's Bey?!
Sure, I was only standing next to Beyoncé for a few minutes, but something in me changed. I honestly think I went through puberty again, evidenced by the adult acne I experienced the next day. Not only did I immediately start sweating, but I also got my period. Basically, I blossomed. ***Flawless.
Here I was, next to one of the world's most beautiful women, and she was wearing little makeup, a white T-shirt, and a gorgeous smile. Beyoncé wasn't wearing anything super-fancy (unlike Kim K next to her, in 17 pounds of makeup), but somehow she managed to look positively radiant. You might be thinking, "Well, it is Beyoncé -- she woke up like dis." But it's something much more than that: It's the confidence, happiness, and (we can't forget Sasha) fierceness that Bey exudes. That's beauty.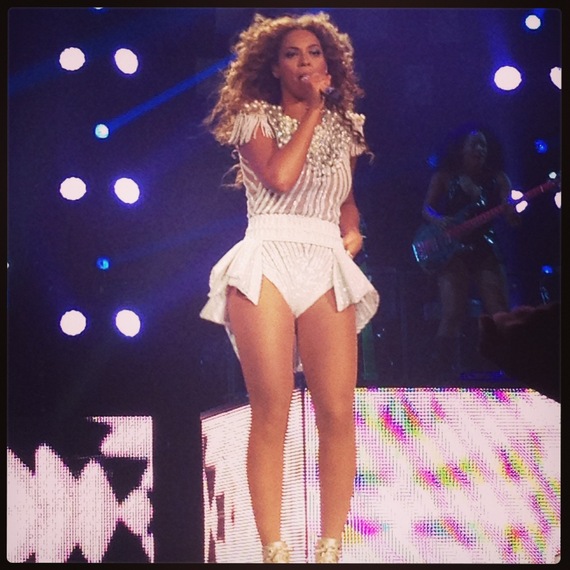 4. You discover that real love knows no bounds.
Beyoncé has this uncanny ability to make everyone fall in love with her. Gay, straight, single, married -- doesn't matter. You want to love Beyoncé, and only Beyoncé, for the rest of your entire goddamn life. Does it matter that she's married to the greatest rapper of all time? Not when she's right next to me and I can get down on one knee in .025 seconds. Try to stop my love, Hov!
5. You realize that supportive partners are a must-have.
I was staring at Beyoncé, who was staring Jay Z performing on stage, when I realized that they have the perfect marriage -- not because they have a lot of money and fame, but because they always seem to have each other's support. Despite insane commitments and travel schedules, they both make time to see each other and cheer on the other's work. That's a marriage we can all aspire to (maybe minus the Grammy awards).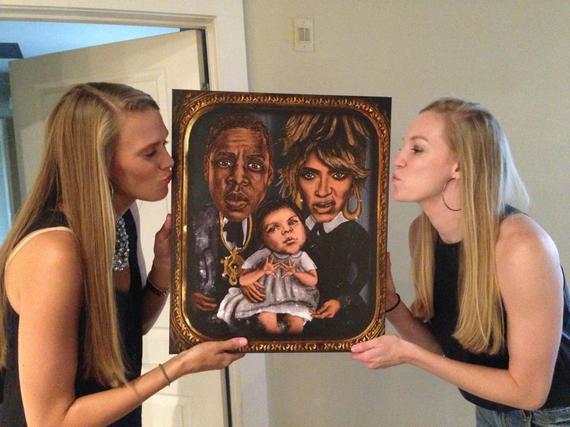 6. You realize super-fans are really creepy.
I'm a self-professed super-fan, and the second I realized I was standing next to Beyoncé, I got this overwhelming urge to hug her and explode into tears. How terrifying is that? I watched her bodyguard karate-chop someone who tried to grab her, so I refrained from going in for the hug. Let's all take a second to thank Queen Bey for putting up with us crazy people and smiling calmly back at us when we're crying and screaming her name.
7. You appreciate being "normal."
Anyone would kill for the type of talent Beyoncé has, but fame isn't for everyone. Aside from the enormous pressure to produce and stay on top, Beyoncé was getting mobbed just trying to take photos of her husband at work. Granted, not everyone's husband is on stage rapping with Kanye West, but you get the general idea. Try to appreciate the fact that you can walk to the grocery store in peace, sweatpants and all.
While those may have been the best few minutes of my life, I'm still ready for that hug whenever you are, Bey.
If you'd like to see the video of me (blonde, blue shirt) attempting to film and hug Beyoncé in Birmingham, click here and find my appearance at 0:36, marked by a high-pitched squeal.
The Carter Family Portrait artwork shown above was done by Amelia Jude, and you can find more of her work at ameliajude.com
Popular in the Community