Do these things and you'll be on your way to really understanding Japan!
1. See a geisha (or maiko) perform
The Japanese ideal of beauty and refinement, geisha perform traditional dance and are versed in Japanese musical instruments including the shamisen, shakuhachi and koto. They are trained in tea ceremony, poetry, and calligraphy. The geisha trade was flourishing by the end of the 1700's and didn't let up until WWII when women had to go to work in factories to help in the war effort.
You can catch geisha public performances a few times a year. Tickets are reasonably priced, with the most expensive being around 4,500 yen (US$37) which includes a tea ceremony with a maiko (apprentice geisha) beforehand.
Where to go: In Kyoto there are performances in spring and autumn as well as an annual tea ceremony at Kitano Tenmangu Shrine on Feb. 25 where both geisha and maiko serve tea to 3,000 guests at the plum blossom festival. Geisha also serve beer in the summer at the Kamishichiken Kaburenjo Theatre. Gion Shinmonso Ryokan purportedly also offers a geisha beer garden with dances in the evenings.
It's not just the beauty of Mount Fuji that bewitches the Japanese, it's the sacredness of the holy mountain as a dwelling of the gods. The mountain is one of Japan's 18 UNESCO World Heritage Sites.
Hut facilities (where you can rest or sleep overnight) are open from July 1 to August 27 every year. You can start from the bottom of the mountain and pass through the 10 stations to the top, or you can start from the fifth station where the paved road ends. You can climb Fujisan at night to watch the sunrise or take the 6-8 hour hike up, descending the next day. There are several routes to the top but the Yoshida route is perhaps the most historic, featuring old shrines and tea houses along the way.
3. Take a dip in a hot spring
Bathing in very hot natural springs is a tradition in Japan thanks to the volcanic landscape that ensures a plethora of thermal springs. And bathing is at the heart of the Japanese culture of cleanliness.
Many Japanese take family vacations to hot spring resorts in places like Atami (Shizuoka) where you can stay overnight and even do onsen-hopping around town.
4. Go to a cherry blossom party
Not only is it Japan's unofficial national flower, but the blossoms are an enduring symbol of temporal beauty and a metaphor for the ephemeral quality of life itself. It is not uncommon to see people singing karaoke under the trees and getting a bit raucous, but it's all in good fun. After all, these harbingers of spring only last two weeks, then the petals come fluttering down like pink snow blanketing the streets.
Japan's Top Cherry blossom viewing party spots: Hirosaki Park, Takato Castle Ruins and Yoshinoyama.
5. See a live sumo tournament
Six Grand Sumo Tournaments are held around the nation every year, spread among Tokyo, Osaka, Nagoya and Fukuoka with tickets procurable via the Internet. Many of the first sumo wrestlers were said to have been samurai.
6. Experience a Shinto festival
Shinto, Japan's original folkloric religion based on ancestor worship, is still very much a part of everyday Japanese life. Shinto worships nature and the seasons so you'll find fertility festivals in the springtime and harvest festivals in the autumn.
Don't miss some of the favorite Shinto Festivals: The Kanamara Pahllus Festival and Kyoto's Gion Festival.
7. Walk part of the Shikoku Pilgrimage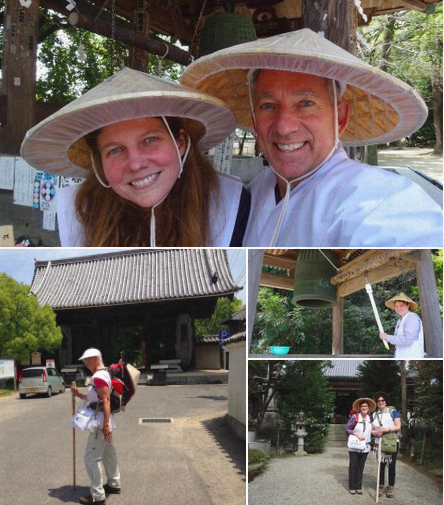 Photos: Top: Molly Stacy and Greg Winker at Temple 51; Bottom left: Elly Jührend with backpack and pilgrim's staff; Middle right: Molly Stacy announcing her arrival at the temple by ringing the bell; Bottom right: Claire Petersky and Ann Brashear starting off their pilgrimage at Temple No. 1.
For over 1,200 years Japanese people have donned white pilgrim robes and walked this 1,350-km Buddhist pilgrimage (840 miles) to 88 temples. Buddhism is Japan's other religion, introduced in the sixth century. The goal of the Shikoku Pilgrimage is to reach enlightenment. Japanese people are prompted to embark on the pilgrimage for many reasons, however, such as to pray for recovery from illness or for the repose of the soul of a deceased family member.
Related