We can go on and on about whether or not women can "have it all," but the truth is everyone's "all" looks different.
When I started my business, it was to achieve my all - to have a thriving career as an entrepreneur who can work anytime from anywhere. Before kids, this was never my goal. After kids, things changed.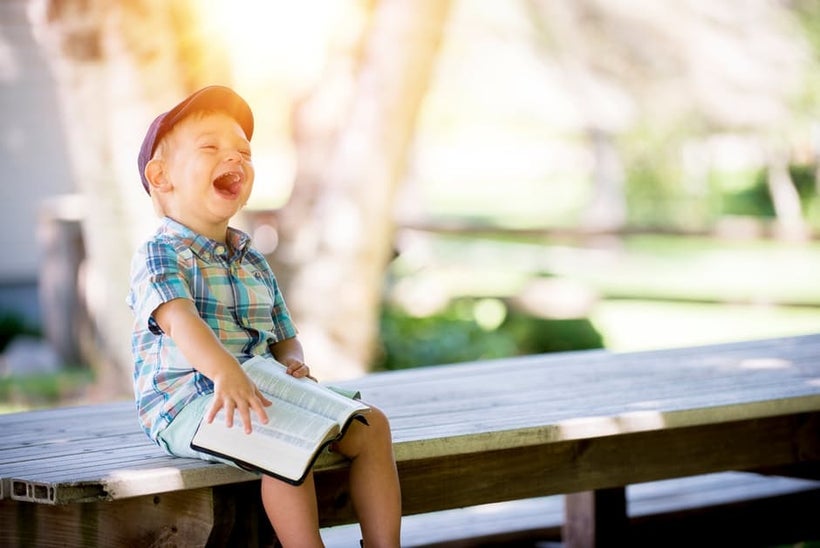 For months, I looked for a job in the media industry that would allow me to work from home to have the flexible schedule I wanted and needed. That doesn't mean working only five hours a day. It means working 10, but not doing it all between 8am and 6pm. Some days I need an hour break to take one of my kids to swimming lessons, for example. (Yes, it's possible to work and deliver results at 11 o'clock at night in your pajamas, contrary to what any CEO tells you.)
But, I get it. So many people take advantage of working from home. Many either work part time hours or have financial support elsewhere so they don't need to hustle as hard as others. I've seen it. They make "working from home" look like a job equivalent to a housewife. Not that there is anything wrong with being a housewife, but it is very different from grinding 50 hours a week to make money to support your family.
So, after searching for someone to give me flexibility and not finding it, I left my career as a TV reporter and my short stint at a PR firm to start my own business... at home.
Like me, Amber Lilyestrom walked away from her decade-long career in collegiate athletics when her daughter was just eight months old.
"I've never known entrepreneurship without 'mama' as the title that comes before it," says the personal branding expert.
At first, Amber was only able to work 2 to 3 hours a day, at the most, because of her daughter's sleep schedule.
"I used those two to three hours to talk with clients and crank up my work as a branding strategist and business coach," she says. "Now that she attends preschool two days a week, I feel like I've hit the jackpot in having more than three consecutive hours to get my work down."
Unlike Amber, I couldn't work from home with two young kids. If I did, I either would have gotten nothing done or I would've completely ignored them to get things done. My kids went to school (or daycare) while I worked, but somedays, I have to work with my kids home. You don't realize how many "holidays" schools close for until you are a working parent. (I'm still trying to figure out what President's Day is and how to celebrate it when they're off school!)
Whether or not your kids are at home, in daycare, or in school, you never really clock out when you work from home. I talk to Amber about how she gets things done working at home with kids and share with her what I do to stay organized at home with kids.
1. A Good Calendar
"This one is a no-brainer, but I couldn't live without my Google Calendar," Amber says. "My husband and I can keep track of each other's schedules, our daughter's schedule and, of course, I can see what I've got in the weeks ahead across all of my devices. It's the first thing I look at when I pick up my phone in the morning. "
While I've tried to use Google Calendar, I'm finding it hard to break away from the calendar on my iPhone. I'm constantly setting two reminders for everything in there!
2. A Scheduling App
Any scheduling app that can allow potential clients to book strategy calls and current clients to book sessions without Amber having to do a thing is well worth it. This also gives her the freedom to choose when she works, which makes it easier to juggle business and baby.
3. A Clear Schedule
Amber started using the hashtag #whitespaceweekend, meaning she and her family have nothing on the calendar for the entire weekend.
"Okay, it's not always entirely possible, but it's something I guard fiercely because this is where true connection and creativity blossom for me," she says.
Plus, it gives her that quality family time she would otherwise crave during the week. "I want to spend as much time as possible enjoying my life and being present for my daughter as she grows up."
This is something I need to work on. Like I said, when you are your own boss and can work anytime from anywhere, it's hard to not check your email or answer a phone call.
4. A Walkie-Talkie
Voxer, which costs just $3.99 for the professional version, turns your phone into a walkie-talkie, which makes it easier for Amber to connect with her team immediately. "It's also helped me improve as a speaker," she says. "I catch myself using 'likes' and 'umms' and can practice as if I were speaking to an audience or doing a live video."
5. A Delivery Service
With so many delivery services around for your near-every need, I can't recommend this enough. Arbonne is a one-stop shop makes it incredibly easy to order everything Amber needs at once: daily protein shakes, skincare, makeup, and baby care products show up at her door whenever she needs it, cutting down time she'd spend perusing the aisles of grocery stores trying to find what she needs.
I'm a big fan of Amazon Prime and the grocery pick-up at Wal-Mart. When you're short on time and have two kids, grocery shopping online and not getting out of the car to pick up what you ordered is next to the best thing ever.
6. A Video Conferencing Tool
Zoom is an epic tool worth its weight in gold, Amber says. The video conferencing app offers multiple pricing plans depending on your needs and has the ability to provide HD-quality video that you can screen share with up to 100 people.
"I don't know how we did virtual meetings before Zoom," she says. "I host my group coaching calls on Zoom and even recording trainings on it for my programs."
7. A Management System
Amber uses Simplero, which helps you keep literally everything in order. The service offers a free trial without you having to put a credit card down, too.
"This is an all-in-one system," Amber says. "It's a complete portal where I can run my business because it helps me manage my email, my payments, and my affiliate and course space."
I keep my long term list of things to do in a Google doc, then break down what I'm doing each week, then each day by the hour. I prep these sheets every Sunday so come Monday morning, I'm all scheduled for the week. This eliminates a lot of stress and feeling like there is too much to do.
What keeps you sane when you work from home with your kids?
REAL LIFE. REAL NEWS. REAL VOICES.
Help us tell more of the stories that matter from voices that too often remain unheard.
This post was published on the now-closed HuffPost Contributor platform. Contributors control their own work and posted freely to our site. If you need to flag this entry as abusive,
send us an email
.