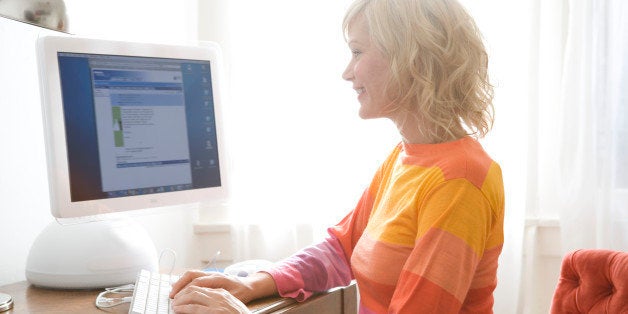 Seth Godin tells a great story, the kind of story that changes the way you see the world around you . In this classic post, Godin blogs about how author Amanda Hocking made a million dollars a year publishing her own work because she chose to "pick herself."
"Pick yourself" Godin recommends. "It's cultural instinct to wait to get picked, to seek out the permission and authority that comes from a publisher, talk show host, or blogger saying 'I pick you.' Once you reject that, you can actually get to work."
Before I was a blogger, ( and a mom) I was a magazine publisher, and spent several years traveling to trade shows and conferences, meeting new people and learning new markets. Even with my experience, deciding to attend my first blogging event, BlogHer 2013, left me feeling a little nervous.
Reading about the BlogHer newbie breakfast with the mentoring twist was encouraging and I was excited to see these keynote celebrities headlining the event; pioneer woman Ree Drummond, social marketing evangelist Guy Kawasaki, Lean In author Sheryl Sandberg and senior columnist Lisa Belkin. I read with admiration about the 5K scheduled for Saturday morning, imagining fitness bloggers rising early to run, while I planned to rise early too, to sit and savor the delight of my child free, quiet hotel room and hot room service coffee.
There are great blog posts online from recent years offering sage advice on what attendee's need to know, and reading all of this helped me to feel prepared, but it was perspective that truly calmed me and helped me feel more powerful, giving me extra confidence about venturing out from behind my screen. I made the choice to pick myself and bring my authentic me.
When I started blogging, it was passion that fueled me. It's that passion that becomes a bloggers purpose, and that's what I need to bring.
When I decided, just two weeks ago, to attend BlogHer Chicago this year, I started cruising the blogs and found lots of cool fashion posts about what to wear. Time flew by as I got caught up in the latest apparel trends and summer's must have accessories, before acknowledging, that that wasn't really "me."
Excited about sorrounding myself with writers and words, and all things blogging, I decided to pack for my true comfortable and creative self, taking my best dress jeans and Converse for during the during the day, and my new favorite Anthropologie Daydreamer Tee, that features a black vintage typewriter graphic with typewritten alphabet letters cascading down the front. A bit geeky yes, but... that's totally me.
Last night, as I tucked my daughter Zoe in bed, she asked me about my trip. "I know Daddy will give me my medicine," she began. "And Daddy will help me during the night, but why do you have to go on your trip again?" I told her then a little about blogging and how I like to write, and that this is something just for me. "Does it make you happy?" she wanted to know next. I moved my face close to hers then, and in the pink nighlight glow of her bedroom, I could see her face start to crumple. My mothers heart knew there were tears in her eyes. "Yes, it makes me happy" I replied and with that, she reached up and tenderly touched my cheek. After a kiss goodnight and a very long sigh, she said "I get it, Mom."
And that moment is what my passion is all about -- celebrating the simple, every day -- one story at a time.
7 Tips to Take to BlogHer
Pick Yourself, Choose Yourself. James Althucher, author of Choose Yourself, defines it this way: "Don't depend on the trends, build your own platform, define success by your own terms, choose yourself."
Ditch your elevator "pitch" for your "passion" purpose. In a sentence or two, share your story. Remember that passion that got you started blogging? That passion is your purpose.
Surround yourself with fun, friendly people. Positivity is energizing.
Conferences are not just about who you "met," but more about what you "get."Soak it all in, listen and look around. Challenge yourself to learn something new.
Be generous. Follow life's golden rule, the more you give, the more you receive.
Be nice to everyone you meet. You never know, who needs it the most or where it will go.
Don't stress. No plan? No worries. See numbers 1-6. Leave your media kits and manuscripts at home, because you already have everything you really need, YOU.
Related
Popular in the Community