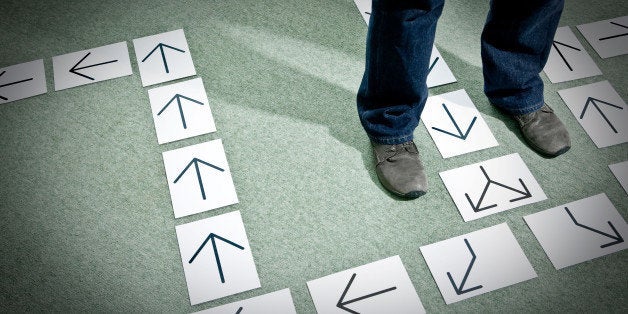 The major you choose is arguably the most important decision you will make in college, especially because it can affect your career choices after graduation.
Still, not knowing what to study when first starting college is normal--between 20% and 50% of students start off as undeclared. Your early years are the perfect time to explore your interests and figure out what you love doing.
What's more, graduating in four years is no longer the norm for most students. According to a report by the U.S. Department of Education, about 59% of college students seeking a bachelor's degree now take six years to graduate. With fewer students completing their degrees in four years and borrowing more student loans in the process, choosing a major before your junior year is crucial to staying on track.
We asked college advisers to share their best tips on how to choose a major that's right for you. Follow these steps to get started.
1. Reflect on what interests you.
The first step in choosing the right major is determining what piques your interest most. "Learn who you are and what you love," says Karen Evans, the assistant dean of experiential learning and director of career development at Albright College in Reading, Pennsylvania. To help you identify what you like, Evans advises asking your career center for self-assessment resources. She also recommends reflecting on your past experiences -- jobs you've done, subjects you've loved studying already -- to determine where your passions lie.
"Take time and think about what you are good at," advises Stephanie Peragos, coordinator of undeclared student advising at York College in York, Pennsylvania. "I always encourage students to determine their academic strengths, and then find a way to translate that ability into a career. Who wants to just punch a clock and earn a paycheck?"
2. Evaluate your beliefs and core values.
Do you enjoy helping people? Consider the pre-med track or social work. If you're a problem solver who enjoys puzzles, consider engineering, philosophy, math, or the sciences. Ultimately, how you answer these questions will stem from your personal values and beliefs.
Kaitlin Wolfert, student success advocate at Chestnut Hill College in Philadelphia, Pennsylvania, walks her students through an activity "that helps them narrow down the values that they are hoping to tap into in their future careers. In the exercise, they might determine that helping people and giving back to the community is way more valuable to them than money or being recognized for their work," she says.
3. Test out majors by taking introductory courses.
"Knowing whether a major seems like the right fit is as important as knowing that it is not," says Helena Santos, the dean of advising and first year programs at Lasell College in Newton, Massachusetts. "Try a major on for size," she says, by enrolling in an introductory course. It will likely count toward your general education or elective requirements.
For example, if you're "interested in business," Peragos says, "enroll in an introductory management or marketing course." If it piques your interest, consider taking more business classes or speaking with others in the major. If not, then look into taking other worthwhile classes.
4. Ask for help from advisers and those who know you well.
While it is ultimately up to you to choose your academic path, your friends and professors could also be great allies. "Find teachers that inspire, motivate, and encourage you to work hard and be passionate about your academic experience," says Timothy O'Donnell, the associate provost for academic engagement and student success and professor of communication at the University of Mary Washington in Fredericksburg, Virginia.
Once you've done some digging yourself, be sure to seek help from academic advisers and career counselors. They can help you create a roadmap for the remainder of your college years. Now that you've determined what your values and academic interests are, try working "with a career counselor to understands how the results of your [self-assessment] fit with various college majors and [career paths]" Tirpak says.
5. Check degree requirements.
Once you've narrowed your focus to a few majors, look into the degree requirements, syllabi and relevant courses for each, Tirpak advises. Are there any pre-requisite classes that you'll need to take? Will you have enough time to complete these along with the major requirements your junior and senior years? "Assess your thoughts and feelings while reading [the requirements]," Tirpak says, and "use them as a guide that will direct you toward or away from an area of study."
6. Follow your own dreams.
"When students major in subject areas that interest them and they feel passionate about, they are more like to engage fully with the material they are learning," Santos says. She adds, "this development, more than the particular major, makes them marketable in a competitive workforce."
When choosing a major, Kate Lehman, assistant dean of student success at Otterbein University in Westerville, Ohio, stresses the importance of doing what you love. Some students choose to apply for "medical school or law school or even pursue business because their parents perceive that those majors [and] careers will guarantee jobs after graduation," Lehman says. "The challenge is that no matter how much money is out there to be made in those fields, if you can't complete the curriculum successfully or are miserable in those classes, you won't be employable or happy."
Talk through these concerns with your adviser or career counselor, as they are often willing to help you find the right opportunities for your interests.
7. Use elective credits to explore other interests.
Despite the pressure you may feel to choose the perfect major, you can always change career trajectories at any point. To expand your horizons, O'Donnell advises using "your elective credits wisely to customize your learning experience beyond the major requirements. Forge interdisciplinary connections across the curriculum because a major is really just a singular, disciplinary way of knowing the world, which, on its own, will inhibit, rather than expand your mind," he says.
Make the most of your junior and senior years by exploring new subjects and activities, Santos adds. "Take a new class just for fun, attend a lecture, volunteer for a campus activity, go on that field trip, and don't miss out on opportunities to try new things. Learn as much as you can about it and why it matters," she says. "You will be different for having experienced it."
Overall, remember that your major isn't a "forever-type" decision, Evans adds. "More often than not, particularly for liberal arts college students, the path is never a straight line."
Related
Popular in the Community