You're afraid of color overload (who isn't?). Stick with these tricks for keeping color under control.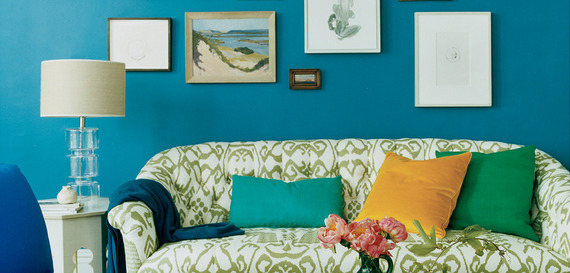 TRUST YOUR INSTINCTS. If you want to overcome a color-commitment phobia, think about what you like: Do you have a favorite hue? Are you drawn to a certain style or era? Let your personal choices-such as your wardrobe-influence your decorating decisions. Chances are, if you've never liked chartreuse, you really won't like it on your bedroom walls.

TAKE BABY STEPS. Craving color, but not ready to cover all four walls in chocolate brown? Paint just one wall in your living room the shade you're eyeing this season.

TREAT NEUTRALS AS EQUALS. All hues (yep, that includes soft beiges and creamy whites) deserve a fair decorating chance. Not all transformations need to be bold and bright.

ACCESSORIZE WITH INTENTION. Sticking with white walls? Work color into the space with accessories such as bold geometric throw pillows, abstract artwork, and brightly patterned fabrics.

LOOK OUTSIDE. Flowers do have power. Enhance a tablescape with a low, tight arrangement of fresh blooms. If you don't have a green thumb, stick with hard-to-kill houseplants, such as aloe or jade.
BREAK THE RULES. Who says turquoise and tangerine can't live together? If you're inspired by a certain combination, go for it. Our favorite part about decorating is that you can always redecorate next season.
Related