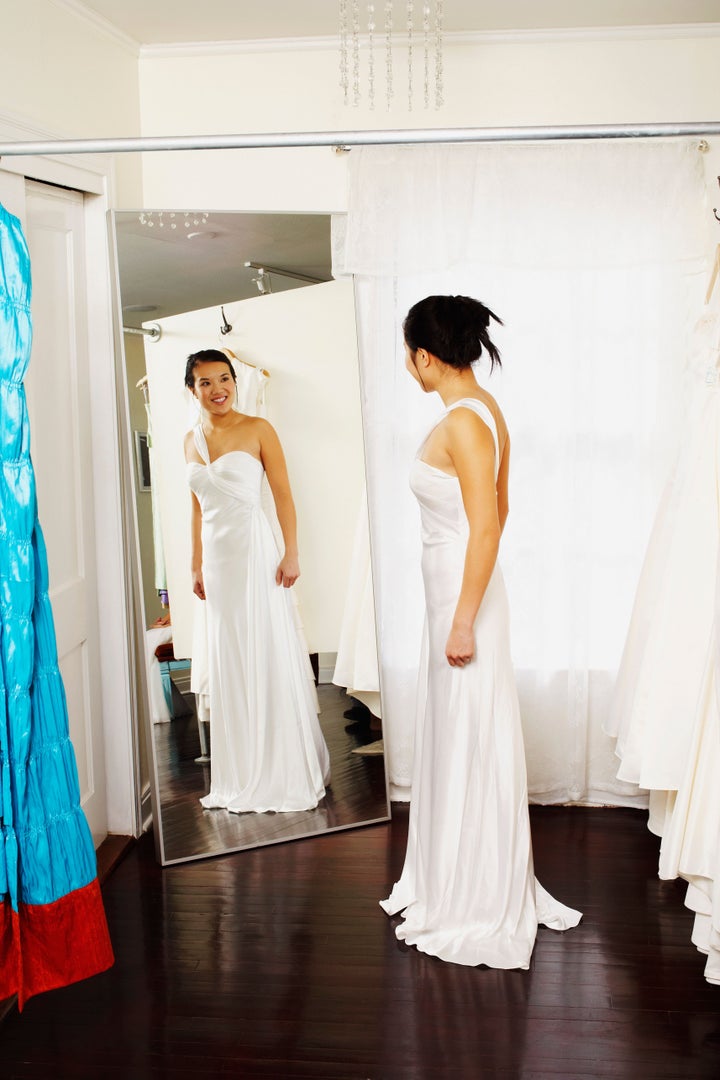 My wedding dress hunt took me to three bridal salons, two consignment shops, one department store "wedding suite," one mass-market retailer, and one independent designer. I searched countless websites and consulted more than a dozen friends and family members. I wasn't looking for "the one" (an idea that's subject to debate when applied to people, much less articles of clothing). I just wanted something that would make me feel as gorgeous as my groom ― and cost less than everyone seemed to expect me to pay.
American brides fork over an average of $1,289 for their wedding gowns, according to a 2011 study by BRIDES magazine. An earlier and much larger survey by wedding website The Knot puts the average price at $1,099. Either way, it's more than I was willing to spend on something I would wear only once.
I may have fared better financially if I'd just shelled out a grand and spent all those hours working instead of searching. But this was a matter of principle as well. After all, I make my living as an editor at Cheapism.com, a site dedicated to finding the best budget products. I also wanted to focus the wedding spending elsewhere. Having the day beautifully captured in photos, for instance, means more to me than the dress.
If you're shopping on a budget for a bridal gown, here are some helpful tips:
1. Consider a bridesmaid dress in white. A sales consultant at a salon may not volunteer this option, but many elegant designs come in an array of colors ― including white or ivory. If you prefer a clean, simple silhouette to a full skirt and sequins, a bridesmaid dress could play a starring role for the cost of a supporting player.
2. Plan a less formal event. If you imagine yourself at the altar in a cathedral-length veil, skip ahead to the next tip. But couples open to an outdoor wedding or any other casual setting can save a lot on attire. A lightweight dress for a beach ceremony is likely to cost far less than yards of embellished silk satin.
3. Seek out sample sales. Bridal salons offer big discounts a couple of times a year to clear out sample dresses, selling them as is. You may cringe if you've seen scenes of brides-to-be lunging at piles of marked-down gowns. But things may be more civilized at a local salon ― some even take appointments during these sales. Ask about upcoming events and sign up for email lists.
4. Don't overlook department stores. Off-the-rack retailers such as J. Crew and Ann Taylor have become go-to sources for brides on a budget, offering attractive styles and prices. But department stores have also embraced the bridal business. Cheapism found that Nordstrom is one of the best places to buy a cheap wedding dress. You can order online or make an appointment with a wedding stylist at select locations. Bloomingdale's and Lord & Taylor also feature "wedding shops" on their websites. The dresses don't take months to come in and can be returned.
5. Don't assume mass-market means cheap. While these retailers set prices as low as a few hundred dollars, sticker shock is still possible. Most styles by BHLDN ― the Urban Outfitters/Anthropologie wedding brand ― carry four-figure price tags, and the most expensive is $6,000. Bebe is introducing a bridal collection expected to start near $1,000. Many salons carry lines that start well below that level.
6. Give secondhand sources a chance. You may balk at consignment shops and classified websites, despite the alluring prospect of a designer gown at a discount price. But sites such as Recycled Bride and Encore Bridal often feature new and sample dresses as well. New dresses don't necessarily carry the bad karma of a called-off engagement, either. One bride is selling a $1,430 Mikaella for $600 on PreOwnedWeddingDresses.com because she switched to an outdoor venue and a simpler dress. My own bargain was hiding in the basement of a bridal consignment shop and could be ordered in my size. The experience came complete with a pedestal in front of a mirror, an attentive sales consultant, and a tearful sister-in-law exclaiming, "This is just like 'Say Yes to the Dress'!"
7. Choose a color other than white. At New York's bridal fashion week this fall, none other than wedding dress doyenne Vera Wang showed not one white or ivory gown. Many of her designs were black (can you believe it?), but even blush could help you sidestep the markup on anything labeled bridal. White isn't always the easiest color to wear, and a different shade might better complement your skin tone. If you're the type of woman who likes to turn heads, refraining from white is a surefire way to make a statement with your wedding gown.
Popular in the Community