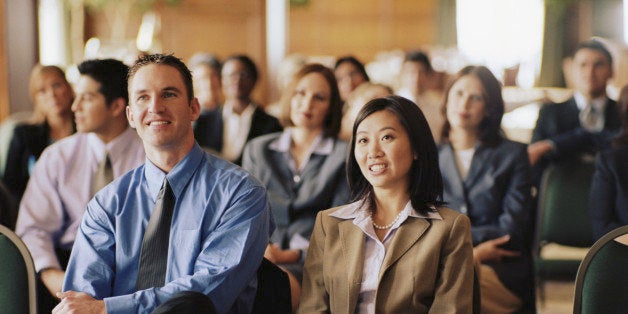 Google "Conferences 2015" and you will get thousands and thousands of search return results. So many events, so little time. In doing an unofficial poll of my network, I found that the majority of employers are budgeting for their key employees to attend only one conference per year on the company dime. So, how do you make the most of that one conference experience?
Instead of dwelling on all the events you are going to miss, try to focus on how to make the one conference you go to an absolutely kick-ass learning and networking opportunity.
To say that a conference is the result of hard work is an understatement. Event planners, even on small events, begin planning their 2016 event the exact moment that the 2015 event ends. Larger event planning organizations often have two to three years' worth of conferences being planned at the same time. Every detail painstakingly overseen until it's as close to perfection as possible. All you have to do is show up, right? WRONG!
You must be an active participant. Not just an active learner in the sessions, but an active participant in the experience. The easiest way to do this is through social media. So how does one go about being a good conference goer? Here are seven proven tips:
1. Maslow's Hierarchy of Needs: I won't go into great detail on this, however, the bottom line is, in order to be comfortable and open to the full experience, you must feel good about things such as your physiological needs (food, water, shelter, sleep), safety/security and a feeling of belonging. For the most part, you have control over these things. Social media plays a key role in making decisions about things, such as hotel choices, dining choices, dress code and other conference info (event hashtags, social media boards and websites).
2. Don't Judge:
If your boss has chosen the conference then there is not much you can do but to make the best of it. There are two things that may actually hinder your conference experience. It is the preconceived notion of experience and expectation.
Experience -- Our first means of assessing an events value is by comparison. Simply put, is this event better or worse than your best experience to date? While you may be a first timer to this particular event, chances are that you are not a first timer to conferences in general. You already have a mental bar set that this conference will either surpass or fall short in reaching.
Expectation -- The best way that I can convey what I mean by expectation is by referencing the movie Titanic. When the movie Titanic was released, it had an initial worldwide gross of over 1.84 billion, and was the first film to reach the billion-dollar mark. I was not one of the first movie-goers. In fact, I waited about seven weeks. By the time I actually went to see Titanic, I had already read all the reviews and heard my friends' opinions -- so much so that I felt as if I had already seen the movie. This meant the things that wowed my friends had fallen short for me.
Try to let each event start with a clean slate in your mind. In your mind, give each conference a rating of 100 as soon as you register. They will either miss, meet or exceed that score on their own merit. Use social media to begin to get hyped for the event.
3. Participate Early: Social media, social media and social media. You have the ability to connect with other attendees right at the tips of your fingers weeks, even months before the event. This allows you to begin the conference experience early, which is always a plus. There are so many perks to doing this that it will require another post on that topic alone.
4. Get Max Bang for Your Buck:
From a learning standpoint, there are two key ways to get the most educational value from a conference.
Expand the learning: Use social media (via the event hashtag) to make a date with others in your session. Plan to meet for coffee, lunch, dinner or drinks in order to continue the discussion on the session topic. This allows you to get other peoples points of view on what the speaker presented. It also allows for a more in-depth discussion of the topic.
Swap learning: There are so many great sessions and great speaker, but you can't attend them all. Use the buddy system. Split up during sessions in order to cover more topics. Again, plan to meet for coffee, lunch, dinner or drinks and let each person recap the key points of the session that they attended. What a great way to get as much information as possible without having to clone yourself.
5. Follow along: It has become common practice for attendees to tweet key message points during the actual session. I have actually been on "tweet teams" that were assigned by the conference organizer. As part of the tweet team, I attended sessions and tweeted non-stop to provide the content to those unable to attend. During your down time, read through these tweets. Some messages will be very self-explanatory. Others may not, which leads me to my next tip...
6. Connect: Speakers love nothing more than for you to connect with them pre or post conference. If you are reading through a speakers session tweets and have a question, ASK! You can reach out to them personally, or you can share the tweet, tag the speaker and ask your question. Use social media to stay connected with your new friends and network. Staying connected from year to year makes each conference event even more special.
7. Continue to follow the conference hashtag. I have been to events where the hashtag was alive and well months after the end of the conference ended.
Investing in yourself is always time and effort well spent. By looking at each conference as a way to learn more, explore more and give more, you will have no choice but to come away enriched and fulfilled.
Calling all HuffPost superfans!
Sign up for membership to become a founding member and help shape HuffPost's next chapter