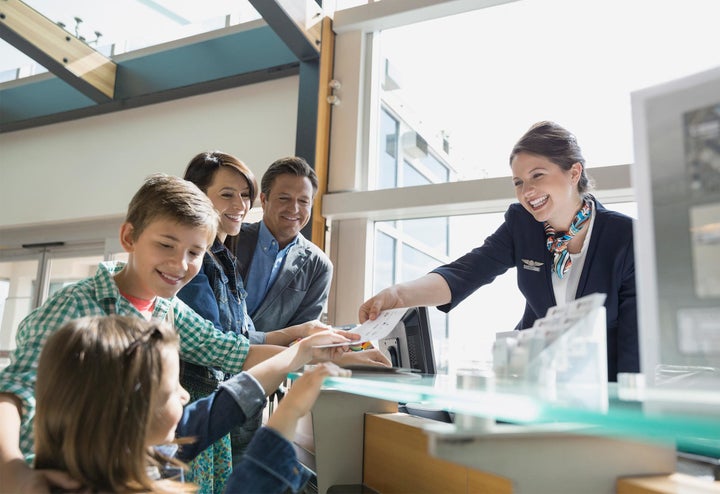 Vacations and holidays are all about relaxing, so it's unlikely balances, bills and credit cards and debit cards are on your radar.
But if you're traveling, "checking balances more often is probably good advice," says Nessa Feddis, senior vice president for consumer protection and payment for the American Bankers Association.
"And because of mobile banking apps, it's easier to check," she says.
Want to keep that plastic safe, even as you hit the slopes? Here are seven strategies, plus a few bonus tips, that you can use right now.
1. Let card issuers know you're traveling
Remember as a teen when you had to let Mom and Dad know you were leaving the house, where you were going and when you'd be back? Now, your card companies should get that call.
Many credit card and debit card issuers are using security software and other means to fight fraud, says Susan Tiffany, who retired in 2015 after 17 years as director of consumer periodicals for the Credit Union National Association.
If you normally buy shoes on Michigan Avenue in Chicago and suddenly you're buying croissants on the Champs Elysees in Paris, there's a chance your card could be declined or suspended.
"If you're going to be outside your normal stomping ground, make sure you let your card issuer know," Tiffany says. "Even if you're just going to a different state, it never hurts."
And that goes for credit and debit cards, she adds.
Bonus travel tip: While you have that debit card issuer on the phone, ask if you have a daily spending limit or daily ATM withdrawal limit, Tiffany says. Not every card does, but it's something you want to know before you leave home.
2. Seek the perks
Not all cards offer the same benefits. And some of them "might have perks that come into play when traveling," Tiffany says.
If you usually use your cards to buy nothing more exotic than gas and groceries, you might not know if any also offer things, such as:
Concierge services.
Discounts on rental cars.
Free breakfasts or late checkouts at hotels.
Free or discounted medical travel insurance.
Emergency evacuation insurance.
Are you buying something expensive for your winter travels, like a plane ticket or a weeklong hotel stay? Opt for a card that gives rewards or points, says Danielle Fagre Arlowe, senior vice president with the American Financial Services Association.
And look for ways to amp up your rewards, such as booking through the card's website, she says.
Bonus travel tip: Don't keep all your cards (or your cards and card replacement information) in the same place when you travel, says Eva Velasquez, president and CEO of the Identity Theft Resource Center.
That way, if some cards are lost or stolen, you'll have others you can use, she says. And when cards are stolen, you'll still have the information you need to replace them.
3. Change payment due dates
Here's something you might not know: Billing dates aren't carved in stone.
If you're not juggling bills and paychecks, it can be a lot easier to remember one due date than three or four, says Joe Ridout, consumer services manager with Consumer Action.
Call card providers and get all your billing dates moved to the same day each month, he advises.
"So, if you have five cards, have them all due on the 10th of the month," he says. "It's not something a lot of credit card users do, and it can save you some stress."
For card users who have the means to pay, it can be a nice convenience, Ridout says.
Bonus travel tip: Want to reduce your stress now -- and after your vacation? Remember that even when you use plastic, what you're spending is still real money, says Arlowe, of the American Financial Services Association.
When you whip out that card, "think of yourself as taking it out of your checking account," she says. "Be mindful of what you budget and don't go crazy."
4. Limit 'foreign' ATM fees
If you're traveling over the holidays, you will often need cash, says Ridout.
"Given that you're going to be in different locations, you will often wind up using an ATM that might not be in your network," he says. And those "foreign ATM" and "out-of-network" charges can be hefty -- sometimes $5 and $6 a pop.
But a good number of credit unions and smaller community banks are rebating those charges, even when you incur them outside the country, Ridout says.
So before you set out on your winter vacation, find an institution that gives you access to your cash without a lot of fees.
Bonus travel tip: Before you pack those vacation cards in your wallet for an overseas trip, call the issuers to find out about currency conversion fees, says Ridout. Several U.S. issuers no longer levy the fees -- which can be as much as 3 percent or more on every transaction.
5. Stay alert
Part of the fun of any vacation: You're shaking up your normal routine.
If you're visiting places you haven't gone before, keep an eye peeled for skimming devices before you hit ATMs, says Velasquez, of the Identity Theft Resource Center.
Scope out your surroundings with an eye toward your personal and financial safety, just as you would at any other time.
Another tip that can make your life easier: "If you're running around doing different things," a money belt or travel purse can make life easier, Velasquez says.
Make sure to opt for credit cards over debit cards for making purchases. "You have more protections," Velasquez says. Plus, if there are problems, you're disputing a credit line instead of actual cash.
Bonus travel tip: "Depending on where you go, you may want to buy a travel card," says Feddis, of the American Bankers Association.
Available to buy and load at your bank, they work much the same as a regular debit card -- except they don't pull directly from your checking account, she says.
That way, "if there's any compromise of the card, it's limited to what's on the card; they don't have access to your checking account," she says.
6. Ask questions before you leave
Will your card work where you're going? And is it commonly accepted?
Don't just ask card-issuer customer service. Before you leave, also talk with your travel agent (if you have one) and your hotel, innkeeper or concierge, too.
If you're still using magnetic stripe cards, find out if you'll be able to get by, or if the area is predominantly chip-and-PIN territory, Ridout says.
Bonus travel tip: Even if you primarily use one card at home, it can help to take more than one on a trip, especially from different issuers, says Tiffany. "Not every card is universally accepted." Plus, if one card inadvertently cuts you off or suspends privileges, you have a backup.
7. Rely on your smartphone
For credit data harvesters, public Wi-Fi is an all-you-can-eat buffet. Ditto for those public-use computers in internet cafes and hotel business centers. Avoid them for anything other than reading the morning paper or checking the weather.
Need to check balances? Use your own cellphone to try your bank or issuer's app or mobile site, says Feddis.
Or go old-school and dial the institution's toll-free number.
In an emergency situation, if it's your only option, sometimes the benefits of Wi-Fi or public computers outweigh the risks, says Ridout, of Consumer Action. But usually there are better alternatives, and it's "generally a bad idea," he says.
And never put card numbers into websites that don't have a secure connection, says Velasquez. "My rule is that I use my (own computer's) secure network for sensitive transactions -- and would only use my phone if there was an urgent need and I was certain that the transmission was secure," she says.
Bonus security tip: Not using your phone that contains all of your banking and shopping info? Lock it. According to a study by Aite Group and ACI Worldwide, 11 percent of Americans don't.
"It's time we starting treating our phones like the computers they really are," says Velasquez.
Related
Popular in the Community