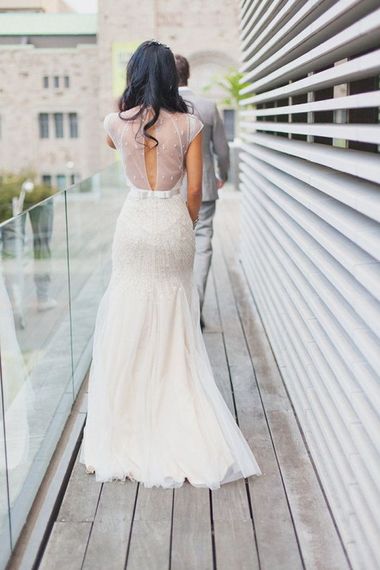 Nearly every little girl spends her life dreaming about her wedding day -- the dress she'll wear, the man she'll marry, the venue where she'll recite her vows. Shopping for a wedding dress should be one of the most fun, exciting, memorable moments of wedding preparation, but we all know it can also be one of the most stressful. Brides seeking out their perfect wedding gown need to come prepared with the right kinds of questions. What style and cut best suits your body type? Do you want a full train? What kind of gowns are trending this season? We know, it's complicated and overwhelming! And that's why Wedding Party put together this list of helpful tips to make your wedding dress shopping adventures as painless as possible!
Check out these ideas below for a list of the questions you should be asking your bridal consultant during your fitting:
1. Talk to the consultant about the fit and your body
What style is best for my body type? This is one of the most important questions you can ask at your fitting. An experienced consultant can give you unbiased and objective advice about what kind of dress will make you look your best on your wedding day. Don't be afraid to try on a variety of different styles, even if they're not what you had in mind when you walked in the door. You might be surprised about what you end up loving, even if it wasn't your original idea of the perfect dress. Follow the golden rule for wedding dress shopping: Never judge a dress based off of what it looks like on the hanger, or in the magazines. And, as always, choose the dress that makes you feel the most beautiful and confident. Choose the dress that best flatters you. Love it, and own it, and don't let the dress wear you.
Contrary to popular belief, bustles are not one size fits all. Bustles fill out the train, making it easier for the bride to walk and dance, and come in a variety of shapes and styles. A consultant should be able to tell you which bustles are appropriate for each style of gown, so don't be afraid to ask! The bustle might seem like an afterthought, but you will be wearing it for the majority of the reception, so be sure to find that one that is comfortable and accentuates rather than detracts from your dress. Jot down notes or take a photo of the particular bustle you like so you can show your fitter at a later date and make sure it looks good with your dress.
It's easy to get caught up in the moment and finding the perfect dress, but don't leave the appointment without discussing and/or trying on veils and accessories. Find something that will complement and enhance your overall look. As an additional tip, ask about special accessory trunk shows offered by the shop. You're likely to find good deals and an assortment of different options there.
4. Talk about current trends
It's important to discuss what trends are in style for the season, since fads tend to come and go. The consultant can then steer you in a certain direction depending on whether you want a dress that trendy or classic.
5. Ask about your wedding venue and date
When you talk to your consultant, make sure you let them know how many guests there will be, where you'll be having your wedding, what time you'll be having your wedding and your general theme. All should play a role in the style of dress you end up choosing. Typically, a dress for a Saturday night black-tie wedding and a Sunday morning backyard wedding are very different. Your consultant can help you differentiate between options and help you choose what is most appropriate for your specific vision.
The amount of time it takes between ordering and receiving your dress depends on each designer. Give your consultant a timeline so they can help plan accordingly. Ask about delivery times-that way you will have an estimated arrival date.
7. Discuss fees and pricing
In this world nothing comes free, and the wedding industry is no exception. You will likely end up paying more than the price tag on the wedding dress for fittings and alterations, so ask about the salon's various fees. Some set a flat rate, others charge different prices depending on the severity of alterations. Many often charge for bustling, storage and pressing. Check in advance so you know what you're walking into.
What do you think brides? Were these tips helpful? Let us know what you think, and happy shopping!