Many people find fundraising scary. They think of asking friends for money, making unwelcome and annoying calls, and sending out yet another long-winded plea for grant funding. But in many ways fundraising is about so much more than that--it is about creating connections and synergies that provide mutually-beneficial partnerships to otherwise disparate groups. Fundraising is about designing and sharing meaningful impact.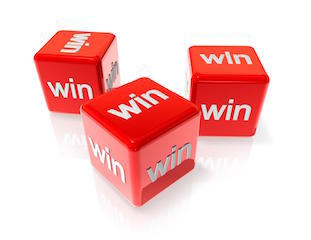 Create a win-win-win strategy for the nonprofit, the funder, and the sector
Yesterday, Anuja Khemka shared her hard-earned insights about how to successfully build such funding partnerships with corporations. She reiterated just how important mutual benefit is, and recommended that grant-seekers develop a strategy that positively impacts the sector as well as the funder and nonprofit itself. Anuja shares her final four tips for successfully forging these critical relationships.
4. Leadership Matters: Leverage influential board members to rally on your behalf. First, look for connections between your board and corporate leaders.Make meaningful introductions between these two sets of key influencers so they can form a mutually beneficial partnership to create positive change. At the same time, give your board of directors attention and care by providing leadership training, learning retreats, and networking opportunities. Remember, no factor is more compelling than as an engaged CEO with a demonstrated commitment to partnership.

5. Tell the Real Stories: In today's social media-obsessed world, it is important to showcase your impact and success by communicating creatively. Collect the real stories from your program's participants. Or, better yet, invite your program's beneficiaries to tell their own stories, in their own voices, about how this work has changed their lives. Share these testimonials with corporate funders so they can share with their own communications teams. Nothing connects like a true story!

6. Build Capacity: Develop and invest in capacity building around evaluation, communications, marketing, and board engagement to help your nonprofit get the competitive advantage many others may be missing.

7. Connect with Program Officers: Program officers are your champions and they will either bat for you or boo you when the board votes on your proposal. They are also your guides as you develop the nuances of a winning proposal. It is beneficial to engage them as a thought partner for your program as they can be truthful about the real challenges your organization needs to fix. Developing an honest, two-way relationship with your program officer can help you get ahead of the pack. They can also help you attract additional funding through their network and serve as a reference for your organization.
Anuja also shared her inspiring experience leveraging the tools she learned in corporate philanthropy to create even more impact abroad.
Steve Mariotti: How did you go beyond your career in corporate philanthropy to work on-the-ground in India?
Anuja Khemka: Sometimes, life-changing moments happen on very ordinary days, in ordinary places. It was a busy day when I met I Create's CEO, Ulhas Kamat, at a Starbucks on Wall Street. He described the entrepreneurship work they were doing to help public school students in India. At which point it occurred to me: why not take the entrepreneurship program to Mumbai slums, red light areas, juvenile prisons and provide entrepreneurship training to populations that find it hard to get jobs because of the stigma they carry.
Ulhas was enthusiastic so I actively fundraised to implement this program and met my target funding goal. I convened three major NGOs in Mumbai dealing with slum children (Door Step School & YUVA), trafficked women (Prerana), and sex workers' children (Prerana), we taught the children about entrepreneurship and how they can launch their own micro-businesses through a 3-week bootcamp. These children formed teams, conceptualized businesses, delivered elevator pitches and developed their self-confidence together. This was a huge accomplishment for them, given the backgrounds they were coming from--slums, red light areas, brothels, jails.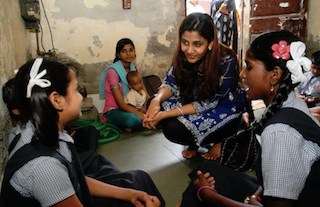 SM: What was your experience with the impact of the program?
AK: A few months later, I got reports and thank you letters from the participants. A small child from the slums, Sanjay, wrote, "Now I don't have to wash tea cups to earn a living, I can have my own tea shop!" Another girl, Nida, who lived in a very orthodox slum wrote, "Girls in my slum are not allowed to leave home and travel to attend school, so I have started a home-school for all the girls my slum. The income from this business is helping to support my whole family." A sex-worker, Shabnam, wrote, "I have started a business selling plastic toys for children, the income from this business has helped me leave the sex trade and move out of the brothel." One of the inmates from Jhansi Jail wrote, "Had this kind of education been given to us earlier, we would have opted for this life, rather than a life of murder and crime.... Now we know where to go."
A simple idea turned into reality in a moment and changed thousands of lives. Since that first workshop five years ago, I have helped I Create raise funds to reach over 6,000 children from the most troubled pockets of society. Every month I receive such stories of deep transformation. That's what motivates me to continue fundraising for this program.
I feel blessed to have learned program planning, evaluation, and communications from the best of mentors. I want to take different opportunities to share whatever I have learned with nonprofit leaders--all striving to create change and happiness for those who need it the most.
SM: What would you say to those interested in raising corporate funds?
AK: Building these organizational capabilities may seem difficult at first, but it is doable if you prioritize your goals and align your resources. Be honest with yourself about what your organization needs most. Get capacity building groups and experts to come support your growth goals. Above all, stay positive, even if you get a few rejections from funders. Whatever the result, focus daily on creating value for your organization in simple ways; it will all add up. It always does.
Please contact Anuja at khemka.anuja@gmail.com for more fundraising advice, and check out Part One of this article here.
Calling all HuffPost superfans!
Sign up for membership to become a founding member and help shape HuffPost's next chapter