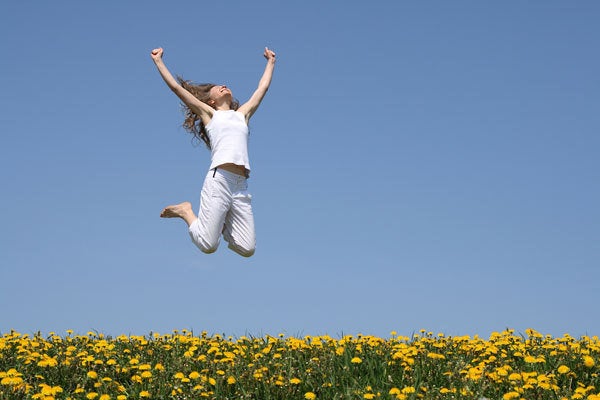 Age...ah, a tricky and often touchy subject. And, boy, do we use it as a very convenient self-sabotaging weapon at just about every stage of our lives. Do any of these lines sound familiar: "I'm too young -- I'll never be taken seriously," "I'm too old -- they'll want someone younger." At any stage in our lives we can easily use the excuse of age to stop us from trying something new, fulfilling a dream, or simply being happy in the now. The only way to stop this self-sabotage is to make a conscious choice to declare that you are the right age for right now. This is the only reality there is, isn't it? You can't be younger or older than you are right now. You simply can't change the number, but you can change the thoughts you think and the way you live your life.
Here are 7 things you can do right now:
1. If you're young and inexperienced think of yourself as a fresh face, an eager learner, a clean slate, or a sponge ready to give your all to your work, your dreams, and the people in your life. Don't focus on your lack of experience, but rather on your fresh perspective and energy.
2. If you've been around the block, and have lived a little (or a lot), focus on the wisdom you have gained, the experiences that have molded you, and the unique knowledge that you have acquired that only comes with time.
3. Don't focus on wanting to stay or look young, but focus instead on staying & looking current. Don't get stuck in any one stage, that's why they call it "a stage," keep moving forward. Reinvent, redefine, and refine!
4. If you tell yourself you're too young, than you are. If you tell yourself you're too old, than you are. Just like Henry Ford said, "Whether you think you can or you can't, you are absolutely right." So if you believe you are too young or too old, chances are you're absolutely right.
5. Know that there are pros and cons at every single age -- and that you and only you are in charge of what you choose to focus on or where your attention leads you. Whether it be your pros or your cons, your focus becomes your reality.
6. Take charge. Take action. Take the age number out of the equation and create the life you want in each moment. Demand to learn and grow at every age.
7. Concentrate on health, not numbers. Studies show that a positive attitude about age (at any age) can contribute to a longer, happier life -- even more than low cholesterol or regular exercise.
To paraphrase George Carlin, "Age is only mind over matter. If you don't mind...it doesn't matter."
View this tip in video format:

Patricia Stark is the host of Craving Confidence, a weekly show about confidence, life, and business skills. To subscribe to the show or the monthly newsletter, visit www.cravingconfidence.com