Even the most luxurious kitchens have budget constraints, so homeowners creating their dream room need to make smart decisions on how best to allocate their dollars.
I've been designing ultra-deluxe culinary spaces for discriminating clients for more than 30 years, so I've learned where to splurge and where to save to get the best value in a luxury kitchen.
1. Exotic Countertops: My favorite place to splurge is on exotic countertops. They make the biggest first impression and there is generally a lot of surface area that sets the tone of the room. I love using statement pieces based on semi-precious stone like agate or dumortierite in countertops, or a great slab of Calacatta Gold marble.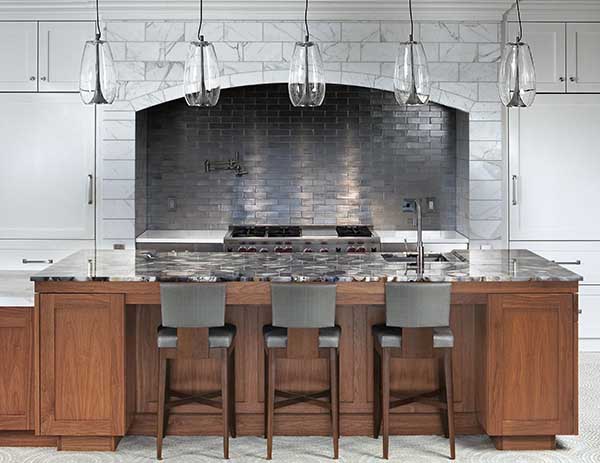 Kitchen with agate countertop
2. Hardware is like jewelry: You need just a few top-quality pieces to add the finishing touch to your kitchen. It is something you will touch and appreciate every day.
3. Custom cabinets are a must: They allow you to create your personal environment reflecting your individuality. With custom cabinetry you create an ambiance, not just a kitchen.
But, even with custom cabinetry, you can save by making strategic decisions. Exotic and costly materials like blackened stainless steel or fumed oak can be used only in significant places, rather than throughout.
Try it on the wall you see when you first enter the room, or a wall that's highly visible from an adjacent living area. Using a mix of moderately priced materials and exotic finishes makes the biggest impact -- it's not always all or nothing.
1. Leave the walls in place. It's not always necessary to expand a kitchen, but it doesn't make sense to leave everything where it is and merely change colors and materials. If you do that, the kitchen basically still looks the same when you're done. Instead, take the middle ground and reconfigure the space. By moving windows, plumbing, electrical and ventilation, you get a whole new look within the existing space. You don't have to make the room larger, but you do have to be willing to look at it as an empty space and reorganize it, which is exactly what I did in my own 12' x 12' kitchen.
2. Surfacing: Faux is fine. I often use porcelain tiles that look like luxurious limestone but are much less expensive. I especially like them on walls to create a hearth or cooking niche, as well as on floors. Take a look at this kitchen I designed for the Kips Bay Show House. I also like porcelain tiles that mimic wood. They look terrific and are very realistic, and you aren't compromising style and Artistic Tile has some great options. Then remember: in general it's fine to save on flooring.
3. Design it, don't over do it: Often over-designing leads to overspending. Too many crown moldings, too many fussy details, and too much ornamentation run up the budget without any payoff. Keep it simple and stylish.
4. Cut back on appliances: It's often OK to save on appliances, except for the refrigerator, as it's the most used appliance in the kitchen, it's not the place to save money -- a splurge is worth it. People often overspend on cooking equipment and dishwashers. Don't get caught up in buying a package of appliances, but choose the best ones for your needs.
With a little careful planning, you can have the luxury kitchen of your dreams without breaking the bank (too much).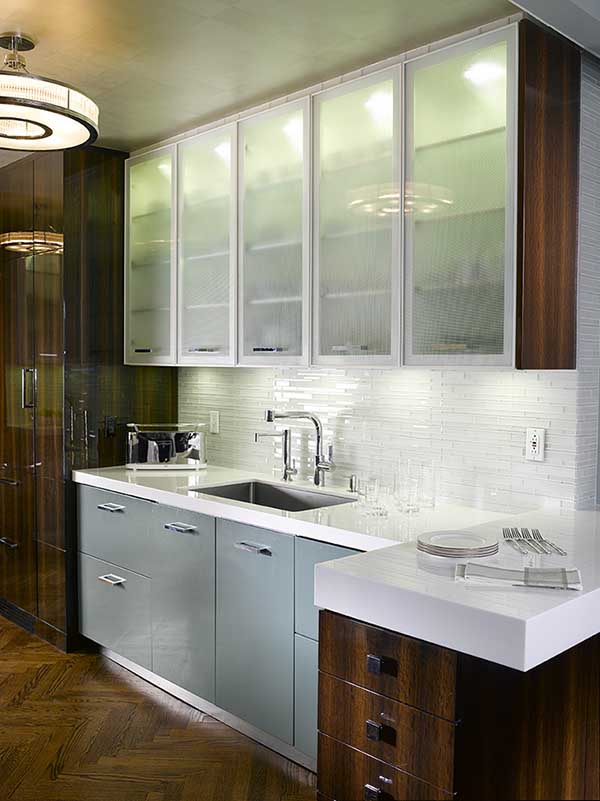 My kitchen after renovation
Related