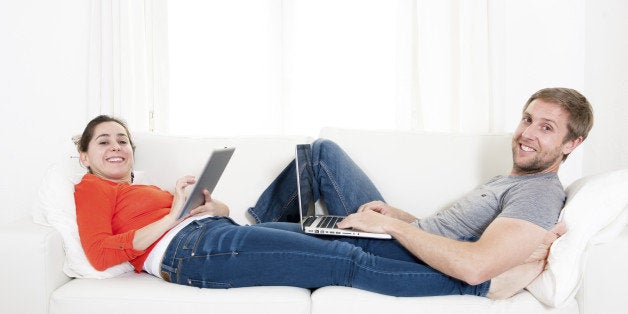 I know we're supposed to show gratitude each and every day, but this time of year makes it easier to unplug and really focus on the things that bring purpose and meaning to my life.
I am reminded about how fortunate I am to be able to build not only a beautiful family, but a business with my husband Phil. As two young law students, we took the plunge and launched our own business. It has been nearly 20 years, and we have weathered the highs of the dot.com bubble and the lows of the Great Recession. But all these ups and downs have brought Phil and me closer together, as business owners and as a husband and wife.
We're lucky. Financial stress and an economic downturn can wreak havoc on a relationship. But somehow, we have managed to not only keep our sanity, but strengthen our commitment to one another along the way.
Here are seven things that I have learned during this journey to help us strike the right balance and thrive as both marital and business partners.
1. Respect each other no matter what: Phil and I may not always see eye to eye, but we always respect each other. I understand that we each bring our own unique talents and strengths to the business and marriage. Yes, I voice my opinion and no one will ever mistake me for a pushover, but I also recognize that there are times when I need to trust where Phil is headed.
2. Put ego aside: Whether you're at home or in the office, it is critical to put your ego aside and do whatever is best for the situation. No good has ever come when I add my pride to the equation.
3. Leave business behind at the dinner table: With four children, it is nearly impossible for us to discuss business at the dinner table, but we have learned that it's important to make a clean break from being business partners at least once per day. This simple rule helps us stay healthy and balanced both as individuals and as a couple.
4. Keep a unified front: At times, it feels like it's just Phil and I against our competitors and the rest of the world. In this competitive economic climate, it's best for us to maintain a unified front and always have each others' backs. If I have a problem, I need to bring it up directly with Phil but support him publicly. The second I say something negative about him to others, cracks start to form in our foundation.
5. Prioritize date night: It has been twenty years, but even to this day, Phil and I try as hard as possible to have our own date night each week. When running a business, it's easy to move mountains to squeeze in a meeting with an important client, but we need to remember that our relationship is a priority too.
6. Perform a SWOT Analysis: Business school students and companies are very familiar with mapping out SWOT charts (Strengths, Weaknesses, Opportunities, Threats) for any new project. But the same tool is instrumental to truly understand and improve your marriage. Never turn away from the truth: we have learned to set aside time to discuss our strengths as a couple and where we fall short.
7. Support each other no matter what: During the hard times, it's tempting to detach and give your partner some space. But it is precisely in these difficult moments that we need to move closer to one another and give each other support.
Running a business together is not for every couple. However, if you and your partner have been considering launching a business together, don't let the warnings scare you off. Phil and I are proof positive that love can make anything possible. We have been on this exciting entrepreneurial roller coaster for the past two decades and I can't wait to see what the next twenty years have in store.
Calling all HuffPost superfans!
Sign up for membership to become a founding member and help shape HuffPost's next chapter