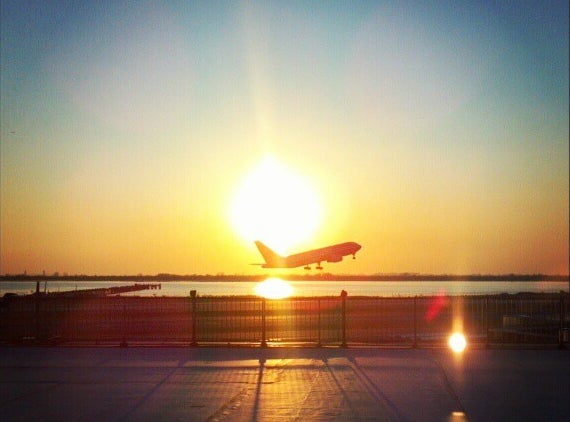 You've seen them. The travelers that make travel look so darned easy, all while you're struggling to get onboard and shove your carry-on into the last available spot. The pro travelers have already settled in, luggage stowed, and have minimized the chaos that attacks most people on a day of travel.
You can be like them too. Follow along, while I provide you with some of the best tips acquired while spending years in and out of airplanes, trains, shuttle buses, cabs, and hotels.
One: Know Where You're Going
If you don't travel a lot, then airports and transit centers are like maneuvering through a foreign city, and it will benefit you to know the layout before the trip. Prior to arriving at the airport, I like to know the location of the airline counters, security lines, and your departure gate within the terminal. I'll have a basic understanding of any connecting airports or train stations so that I can be aware to arrival gate and departure gate. And, most importantly, airports can be fun, so I determine what there is to see while waiting.
Two: Download the App
Most every airline, train system, and even public transportation system have mobile applications for your phone. The most basic provide information about flights, airports, and itineraries. The more advanced will allow seat changes, show up-to-the-minute information about my flights, gate assignments, and even track checked luggage.
Three: Free Itinerary Services
Having a complete trip itinerary at my fingertips is like having an amazing personal assistant get me through a crazy trip. There are several free itinerary applications available, like TripIt, which put reservations together to create an itinerary, providing reminders and delay notifications. It is so much easier when I have my airline, hotel, rental car and even restaurant reservations in one place.
Four: Pack Less
Trust me. Those travel pros you see loading their luggage into the overhead bin are heading off on trips that last 5-10 days, and everything is inside a standard 22" roll-on suitcase. There's no greater frustration than spending time and money to check luggage and then end up wasting more time awaiting its arrival at the carousel. Determine exactly what you need for your trip, pack your bag efficiently, and take it onto the plane. Add a backpack or laptop bag for your electronics and cords, and you're all set.
The first time I traveled to Europe for business, it was a two week trip to 10-cities within 3-countries. And I wanted to leave my monstrous suitcase on the sidewalk outside the Munich train station after the first week, loaded with suits, shoes, casual clothes, and everything I thought I needed for 14-days. Barely half was even used. Every trip since has been with a roll-on suitcase, and if I am traveling for more than 10-days, I will ship the items needed for the second week to a hotel and turn the box around with dirty clothes to meet me back at home. The time and frustration you save make it worthy.
Five: Speed Up Security
While being transported to the airport, I'm preparing for security by stowing anything that security will ask me to remove and making it easy to retrieve my laptop. As I exit the vehicle, I have my electronic boarding pass and ID in hand, and I walk straight to the security line without stopping. An additional tool, having Global Entry allows me use the TSA Pre✓®line at airports within the United States, along with the benefits of a near immediate processing through immigration kiosks when reentering the United States.
Six: Watch and Listen
Being a frequent traveler and aviation enthusiast, I am easily distracted by all the energy in and around airports and train stations. Even so, it is important that I stay aware, watching and listening for any signs of delays. Each time I walk past a display, I will stop to see where flights are experiencing delays and determine whether they could impact my travels. My ears are open, listening for any hint that my flight has a problem, ready to jump over to the closest customer service counter to quickly get rerouted to my destination.
Seven: Loyalty
I am quite loyal to my favorite airlines, hotels, and rental agencies, and it has paid off with some great perks that have made travel a breeze through the years. Even the infrequent traveler has favorite airlines and hotels, and there are easy ways for that loyalty to get rewarded. Join the reward programs and find out how to collect additional points through partner companies. To boost the rewards, even more, apply for a loyalty credit card, many of which provide you with a higher level of services, just for holding the card, and allow you to skip lines, and board early.
Best Tip of All: Smile
There are days where travel goes perfectly, and then there are the complete nightmares. The employees I encounter during my travels have zero control over the weather, mechanical breakdowns, or late flights. Anytime I encounter a customer service representative; my goals are to share a smile, let them know that I understand the process, and help make them laugh. Using this approach, I frequently receive free upgrades simply because I shared a laugh and let them know how much I appreciated their help.
A simple smile will not only keep you happy; you will go a long way with others along the way.
Popular in the Community