In the nature vs. nurture debate, there's no denying the strong personalities our children are born with. But there are also plenty of opportunities for us to screw them up or inspire them along the way. While I try to be a source of positive inspiration for my two young sons, I am thankful that they also have a father, who is the opposite of me in almost every way, to be a balanced role model and provide them with many of the most important life skills.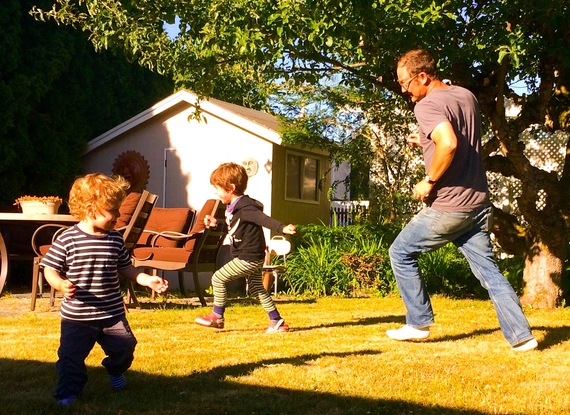 In honor of Father's Day, I have come up with a list of traits that I hope my sons will inherit from my husband, Shane, as they grow into the men they will become.
Going with the flow The ability to take life in stride and be in the moment is one of the qualities I most hope my boys will emulate. I believe this trait contributes greatly to Shane's ability to find peace and joy in life. Plus, having more easy-going people in the house to balance out my over-analyzing tendencies is undoubtedly a good thing!
Culinary skills The boys and I are so lucky to have Shane making us delicious, well-balanced meals on most nights. If I were a single mom we'd no doubt be living off of microwavable macaroni and cheese. Along with developing the skills to make fantastic culinary creations, I love that my boys are growing up without stereotypes about gender roles in the kitchen.
Following their passions This is an important trait that I think the boys will learn from both Shane and me. I want them to imagine the possibilities of what they could do, be willing to change course to follow their dreams, and then go for it! Shane changed careers after over a decade in the corporate world to follow his dream of restoring and selling vintage furniture. Now he loves what he does and is growing an awesome business out of it. I think this will inspire our boys to find and follow their passions as well.
Green Thumbs Plants provide us with atmosphere, ambiance and oxygen. I kill plants. Shane is the reason that our home is more of a tropical oasis than the barren desserts of my former single-self apartments. So far our sons love helping daddy take care of the plants, so here's hoping that ability sticks.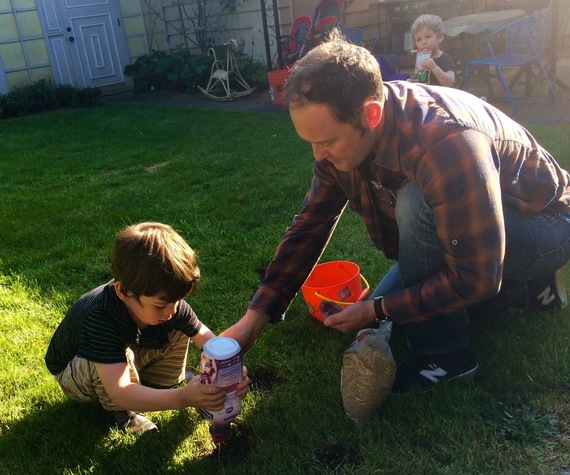 Versatility I like the idea of raising "Renaissance men." I hope, like their father, my sons can be in their element wherever they are -- from a dive bar to a black-tie dinner -- and can relate to others with a wide variety of interests. We don't plan to push them down any paths or over-commit them to extracurricular activities in order to foster diverse interests, but I beleive they'll find inspiration in their father's versatility.
Sense of humor Life is more fun when you can find humor in the most mundane situation and make yourself and others laugh. Shane has a ridiculous sense of humor, and so far the boys seem to be following in his footsteps with their goofiness and heart-melting giggles. I'm looking forward to a super-silly house of boys for years to come.
Kindness One of the most important challenges in raising boys today is teaching them kindness and compassion. Parenting techniques and words of wisdom can only go so far toward this goal -- you also have to give children role models to emulate. Shane genuinely cares about others, which shines through in his interactions with his friends and family, and is demonstrated by his compassion for and dedication to helping people he doesn't even know. I am so thankful that our boys will grow up with a kind, good man to model themselves after.
Our sons already have such strong personalities of their own, and there's no telling what paths they will choose. But if they end up modeling any part of themselves after the passion, creativity and kindness they observe in their father, I am optimistic that they will have a positive impact on their world.