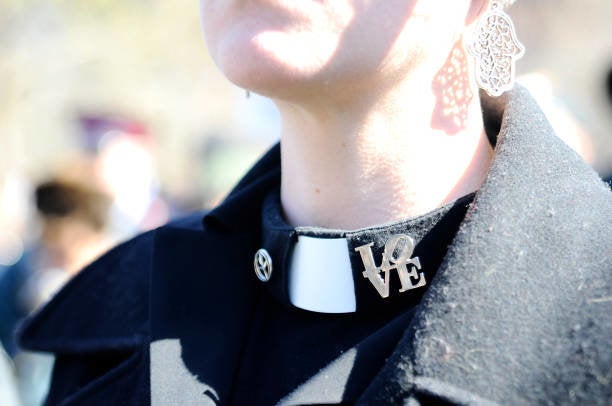 Religion in the U.S. was once largely white and Christian, but the future looks increasingly diverse and non-Christian.
This is among the findings of a major new study by Public Religion Research Institute, which offers a nuanced snapshot of religion in the U.S. today and offers some hints at what's to come.
According to PRRI's 2016 poll of more than 101,000 Americans across all 50 states, the U.S. has perhaps never been as religiously diverse as it is today. Here are seven major trends from the study:
White Christians are now a minority.
Just 43 percent of Americans identify as both white and Christian. Only 30 percent of American identify as white and Protestant. In 40 years, the population of white Christians has dropped nearly in half. A 1976 General Social Survey found that 81 percent of Americans identified as white and Christian, and a majority ― 55 percent ― were white Protestants.
Non-Christian communities are rapidly growing.
Although non-Christian religious groups represent fewer than one in 10 Americans combined, they're also some of the youngest groups and thus most likely to comprise a large portion of the American public in the years to come.
42% of U.S. Muslims are under 30.
Muslims, Hindus, Buddhists and religiously unaffiliated Americans are all much younger than white Christian groups. Forty-two percent of Muslims, 36 percent of Hindus, 35 percent of Buddhists and 34 percent of religiously unaffiliated Americans are under the age of 30. By contrast, just 11 percent of white Catholics, 11 percent of white evangelical Protestants, and 14 percent of white mainline Protestants are under 30. Roughly two-thirds of white evangelical Protestants, white Catholics, and white mainline Protestants are 50 or older.
The religiously unaffiliated have become a dominant group across many states.
There are 20 U.S. states in which no religious group makes up a larger share of residents than the religiously unaffiliated, including people who identify as atheist, agnostic and secular. The states are mostly concentrated in the Western U.S., with large unaffiliated populations in Oregon and Washington. But they also include several New England and Southern states, as well. The state where religiously unaffiliated Americans make up the largest share of residents is Vermont, at 41 percent of inhabitants.
46% of LGBTQ Americans are religiously unaffiliated.
LGBTQ Americans are disproportionately unaffiliated.
Nearly half ― 46 percent ― of LGBTQ Americans are religiously unaffiliated, compared to 24 percent of the general public. Just six percent of LGBTQ Americans are white evangelical Protestant, while 17 percent of all Americans identify that way. Six percent of LGBTQ Americans identify as black Protestant, five percent as Hispanic Catholic, and three percent as Hispanic Protestant. Six percent of LGBTQ individuals identify as either Jewish, Buddhist, Muslim, or Hindu.
American Catholicism has shifted west and south.
Seventy-four percent of Catholics now live outside the Northeast, once the epicenter of American Catholicism. Rhode Island remains the most Catholic state in the country, at 41 percent. But large populations of Catholics have settled in the Southwest in recent decades, partly due to immigration from predominantly Catholic countries in Latin America. In 1972, 41 percent of Catholics lived in the Northeast, and 28 percent lived in the Midwest. Today, a majority of Catholics now live in the South (29 percent) or West (25 percent). Twenty percent live in the Midwest, and 26 percent reside in the Northeast.
There are major generational divides in religious affiliation.
For instance, among Jews under the age of 30, just 47 percent identify as religiously Jewish, while a majority ― 53 percent ― identify as culturally Jewish. By contrast, 78 percent of Jewish seniors, age 65 or older, are religiously Jewish, while 22 percent identify as culturally Jewish. Nearly two-thirds of American seniors identify as white and Christian, while fewer than one-quarter of young adults between the ages of 18 and 29 belong to a white Christian tradition. Young adults are also more than three times as likely as seniors to identify as religiously unaffiliated ― at 38 percent compared to 12 percent, respectively.
White Christians continue to dominate the GOP, while the Democratic Party is increasingly diverse.
Seventy-three percent of Republicans identify as white and Christian. That's down from 2006, when more than eight in ten, 81 percent, of Republicans identified that way. Thirty-five percent of all Republicans identify as white evangelical Protestant. In 2006 half of the Democratic Party identified as white Christian, and just 29 percent of Democrats identify as such today. Nonwhite Christians tend to lean more toward the Democratic Party, and 68 percent of black Protestants identify as Democrats.
Calling all HuffPost superfans!
Sign up for membership to become a founding member and help shape HuffPost's next chapter
BEFORE YOU GO
PHOTO GALLERY
How American Religion Has Changed