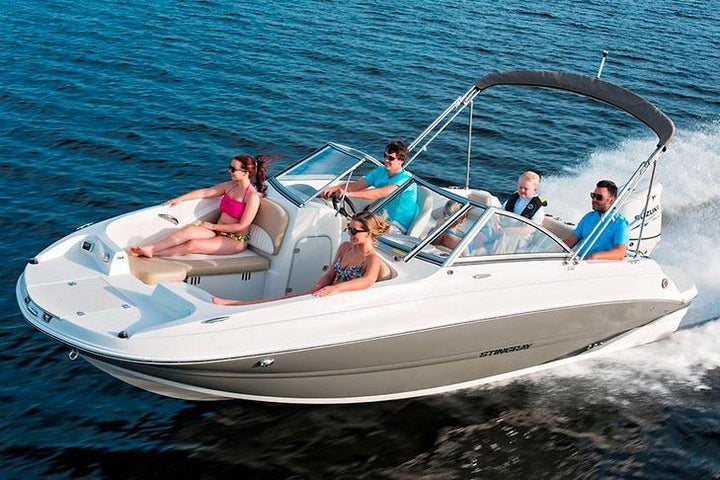 Needless to say, technology has influenced every facet of life and business in this 21st century. Institutions and industries alike are buying into the enormous potentials and prospects that are embedded in technological advancements. The boating industry is not left out of this.
Manufacturers have employed available technology over the years to design boats with functionalities that will blow your mind away; that's of you are a Skipper of course. This is imperative as it has given room for more recreational boats to hit the docks.
These technological advancements has gone a long way in improving the boating experience both at the docks and out there in the waters.
Whether you are a manufacturer or a consumer, you need to look out for these tech trends in 2018.
1. Boats with tracking devices.
Almost anything can be tracked now; a mobile phone, a vehicle, an airplane, a boat etc. The advent of the internet has made tracking a lot more easier than before.
Boat tracking is important as the position and movement of a boat out on the sea can be monitored from land.
One boat tracking system that is making inroads into the industry in the Automatic Identification System. This system makes use of GPS technology to establish communications between a boat and the marina of the position of the boat per time.
As a boat owner, you can be alerted when your boat is unmoored from the marina. This protects your boat from theft and other mischievous activities.
The days of manual dials all over the boat control system is far behind us. Everything has gone digital.
Digital dashboards with digital touchscreen displays connects to all systems in the boat - engine, GPS program, stereo etc - so you can control them with just a touch. The screens are also designed so that you can have any viewing angle of your choice.
Digital throttles and shifts introduces the fly by wire technology into the handling of boats. This is more reliable than moving mechanical parts.
I join the rest of the tech world in screaming "everything is going mobile". There is no exception, regardless of institution or industry. The addiction to mobile now is such that people wake up and the first thing they greet is their mobile devices.
Online shopping in turn has also gone mobile. Customers prefer to stay in the comfort of their home or offices and make boat purchases. Transactions can be found and sealed online.
Manufacturers, who are yet to switch their sales websites to a mobile friendly one might lose out on sales in the coming years. Therefore mobile adaptations for boat selling websites will be the moving trend in the industry.
From the customer's perspective, online review of products can be done most conveniently on mobile devices.
4. Self-Sailing Boats will hit the waters.
Ever taught of a self sailing boat? Wonderful! Imagine sitting down with a couple of your friends and have your boat sail on its own while you have a nice hang out with the boys.
As risky as this may seem, it is going to be a mainstay in a few years from now, as few manufacturers are integrating this technology. As we think of the Auto Pilot that enables airplanes navigate the skies with little or no input from the pilots, we think of upcoming marine technology that will help boats navigate the waters with little or no input from skippers.
Currently, self sailing boats have been developed with a combination diverse technological ingredients. One of such is the Roboat, a prototype developed by MIT and the Amsterdam Institute for Advanced Metropolitan Solutions. Another is the Saildrone, developed with strong sponsorship from Google.
More of these self sailing boats are expected to be developed in 2018.
Just like Augmented Reality, Beacons are redefining customer experience. Beacons are small tech devices that can send messages to smartphones that are within it's connectivity range.
Though most customers prefer the online buying experience as it saves them time and is a lot less stressful, some others still go to boat shows or dealerships before making a buying decision.
With beacon installed in a boat, a customer can receive detailed information about a boat on their smartphones as they walk around the boat. The most perspective beacon for personal usage and charter fleet is the BoatGod from Boatpilot. It receives the data from all the vessel's onboard devices and, if necessary, allows to manage them literally turning the yacht to the "smart home". Also it supports AR-devices for so-called synthetic vision which allows yachtsman's to navigate in low visible or bad weather conditions.
The Auto industry has really gone far with this technology as most cars manufactured by Ford, for example, come with Beacons installed to help customers when they visit their dealerships.
6. Rise of Wearable Tech.
Wearable technology has advanced from fitness trackers and smart watches to smart clothing. All of this play vital roles in the boating experience, especially if you are boat racing.
These wearables makes information handy when they are needed, especially out there in the waters. They are just perfect when it comes with establishing a relationship between the wearer and the environment.
These wearables provides Afterguard Heads Up Display, Smart GPS tracking, Auto Boat Pilot, and downloadable routes. These and many more enhances boating experience.
7. Social Media will improve boating experience.
Okay, social media is making everything and everyone popular. Some people's interest in particular products are sparked by what they see on social media. In could be a picture on Instagram, a live video on Facebook, or even a banner on Pinterest. Social media is affecting everything, with the world of boating not an exception.
Even boating competitions are now live on Facebook and a lot of people enjoy them in the comfort of their homes or offices watching from either a PC or most preferably, a mobile device. This is a whole new dimension in the boating experience.
Related
Popular in the Community