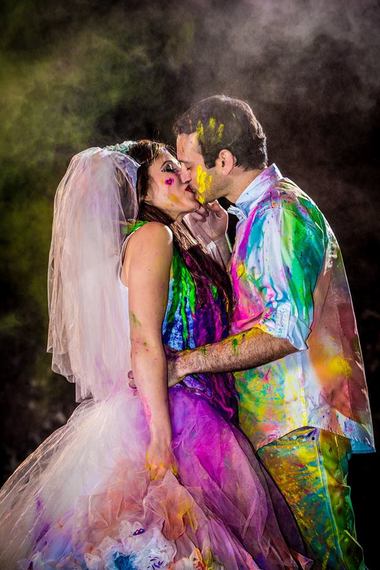 Curtis Dahl Photography, Hair and Makeup by Krystal X Kaos, Dress and Veil by Evey
Color is the new white! Straying from the customary Queen Victoria-inspired white dress, brides are flocking to Pinterest, Rock N Roll Bride and Green Wedding Shoes for inspiration on how to make their day as vibrant and unique as they are. Hovik Harutyunyan of Modern LA Weddings tells brides how "many cultures around the world don't even wear white for their weddings! In Africa, wedding dresses feature colorful, symbolic patterns that tell stories from the bride's culture, while black symbolizes devotion until death in Spain, China believes red brings good fortune, and white is reserved for funerals in India!"
Read on for ideas on how to walk down the aisle in color.
The Dress
As a wedding dress designer, I am frequently asked by non-traditional brides to create colorful gowns for their weddings. From dresses inspired by Gwen Stefani's pink dyed gown by Christian Dior, to Dita Von Tees's Bird of Paradise dress by Vivienne Westwood, more and more brides are walking down the aisle in color; some are even wearing dresses based on their favorite theme!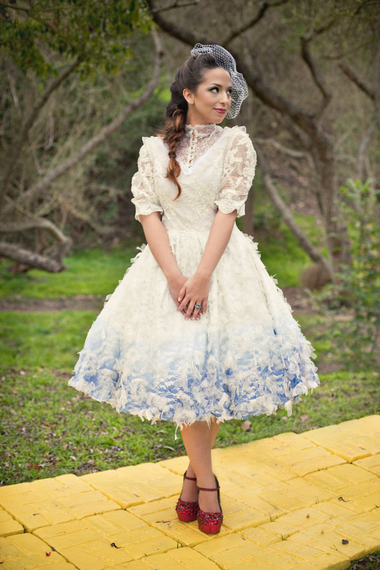 Dana Grant Photography, Hair and Makeup by Melody Rachunok, Model: Alexandria Phillips, Wizard of Oz inspired Dress and Shoes by Evey
Petticoats
If you prefer to stick with a white dress, you can add a pop of fun and color with a petticoat! This image of Jen and Ben's Rainbow Wedding was featured on Rock N Roll Bride.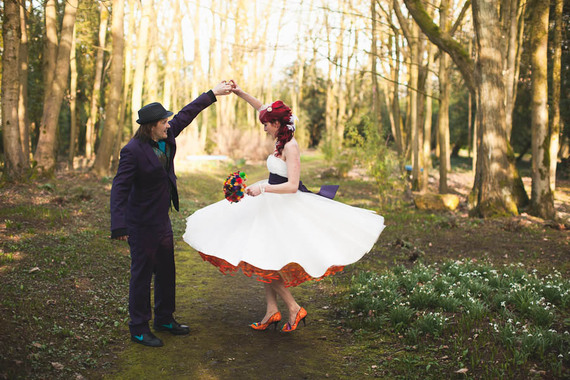 Albert Palmer Photography, Bride's Dress: Honeypie Boutique & Swank Underpinnings, Bride's Shoes: Irregular Choice , Bride's Headpiece: Head Full of Feathers, Hair: Heidi Vince
Rainbow Lights
Some brides are taking color to a new level, using electrical, LED and fiber optic colored lights in their dresses. Go from traditional to incredible with the flip of a switch to signal the start of the festivities!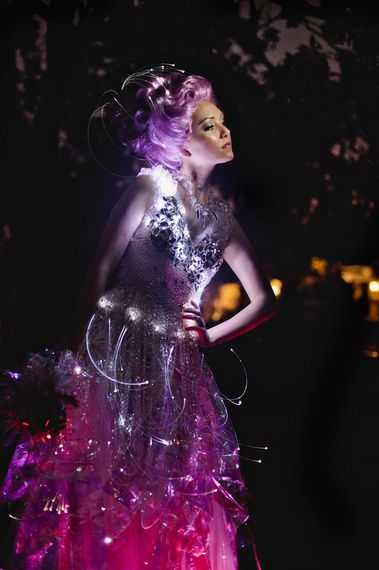 Dana Grant Photography, Wig by Bia Iftikhar, Model Allison Peairs, Makeup by Melody Rachunok, Dress by Evey
One-of-a-kind Wearable Art
Lady Gaga wore a dress made of raw meat, Alexander McQueen made a dress full of hand-made Butterflies while Jean-Charles de Castelbajac makes clothing out of toys! Brides are also stepping outside the box and celebrating their funky vibrant style in dresses made of Bread Tags, cake, and other odd-ball materials. Here's a dress I made for a bride out of trashy romance novels!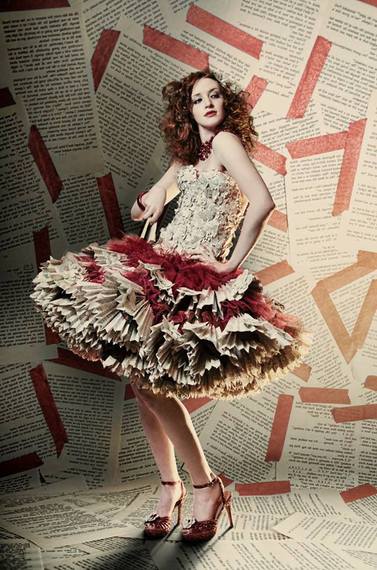 Shawn Adeli Photography, Model Nora Merschel, Dress and Shoes by Evey
Shoes
Some brides are opting to wear a white dress with fun colored shoes! This is a great way to keep with tradition, while giving it your own twist. Jenny Chang of Rock N Events tells brides, "Whether you want to wear diamond covered heels, or mismatched colorful flats, the most important thing is to be you!" Here is a pair of Sparkle Covered Heels I made for one of my Brides!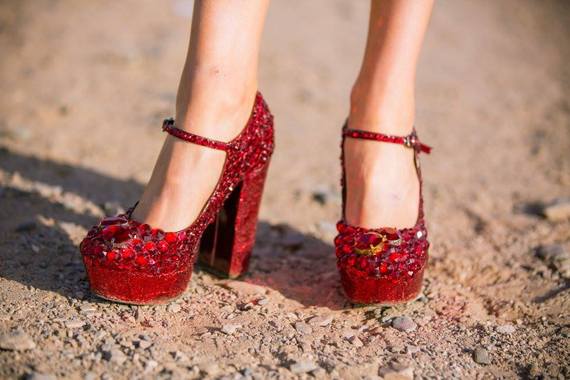 Image by Laura Grier of Beautiful Day Photography, Shoes by Evey, Model Christina Duerr
Jewelry
Jewelry is an awesome way to add a splash of color to your get-up. Did you know diamonds and crystals come in every color!? Check out this incredible multi-colored ring by Erica Courtney!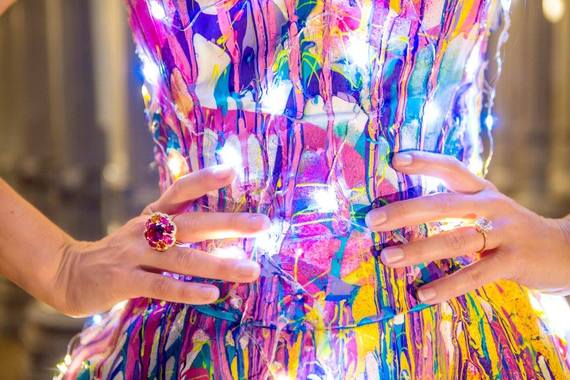 Image by Laura Grier of Beautiful Day Photography, Model: Amber Rae Lynn, Jewelry by Erica Courtney, Rainbow Light up Dress by Evey
Trash The Dress!
After the ceremony, have fun and throw a splash of color at your love! You can get the non toxic, environmentally friendly colored powder from The Lotus Temple.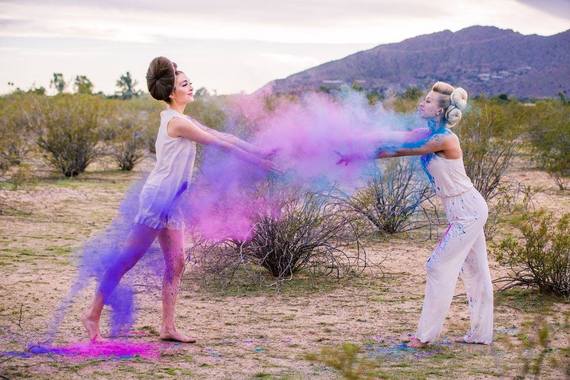 Image by Laura Grier of Beautiful Day Photography, Make-Up by Tara Dowburd of Make-up Therapy, Hair by Krystal X Kaos, Models: Christina Duerr and Ashley Gain
For more information on how to walk down the aisle in your own unique, beautiful, colorful style, go to www.EveyClothing.com