On August 25, 2001, Aaliyah Dana Haughton, 22, died in a plane crash. She was returning from the Bahamas from the "Rock The Boat" video shoot. No doubt, she was one of music's brightest stars and her influence on today's most notable R&B artists is evident, from Rihanna to Ciara -- Drake even has a tattoo of her face on his back.
So it should come as no surprise that her fans are pushing to have a line of products created by beauty brand Mac Cosmetics in her honor to ensure her legacy is forever immortalized. A petition has been created by Jessica Risinger, a fan of the R&B crooner, to get Mac's attention and it is very close to reaching its goal of 5,000 supporters.
Aaliyah was at the peak of her career after the box-office success of "Romeo Must Die." Hollywood was knocking as she was filming "Queen of the Damned" and had roles in "The Matrix 2" and "Sparkle" in the works, Vibe reported. Not to mention, her self-titled album was also released in July 2001. It didn't look like she intended to slowdown that summer, too, as her mainstream success continued to grow with hit singles "We Need a Resolution" and "Try Again."
"I stay true to myself and my style, and I am always pushing myself to be aware of that and be original," says a quote from the singer on her official website.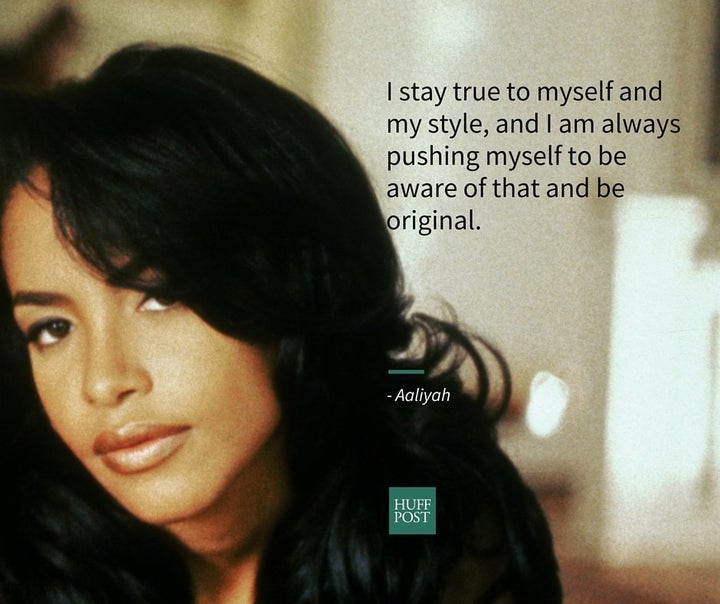 The Brooklyn-born and Detroit raised singer's girl-next-door demeanor was only a fraction of her appeal. Her tomboy style was emulated and her songs forever changed the traditional R&B landscape with its infusion of hip-hop thanks to her well-known collaborations with super producer Timbaland. In memoriam of R&B's fallen angel lost 14 years ago, she would have been 36 years old today, we have compiled seven ways she's influenced both music and fashion.
1. She married hip-hop and R&B, effortlessly.
Aaliyah was one of the first females to sing smooth R&B vocals over hip-hop beats. "One in a Million," "4 Page Letter" and "We Need a Resolution" all had dope instrumentals produced by Timbaland. These tracks were dope enough to crank up and let the beat knock, unapologetically. She had street-cred and was the understood princess of hip-hop and R&B.
2. She made being a tomboy cool.
Aaliyah rocked baggy jeans with boxers peaking out underneath long before Rihanna and Ciara came onto the music scene. From wearing her hats to the back, to big sunglasses to bandannas to oversized shirts, she made dressing like a boy look pretty damn badass.
Brandy had the braids, Monica had the sassy boy short hair cut and Aaliyah had the side part. Aaliyah's hair was an important part of her image because it added to her mystic and it was copied by her fans (speaking from personal experience here). Her hair always maintained a perfect side part and would drape over one side of her face, which only added to the mystery that always surrounded the super private singer. She was the original #LongHairDontCare because her long, dark brown tresses were always on point.
4. Crop tops? Yes, please.
From crop tops to bustiers to midriff shirts, she was the queen of showing off her abs. These tops only helped her showcase her killer dance moves which showed that she could wind it up, too. #Surfboard
5. Her lower vocal range made her unique.
Before Aaliyah came along, R&B was mostly all about powerhouse singers like Mariah Carey and Whitney Houston, yet somehow her subtle and quiet vocals were accepted. Her voice still had soul but without all the over singing. No auto-tune needed, either.
6. She gave you real choreography in her music videos.
Aside from Janet Jackson and Mya, Aaliyah was one of the few R&B artists of the '90s who still danced in her music videos. She kept "dance breaks" alive in songs like "Are You That Somebody?" and "More Than A Woman."
7. Her hit singles helped usher R&B into the mainstream.
Grammy-nominated song,"Try Again" was the first song to top Billboard's Hot 100 chart from only radio airplay. The number one hit single "Are You That Somebody?" from the "Dr. Dolittle" soundtrack has been regarded as the song that transitioned her to the pop world by Billboard. Today, her hits live on and have been sampled by the likes of Young Money, Drake and Ludacris.
Honorary mention: So maybe this is not related to her music or her fashion but it is still very, very important: Beyoncé and Aaliyah were on the red carpet together. Need we say more?
Before Beyoncé became queen, she was a royal subject to the "Rock the Boat" singer. This clip of a seemingly star-struck Beyoncé interviewing Aaliyah on her style is a reminder that Aaliyah was respected for always looking fly and not even Beyoncé could deny it.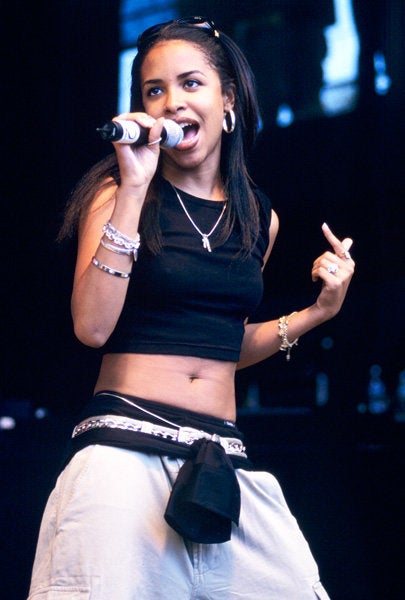 Aaliyah's Best Tomboy Looks
Popular in the Community