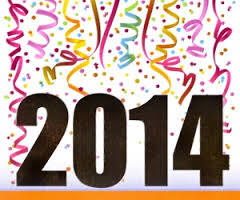 New Year's Resolutions: Many make them - and most people end up breaking them, too. But for the first few weeks of January, the air is filled with new possibilities and hopeful plans. This excitement and newfound sense of dedication is a perfect time to advertise just how your goods or services can help customers fulfill their New Year's resolutions.
Here are customer-friendly ideas to put a little New Year into your 2014 marketing.
1. Appeal to the budget-conscious
One of the most popular New Year's resolutions is to improve finances. People swear that they'll develop better budgets, cut unnecessary spending, invest, open new bank accounts, and accomplish a number of other tasks that will hopefully end in more savings and new income. This presents many companies with tremendous marketing opportunities. Can your product or service help people save money? Can they use it on a trip to the bank or when logging into financial accounts online? Will it help them save on monthly bills in any way? By all means, let people know in time for their resolutions!
2. Tap into the healthy lifestyle
Another ultra-popular New Year's resolution is to lose weight and make healthier decisions involving nutrition and workouts. If your business can help people buy food, eat healthier, exercise, or get to the gym, you can tap into the large number of calorie-counting consumers who will appear in the new year. Don't forget all the many ways people can use phones, tablets, social media and the Internet to help lose weight. This option works great for food or exercise companies, but a lot of different businesses can benefit.
3. Help customers go green
Environmental promises have become another very popular option for New Year's resolutions. People want to go green, make a difference, and be eco-friendly in every way that they can. Is your product recyclable? Does it use sustainable or recycled materials? Can it help people save energy? Is it organic or does it come from a local source? Emphasize green aspects of your products to appeal to this consumer group.
4. Encourage new hobbies or activities
Resolutions are a time of new activities and trial runs of hobbies that people have always wanted to try. Vacations are planned, new books are bought, and people make space for projects that they have wanted to do for months. This creates a great marketing opportunity for any businesses in project-related fields. If you offer a product or service that can help people fulfill their dreams or begin a new adventure, let consumers know. Travel agencies, home improvement stores, art and craft businesses, and similar companies can all benefit from this approach.
5. Tell people how they can save time
Another popular New Year's resolution is the time-saver. People promise that they'll slow down, cut out some activities in their busy schedules, and make more time for themselves and their families. This is an excellent branding opportunity for service companies, since many focus on taking care of chores and delivering results to customers faster than they could do themselves.
6. Show customers how they can improve their homes
Ah, the new year. The time to finally tackle that leak, crack, draft, dirt, scratch or paint job. It is also the time to plan a big renovation, buy furniture, or pick up clutter. If you sell storage containers, offer repair or maintenance services, or work in home improvement, make sure you use the cleanup angle when the new year begins.
7. Highlight any type of enrichment
If you still haven't read a good way for your business to capitalize on the New Year, a good rule of thumb is to focus on any particular activity that will enrich the lives of your customers. Will it teach them new things or let them better themselves or their families? This is a great way to link up to a company blog filled with handy advice and general tips on life improvement.
Popular in the Community