I started my first company when I was eleven years old. At this time I was, of course, completely unaware about the rollercoaster life of an entrepreneur: a never-ending ride of breakdowns and breakthroughs.
Fast forward to today, 13 years later, I'm the CEO of Javazen, a new type of coffee company that's making a major mark in the coffee industry. As a leader of a successful company, I'm always searching for ways to accelerate my business growth, better guide my employees, and create new marketing strategies.
For the past few months I've been hearing about a new trend emerging in many business communities. It's called a mastermind. In the entrepreneurial world, a mastermind is a trusted group of entrepreneurs that meet to support and advise each other as a collective through business successes and failures.
I recently decided to try out a mastermind for myself this month in Los Angeles with five other top-tier entrepreneurs from around the world, one of whom, has been running successful business mastermind retreats for the past 3 years.
Lars Blokdijk is the co-founder of Coworkparadise, a new type of mastermind, that not only brings together 12 high-level entrepreneurs making at least $250,000 in revenue, but does so in one of the most beautiful places on earth: Bali, Indonesia.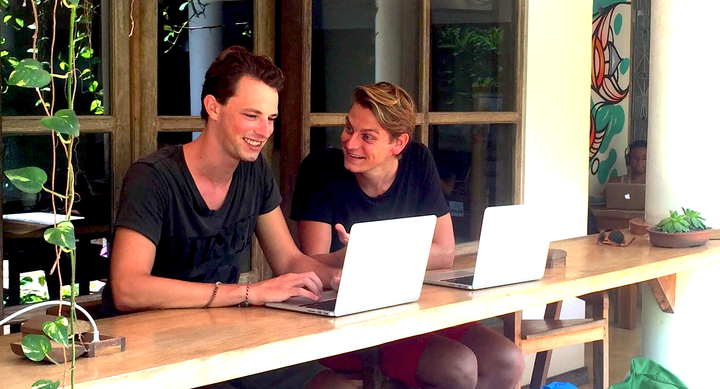 I sat down to interview Blokdijk about his extensive experience with masterminds and asked, "What are the top ways that joining a mastermind has accelerated your business to multiple 6-figure success?" He put together a list of the top 7 benefits of joining a business mastermind. Here they are:
1. New business opportunities
When I started Coworkparadise with Michael Tesselaar, one of our main goals was to surround ourselves with entrepreneurs who are more successful than us. We knew the power of expanding our network would not only lead to new friendships but unique partnerships, collaborations and business ventures.
To this day, we've been in masterminds with over 60 successful entrepreneurs from all over the world, in different industries and niches.
Through these connections, I brought a popular skincare line from Denmark to the Netherlands which opened up an entire new sales channel for the business. Through one of our retreats, I also met partners to launch my other business, Vertellis - a popular conversational card game - into the United States market.
By surrounding yourself with other entrepreneurs, you open doors to new business opportunities that have the power to transform your business.
2. You'll be challenged to think bigger
It's easy to get stuck into a single perspective as an entrepreneur. Your mastermind will challenge you to think bigger.
This week in our Los Angeles mastermind, we challenged each other to focus on improving our online sales strategies. With my experience in sales funnels, together we strategized a new way of selling Javazen to an untapped market. This strategy alone could 10x their online revenue this month.
By harnessing the power of each other's collective minds and experiences, your business will grow exponentially.
3. You'll connect with like-minded individuals
It's easy to feel like you're the only one facing the highs and lows of being an entrepreneur. Support from your family and friends is certainly appreciated, but many times they don't fully understand what you're going through. Your mastermind is a group of individuals with many of the same fears and passions.
A successful mastermind is not one where you connect for just a few hours. It is one where you live together and do activities that help you form a strong bond. The best brainstorming sessions and ideas sharing come at random moments. During Coworkparadise, I talked about forming a partnership with my current co-founder while hiking on top of a cliff next to the ocean.
During our Coworkparadise retreats, entrepreneurs are able to connect with each other over one month in Bali, while going on adventures, sharing meals together and participating in workshops. Actually living with your mastermind for a multiple weeks will create lifelong friendships with people who truly understand you.
4. You're more likely to achieve your goals
As an entrepreneur, you are setting goals, but are you actually achieving them? One of the most essential elements to successful goal-setting is accountability. Your mastermind will not only push you to implement a plan of action, but also hold you accountable to accomplishing your goals.
At Coworkparadise, Michael Tesselaar developed a unique goal-setting method that we share with members during our mastermind retreats. By simply sharing their goals with the group, our members already feel more motivated to accomplish their goals.
A member of the Coworkparadise mastermind had a goal to double his revenue from the year before during a Valentine's Day promotion. The mastermind helped him with his strategy, and in the end, he exceeded his goal by 1000%.
5. You'll gain valuable insight and feedback
Wouldn't it be amazing to have someone to bounce ideas off of? Your mastermind acts as your soundboard when you need constructive criticism, much-needed advice and a validation of your ideas.
Within all of our mastermind retreats, we host "hot seats" for each entrepreneur to dive into a full brainstorming session on his or her own business. This means everyone in the mastermind is focused solely on generating ideas for this one business which always results in incredible ideas.
A mastermind acts as your soundboard when you need valuable insight and feedback from people you trust and who have been through similar experiences.
6. You'll expand your skills
Every entrepreneur is uniquely skilled in a particular area of business. With a mastermind, you have the ability to expand your skills by learning from each other -- particularly getting help in your areas of weakness.
During our retreats, we create the environment for skill sharing by having members organize expert workshops where they share their skills and knowledge. The topics range from Facebook advertising to the most efficient ways to lead a remote team.
With a mastermind, you're able to tap into the strengths of your fellow entrepreneurs which accelerates your success.
7. You'll make better decisions
As an entrepreneur, we're often swimming in unchartered territories and paving the way for a new path which comes with lots of uncertainty. Imagine having someone to guide you who has already achieved what you're aiming to do?
A mastermind will help you make better business decisions by having experts by your side as you navigate new ventures.
I am starting to work with influencers to market my product. After receiving dozens of proposals, I was overwhelmed by my lack of knowledge about this form of marketing. Over a dinner conversation, another member of my mastermind group was able to share his experience working with hundreds of influencers. I am now more confident and able to evaluate and negotiate with potential influencer partners.
If you're going the entrepreneur route alone, you desperately need to join a mastermind. Not only will it have major results for the bottomline of your business, but I can guarantee you that you'll also be a much happier person.
Have you participated in a mastermind? I would love to hear about your experience in the comments below.
Related
Popular in the Community