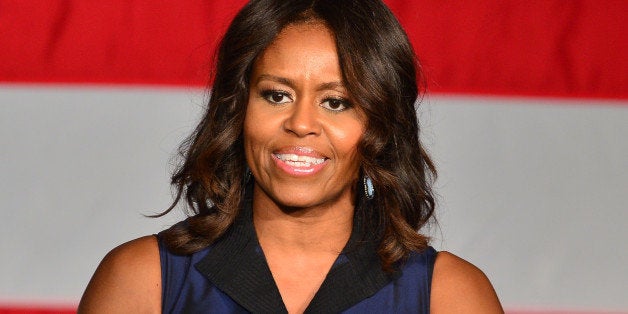 President Obama was not the only member of his household that fought to improve the P-20 education system in 2014. Michelle Obama carried out an impressive education agenda that rivaled her husband's in many respects. It seems that the two are a tag team for the ages, and P-20 education is lucky to have this duo championing it. Michelle Obama spent 2014 front and center for education -- in more ways than one.
1. First Lady endorses arts education. This past spring, First Lady Michelle Obama joined the stage with middle- and high-schoolers who performed in the first ever White House Talent Show. The event was created to celebrate the importance of the arts in American education. At the opening of the show, the First Lady emphasized the need for arts programs to be a part of all school curriculum, and not something that comes secondary to other academic pursuits like reading, math and science.
"Arts education isn't something we add on after we've achieved other priorities, like raising test scores and getting kids into college," said the First Lady. "It's actually critical for achieving those priorities in the first place."
The Talent Show celebration comes two years after President Obama introduced the Turnaround Arts program in partnership with the U.S. Department of Education. The goal of the program is to see if strong arts programs aid in other strong student academic outcomes. In the original eight schools where the program has been implemented, reading and math scores have improved, and so has behavior. Two of the schools have shown so much progress that they are no longer considered in need of a "turnaround." In each case, big-name artists or performers like Alfre Woodard and Sarah Jessica Parker have adopted the turnaround schools and provided guidance in the programming.
At the show, the First Lady announced that the program will expand to 35 schools in 10 states and the District of Columbia. An estimated 6 million children have no access to arts education, and another 6 million have a "minimal" exposure, the First Lady said.
2. First Lady gets heated when it comes to school lunch debate. First Lady Michelle Obama said that she is willing to "fight to the bitter end" to ensure that the school lunch nutrition standards she helped draft stay in place -- despite a Republican-drafted bill that would allow some school exemption. The First Lady lobbied for higher nutrition standards that went into effect in 2012 that called for more vegetables, fruits and whole grains in school meals, along with less fat, sugar and sodium. Over 90 percent of public schools in the U.S. have subscribed to the standards since their enactment.
The industry-backed School Nutrition Association is now pushing back against the standards, saying that less lunches are being sold because children do not want to buy the healthier lunches. This, in turn, hurts the food industry that supplies the ingredients to make school lunches -- healthy, or otherwise. A House of Representatives bill authored by Alabama Republican Robert Aderholt would give school districts the opportunity to skip the nutrition requirements for one year. According to Aderholt, the change came on too quickly and schools need time to adjust.
The First Lady says it is giant step backwards and one that sends the wrong message about the nutrition provided in the nation's public schools. In a New York Times piece, Michelle Obama said the attempt to "lower nutrition standards in our schools" is motivated by nothing more than financial tactics. She also made it known that she will fight loudly and aggressively to block the legislation.
The passion the First Lady brings to her anti-obesity initiatives is refreshing to see, and a strong use of her power for positive. She intends to keep the nation moving forward, not backwards, when it comes to feeding K-12 students in nutritious way.
3. Michelle Obama supports strong school counselors. This past summer, Michelle Obama addressed 2,000 attendees at the American School Counselor Association in Orlando. She thanked the attendees for their passion and dedication and talked about the major role school counselors play in encouraging further education.
Obama highlighted that school counselors are key to her "Reach Higher" program. This initiative encourages children to continue education after high school graduation, whether at a professional training program, a community college or a four-year college or university.
The First Lady also shared a new White House program that will honor a counselor of the year. She and President Obama want to give school counselors the recognition that they deserve for all the work they do and the effort they put into making sure students and teachers have the resources they need to pursue education beyond high school.
I really like that the President and the First Lady are working so hard to reach students beyond their academic boundaries. I also think that the role of school counselors is often overlooked because the focus is placed primarily on teachers.
3. Michelle Obama tells teen girls to take school seriously. In 2014, Obama wrote a letter to Seventeen.com readers, encouraging young students to work hard in school and recognize the privilege of attending schools in the U.S. -- a country where education is free and girls are urged to attend.
She pointed out that many places in the world don't give girls this luxury. She writes, "In some places, girls are viewed as less worthy of an education than boys, so when a family has limited funds, they'll educate their sons instead of their daughters."
4. The First Lady wrote about education challenges that girls face around the world. She cited Malala Yousafzai, an education activist and Noble Prize recipient who was (not fatally) shot by Taliban terrorists when she advocated for girls' education in Pakistan.
Michelle Obama, a Princeton graduate, was also vocal about the importance of education for girls when she and former first lady Laura Bush spoke out about the topic at President Obama's U.S.-Africa Leaders Summit. At the summit, she shared that over 60 million girls in the world do not attend school.
I really admire and appreciate Michelle Obama's push to speak out about girls' education. She is a wonderful role model for the millions of women in our country, and I am glad she is so vocal about and encouraging of young women and their pursuits of education.
5. Michelle Obama urges leaders to fight for girls' education. This fall, Michelle Obama urged international leaders to show courage and commitment to girls who make sacrifices to earn an education globally. At an event devoted to fighting a global learning crisis, she said she believes children around the globe deserve quality education. According to UNESCO's most recent data, 250 million of the 650 million primary school-aged children worldwide cannot read, write, or do basic mathematics.
During her keynote speech held on the sidelines of the United Nations' General Assembly, the First Lady said, "If we truly believe that every girl in every corner of the globe is worthy of an education as our own daughters and granddaughters are, then we need to deepen our commitment to these efforts."
The First Lady always speaks up for women and their rights to education, and I applaud her for her dedication and fervor. While meeting the development goals by 2015 has been deemed impossible, I am thrilled that the goals are in place - it's a huge step in the right direction. I look forward to the day that every child in every part of our world can safely attend school and earn an education.
6. First Fashion Education Workshop hosted by Michelle Obama. During the fall, Michelle Obama greeted her audience of 150 students in the East Room of the White House for a special event. Hosted by Reach Higher, the First Lady's promoted education and enable young fashion enthusiasts to pursue fulfilling careers in the industry, students met with renowned experts for a memorable day.
The Fashion Education Workshop gave the students a chance to meet with teachers, theorists and entrepreneurs for a series of workshops, enjoy a seated lunch, and seek advice from a panel of professionals in the industry. The event brought together aspiring fashion designers and stylists, writers and entrepreneurs from 14 East Coast high schools and colleges.
"Fashion is really about passion and creativity, just like music or dance or poetry. For so many people across the country, it is a calling; it is a career. It's the way they feed their families." The effect of the event was one of overwhelming support within the design world and for those who aspire to join it.
Some of the influencers in attendance include Lela Rose, Eva Chen, Cecilia Dean, Alexis Bittar, and Sara Blakely. The women were there to share fashion industry advice from their perspectives, some from mass brands and some high-end glamour. After the panel, Obama urged the kids not to let this opportunity go to waste.
Becoming an esteemed fashion designer doesn't happen to just every person who graduates college passionate for design. However, I like that some young hopeful students were able to get a leg up at the first White House Fashion Education Workshop and gain advice from the First Lady and other influencers in the industry. This event proves that Michelle Obama is using her Reach Higher education initiative to provide students with one-of-a-kind opportunities, and that deserves a celebration.
7. Michelle Obama launches video contests for Reach Higher Initiative. This fall, the First Lady announced two video contests as part of her Reach Higher Initiative, which encourages high schools graduates to attend a four-year university, community college or a professional training program.
Both high school and college students are competing in the contests hoping to earn the prize of Michelle Obama coming to their school to share her knowledge about higher education and life after high school. To enter the first contest, high school students, teachers and administrators make a video that encourages students to file a Free Application for Federal Student Aid.
The Near-Peer Mentoring College Challenge, which is the second contest, urges college officials and student groups to submit a video that illustrates both college immersion and peer-mentoring programs available on campuses for incoming students, particularly those from underprivileged communities.
To be considered, contestants are required to upload their efforts to Vimeo or YouTube. They are also encouraged to post their video on social media sites and use the #ReachHigher hashtag. The Reach Higher initiative supports President Obama's "North Star" goal to make America have the world's highest proportion of college graduates by 2020.
The First Lady will speak at the contest winners' commencement ceremonies in spring of 2015. Once again, Michelle Obama is out there, urging our students to aim higher and continue their education. The First Lady is an outstanding role model for the youth of this country and her direct involvement with the Reach Higher initiative only supports her desire to help students succeed. I am confident that America will continue to have the highest proportion of college graduates by 2020 under President Obama and the First Lady's leadership.
Did I miss any of Mrs. Obama's contributions to P-20 education? What would you add to my list?
Popular in the Community