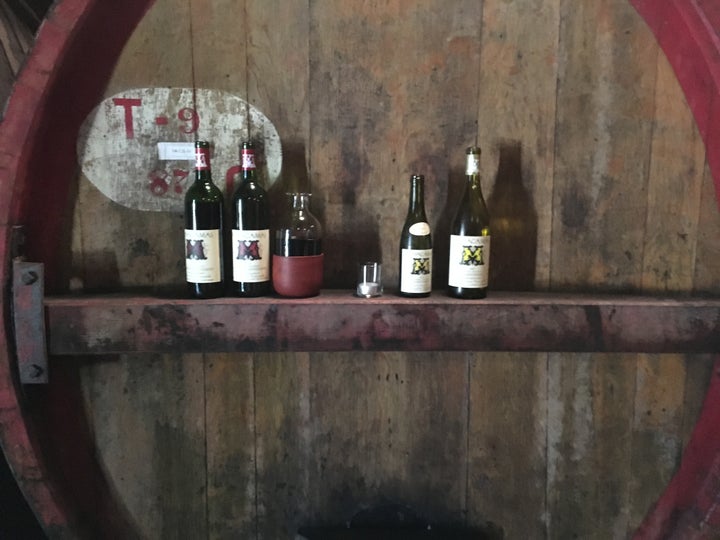 When most people hear the words "wine tasting" they immediately cringe and picture a stuffy room with snooty people sniffing glasses and spewing out all kinds of ridiculous adjectives to describe the wine, but to you it just tastes like "wine."
And that's fine. Maybe you didn't pick up the "fresh can of tennis balls," "campfire," "barnyard" or "forest floor" on that last glass of red like the guy next to you, and you feel really embarrassed because to you it tasted like Strawberry Nerds candy mixed with a Slurpee from 7-11. But I'm here to tell you that you don't have to feel that way, and whatever you taste is just fine, provided you follow a few simple guidelines.
Wine tasting, whether you're in a high end tasting room in Napa, a casual small winery in Oregon, or a First Growth French Chateau, has a simple set of easy to follow basic rules of etiquette, that aren't really published, but they're not that hard to figure out and implement the next time you visit a winery.
1. Attire and Aromas: First off, don't dress up or dress down. Generally, you can be very casual at all but the most exclusive wine tastings. If you're unsure, don't be afraid to call and ask the winery what's recommended.
Another cheat is to look on the winery's website and see if there are any photos from the tasting room. That way, you can see for sure, not only what other people are wearing, but what that winery deems acceptable.
Also, be sure not to smell, and I mean don't smell bad obviously, but also not too good. Don't spray perfume or cologne, or do anything else (i.e. burp up your cheeseburger from lunch) that might bring additional aromas into the tasting environment.
2. Getting Drunk. This is a big one; tasting rooms are not bars. There is not a barkeep named "Wheezy" pouring stiff ones to take the edge off a rough day. You won't find regulars hunkered up at the bar, throwing back glass after glass of the estate's red blend, grumbling because you're in their seat.
This is about small pours, getting a feel for the wines, and finding the nuances and differences between them. No matter your level of wine sophistication, trying different wines back to back will help you learn more about the different varietals, blends and vineyards. The best thing you can do, regardless of your experience level, is to show interest in the wines. Ask questions, even if you think they're dumb questions. There's nothing more the staff in the tasting loves more than to talk through their wines with you as you drink them.
Don't worry about saying all the terms that they use to describe the wine. Sometimes it's best to just close your eyes and find one thing that the wine reminds you of. And it doesn't need to be a clever, snobby adjective. You can even say it reminds you of being at the beach or eating sushi. Experiences by themselves can almost be tasting notes, and anyone can throw a few of those around.
And again don't show up buzzed, or get too tipsy. Don't go to more than a handful of wineries each day, or the experiences you have at the latter ones just will not be worth it, and you are likely to have had enough that you might start to break some of these rules.
Plan smart, show respect. Don't ask for more wine. If you want more wine, then buy a bottle. That's why the winery is serving you these samples to begin with.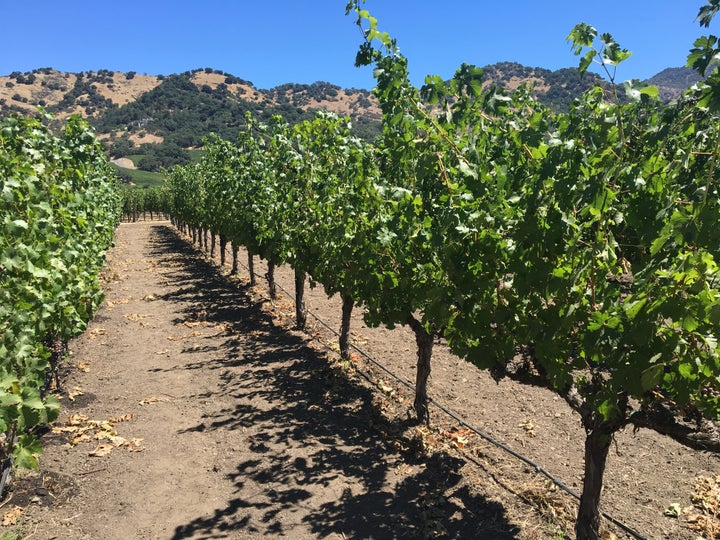 3. How to Drink: When a sample is poured for you, you should take a moment to smell the wine, stick your nose way in there and don't be shy. See if it reminds you of anything in particular. Then swish a little in your mouth, try to coat the inside of your mouth, and then either spit it into the spittoons that are likely in the room, or drink it down.
At this point, you can begin to gauge your opinion of the wine. If you don't care for the wine, you don't have to announce that to the entire room. Just quietly pour the rest into the spittoon, which is totally acceptable and fully within the bounds of wine room etiquette.
I will often pour out wines that I love and sometimes ones that are very expensive simply to avoid drinking too much. When you pour wine out or spit, you actually gain respect from the staff, as now you've just told them that you've done this before, and you're not only there to catch a buzz. They will like that, especially if one of the other patrons has chosen a different course, or a bachelorette groups pulls up in a limo.
4. Purchasing and Wine Clubs. Like I said before, the winery is giving you a flight of wines to taste because they want you to like something, and either buy a bottle, or better yet, they want you to join their wine club so they can send you bottles every quarter. The wine club is the holy grail for wineries and frequently contributes a great deal to the bottom line. In fact, some smaller wineries are club only.
You decide what you want to do here, but it is common etiquette to purchase at least one bottle. Sometimes, if there's a tasting fee associated with the wine flight, buying a few bottles will waive that fee. So it's something to look into. But if you didn't enjoy any of the wines, that's ok too. Simply thank them and move on. Stay positive throughout.
5. Eating, Smoking, Dipping, other Tobacco Products: All very bad. Some wineries will have a picnic area you can use to enjoy a lunch that you bring, but you may need to reserve it in advance. In general, get all of your eating and tobacco needs taken care of before you arrive. And eating a little bit throughout the day will help balance out the wine intake and avoid you from breaking Rule #2.
6. Eating the Grapes. It may be tempting, especially if the winery takes you for a tour of the vineyards, but don't start eating the grapes from the vines unless they clearly indicate for you to pull off a sample.
7. Learn, Don't Teach. You might be a wine expert, or have learned a ton from a vineyard visit the past year, or maybe you don't know a damn thing, and you're just tasting juice that makes you feel good. Regardless, be there to learn, not to educate the wine tasting staff.
They aren't going to be interested in everything you learned during your 3 day wine trip, or whatever method the people down the street positioned as being better than anyone else, including the place where you're currently tasting. Ask questions, build truths from consensus, experience and knowledge, be mindful of your opinions, and give most of your thoughts a bit of time to marinade before you spew them out as gospel to wine fanatics.
Most wine makers you speak to will not speak ill of one another. Be weary of the ones who do, and don't try to enter into the gossip chain, unless you really are on the inside.
So there you have it, a few things to avoid, and granted these are pretty easy to avoid. Maybe not getting tipsy is the hardest one, but wineries close around 5-6pm so you really shouldn't be three sheets to wind by then or you're going to waste your night, miss out on remembering what's likely a great meal that night in wine country and you will feel like crap the next morning.
So take it easy, enjoy the experience and the beautiful surroundings, ask questions, be interested, learn from people who likely know a lot more than you, and buy a bottle now and then at the places you enjoy the most. That's all there is to it.
Related