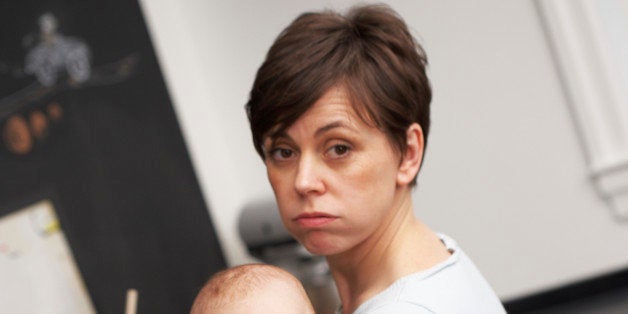 Welcoming a new addition into the world is a beautiful thing. There is the excitement of meeting a new person, the eagerness to hold, comfort and feed the little darling. Everyone around is so happy and ready for the new person especially the parents. With all of the excitement surround the new person, the mother and her feelings are overlooked.
Sometimes after having a baby, the woman may experience periods of not being herself, or being overcome by emotions. Women have even reported not feeling whole after the delivery. These feelings are normal, on the contrary they can be quite confusing and difficult for a partner to understand because they are not experiencing any of the symptoms. The flooding of emotions can lead to postpartum depression.
Postpartum depression can be crippling for the mother because it takes her focus off of her precious little one and forces her to deal with what is happening mentally and physically with her body. Postpartum depression symptoms can range from the smallest feelings of inadequacy to the most severe where the woman must be hospitalized. The entire time the woman is suffering can be baffling to her partner because they have no idea what to do, how to behave or how to comfort their partner and help them get back to normal. I will share seven ways to be supportive when your partner has Postpartum Depression.
1. Read and Research. The first step in battling PPD with your partner is to know exactly what you are dealing with. The internet has tons of information that will help one to understand exactly what their partner is going through. More knowledge on the subject and how to deal with it will help your partner.
2. Be Supportive. Let them know that you are there for them in any way they need you to be. Your partner must know that they are not going through the tough time alone. The most important thing for a person experiencing PPD is to know that they have a support system in place made up of people who love and care for them.
3. Remove Some of Their Responsibility. When a mother gives birth, they have the responsibility of caring of the new person, especially if they breastfeed. As the partner, one may decide to take the bulk of the household and baby responsibility until the partner feels a little better and is more capable and mentally strong enough to handle everything.
4. Refer Them for Medical Help. Sometimes it is difficult for people to recognize that they are depressed, especially a person who is outgoing and always happy. Accepting that one is depressed is hard to come to terms with. A person who is experiencing PPD sometimes has no idea of what they are experiencing and need help to identify and deal with the problem. As a partner it may be your duty to make the suggestion for them to seek outside help.
5. Don't Rush Their Recovery. Everybody recovers differently. When dealing with mental disorders, they may take us a bit lobgr to heal from than any other ailment. It is important to remember that your partner's recovery may not be as swift as someone else's and to let your partner come around in their time not the time you think they should be healed. Everyone is different and will heal differently.
6. Aid In Self Care. Remember your partner before the pregnancy; what was there favorite place to visit, their favorite outdoor activity, favorite restaurant, other hobby? Use the answers to these questions to help to acclimate your partner to the things that once bought them so much joy.
7. Support Groups. Help your partner find a support group for women and perhaps find a group that the two of you can attend as a couple. The group will offer incite and ways of working through things that you two would never think of on your own. Attending a support group will also make you part of a community focused on helping one another heal.
Giving birth is an awesome life changing event that may leave the mother feeling a bit overwhelmed. It is during this time that the mother needs her partner more than ever to help balance the chaos that is taking place within her. Dealing with the PPD does not have to be terrible for the mother or her partner, it just takes a bit of patience and understanding from both people.