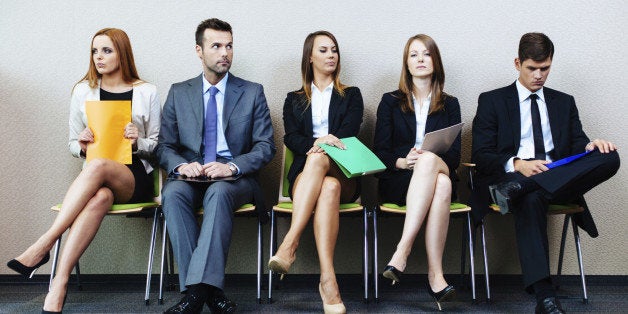 This new job could be life-changing. It comes with more responsibility, a swanky title, and a cushy salary bump. After researching the company, the team, and position, you know that you want it -- want it bad! The stars have aligned and you have a chance at true career bliss, so much better than the ephemeral sort that comes from a large Nutella croissant or the latest Dan Brown book.
There are so many things that could mess it up: subway delays, trick questions, sweaty palms... the list goes on. We put together some tips from industry experts to combat your pre-interview stress so you can walk in confident and poised.
A few days before the interview, print out your resumes and plan your personal grooming. Look up the interview location on Google and map out your route. Most map apps estimate the travel time, but we recommend adding a 15-20 minute buffer.
A few years back, one of my friends was interviewing a candidate for an analyst job at one of the Big 4 banks; when the interview was over, she decided to throw in two more "what should be obvious" questions: "Who is the CEO? And do you know what the current stock price?" Blank stare. The person had no idea.
This scenario is easily preventable. The vast majority of companies has a Wikipedia page that includes most of this information. You can also check out the company website's About page and read at least 10 different news articles.
Jaime Petkanics, job search advisor and founder of The Prepary, also recommends learning about your interviewers. Just as you would for a first Hinge date, check their social media. Read their Linkedin profiles and bios on the company page. "By doing this, you have insight into how you might be able to connect with them, based on what you have in common," says Petkanics.
Grab a friend, find a nice quiet coffee shop, and give them a list of common interview questions to ask you. If you treat this meeting casually, you won't be as productive. So set a time limit on the session and run through all the questions without stopping. When you are finished, get feedback, and then do it again with 3 more friends. By the time you are finished with latte #4, you will feel completely prepared and ready to rock that interview. (Maybe consider making those last 3 lattes decaf.)
Make time for mindfulness meditation
Researchers at Johns Hopkins have found that mindfulness meditation can help improve stress levels and soothe anxiety. Dr. Elizabeth Hoge, assistant professor of psychiatry at Harvard Medical School and a practicing physician at Massachusetts General Hospital, backed up their research noting, "Mindfulness meditation makes perfect sense for treating anxiety."
Incorporating meditation into your pre-interview week can help you manage your stress levels and keep you grounded. Don't know where to start? We like the app, Headspace. They even give you 10 free sessions when you sign up.
Bonus: You can even take mindfulness meditation into the interview with you. If you have a frazzled moment, remember this great quote from Thich Nhat Hahn's book Being Peace: "Breathing in, I calm my body. Breathing out, I smile."
The night before, or every night if you can:
There is a whole breadth of research on the connection between sleep, stress, and cognitive function. You may have heard that driving while sleep deprived is worse than driving drunk, and that is 100% true according statistics collected by the National Highway Traffic Safety Authority (U.S. News & World Report). You would never go into an interview drunk, so make sure that you get the sleep you need to perform your best.
After a great night's sleep (see above), wake up early and, as the Mayo Clinic puts it, "get moving!" A 20-30 minute workout will pump you full of endorphins, reduce tension, and lower anxiety. According to the staff at Mayo Clinic, "All these exercise benefits can ease your stress levels and give you a sense of command over your body and life."
After your morning workout, make sure to eat properly before heading out the door. The right foods can improve cognitive function, memory, and concentration - so make sure you capitalize on those benefits.
And with all these strategies under your belt: Go get 'em, tiger! Your dream job awaits!
This article was originally published on Savvy.
Related
Popular in the Community