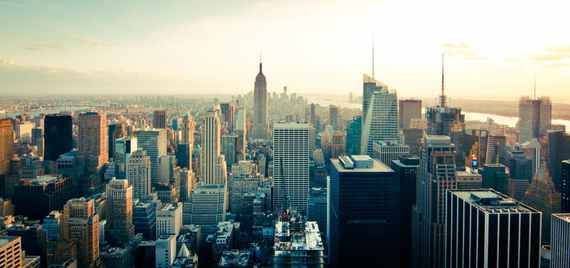 The Big Apple is one of the most romanticized cities on earth. Movie after movie depicts extravagant penthouse suites, well-to-do couples waltzing into Tiffany & Co.'s, and young women having their lives transformed by a shopping trip to Barneys.
It's fun to indulge in these fantasies during a Netflix binge. But actually traveling to New York is a whole different story. Unless you're part of the 1%, you're more likely to be staying in a budget hotel in Queens than a penthouse with views of Central Park. And you're probably not going to pick up a new diamond bracelet just because you saw it in a shop window on Fifth Avenue.
Still, a visit to NYC doesn't need to amount to having all your dreams of luxury squashed. It just means you'll need to seek out good deals and pick and choose your luxuries. With that in mind, here are seven ways you can feel like royalty in NYC even if you're on a budget.
Savor fine dining at a discount.
If you're able to visit NYC during Restaurant Week, then you'll have an opportunity to treat yourself to all manner of gourmet cuisine at seriously discounted prices. The event occurs in both the winter and summer each year and features deals at more than 300 restaurants. Expect to pay around $25 for lunch and just shy of $40 for dinner. While that might sound steep, consider that you'll be eating what might regularly be a near-$100 meal for less than half the price.
Head to the spa.
There are a huge number of spas and salons in New York, each of which caters to different clientele. That means it's possible to enjoy luxurious spa experiences on a budget. Whether you're in the market for a manicure, pedicure, facial, or massage, you can enjoy an afternoon of pampering--without breaking the bank--thanks to these affordable spa treatments.
Get a free haircut or blowout.
A swanky new haircut at a boutique salon in New York City might seem like the stuff celebrity's lives are made of. But you can actually get one yourself--for free. Scope out Salon Apprentice, which offers free haircuts and blowouts to men and women who are willing to volunteer as hair models.
See a Broadway show for less.
Broadway shows are part of the heart of New York City. But the most popular shows can cost an arm and a leg. That doesn't mean you have to deny yourself this quintessential NYC experience. Instead, get savvy about rush, lottery, and standing-room-only (SRO) ticket options, all of which promise serious discounts. You might need to wait in line to score discounted tickets, but it's a small price to pay for world-class theater.
Visit world-class museums.
New York City is home to some of the greatest museums in the world, including the Guggenheim, the Frick Collection, and MoMA. Simply walking through the halls of the Met is like being transported to another world. And it can all be yours for a very low price when you take advantage of suggested donation hours. Research different museums to learn when they offer discounted rates. (Some museums even promise free entry fees.) Or just head to the Metropolitan Museum of Art any day of the week--it only ever charges a suggested entrance fee.
Enlist personalized concierge services.
You don't have to stay at the Ritz Carlton to enjoy high-class service. Heck, you don't even need to stay in a hotel. Dedicated concierge services are cropping up across the country, and NYC is no exception. City CoPilot, for example, offers a range of services including luggage storage, airport transportation, AirBnB cleaning, and discounts on tours and attractions. For a reasonable fee, you can add a touch of luxury service to an otherwise average vacation.
Hit the streets.
If there's anything to be learned from Breakfast at Tiffany's, it's that simply strolling along Madison or Fifth Avenues can make you feel like you're a star. Even if you can't afford to purchase anything at Barneys, Bergdorf Goodman, Henri Bendel, or Tiffany & Co.'s, you can still enjoy window shopping. And you might just bump into the likes of Halle Berry, Victoria Beckham, or Sarah Jessica Parker while you're at it.
If you're trying to indulge in NYC on a budget, focus on the splurges that will most help you feel like you're living in the lap of luxury. That could be everything on this list, or it could be one or two items. In any case, a little pampering will do you good.