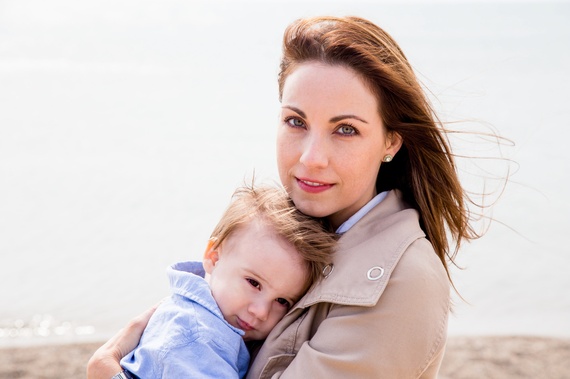 Have you ever got to the end of the week around Friday dinner time and realised the cupboards are bare and you've got nothing to feed your children? This happened to me last week. As luck would have it, we had a two tins of tuna and baked beans lurking in the back of a cupboard -- fortunately still in date! We made do with these spread on dry crackers -- but it did make me stop and think, why am I so busy that I forgot to do the grocery shopping? How could I not have found time to do something as essential as buy food for my family?

If you're a Mom and an entrepreneur like I am, then you're likely used to juggling hundreds of different tasks each week. Some days and weeks, it can feel like stepping out as a high-wire act, spinning plates on each hand. When you reach the other side you're drenched in glory and with high-fives all round. Everything is going so well! Other days it feels like all the plates have crashed and even getting out of bed is tough.

It's hard balancing the needs of a family with the demands of building a business. I want to do both well - but sometimes things get out of sync -- a bit like my Friday last week. I want to see my children raised happy and fulfilled. But I also want to feel a sense of fulfilment too -- not just through their successes, but through my own achievements too.

So I came up with a seven ways to help Moms feel balanced and happy, even when you're feeling pulled in all different directions:


1. Invest some time up front to work out a good routine

Sounds obvious doesn't it? Yet the constant rushing from place to place and burning the candle at both ends can mean it's easy to forget the bigger picture. Ask yourself -- is this routine working? What could be done better? Where could I change things?

It's worth taking a chunk of time up front regularly to schedule all your activities, as the needs of your children and your business are constantly changing. Knowing where you need to be and at what time on what day allows you to engage more fully with each activity, as you can see the balance on your schedule between business and children looks fair. No more not being present 'in the moment' with your children or partner because your brain has wondered off to think about how to market your business better!

This worthwhile exercise can save you from burning out and feeling overwhelmed. Scheduling also helps us to see when the next slot of free time is coming up - which could be a much needed break to recharge or rush through a document for a last minute deadline!

2. Give up the guilt

Moms often feel guilty about not spending enough time with our children because they are away from us for long days. However, without time to focus on the business, we know it's going to take even longer to create success and that can feel dispiriting and frustrating. Does that sound like the recipe for a happy Mom? No. A woman who is happy and fulfilled through striving for her own dreams is always going to be a better Mom, even if she's tired at times and a bit frazzled. Her sense of fulfilment is going to feed into the aspirations of her little ones which means they can dream bigger too.

Remember we're setting a great example to our children that women can work and be Moms as well. We're showing them what's possible for them when they grow up. Studies also show that for girls a working Mom actually makes them happier in the long-run and for boys there is no change in happiness levels.

So can we start to forgive ourselves and learn to celebrate our desire to want to work and embrace the idea of this positive role model?

Also don't forget to count up the amount of time you actually do spend with your children. Record all the times you engaged in the last week with your children and realise you are spending way more time with them than you may think. All the smiles, all the hugs, all the encouragement, the advice, all the classes you took them to, the playdates, the help with homework or learning to read, the bath-times and so on. It all counts!


3. Have realistic expectations

Have realistic expectations in all areas: the business, family projects, children's chores, your partner's ability to help, and your own capacity. Sometimes, the dreams will have to wait and that's OK. Instead reap the harvest of children well-raised and know that as your children get older you will gain time to add to your projects.

Setting expectations too high and pushing too hard to be perfect in all areas is going to make even the strongest person feel miserable. Remember this is not a race. Businesses succeed and fail every day and your business will succeed, when the timing is right for you.


4. Stop comparing and use envy positively

It can be tough seeing other women striding ahead, making a big success of their lives, their business going from strength to strength. There's that feeling that there's always someone out in front, doing it bigger and better. Yet envy can push us one of two ways. We can either dwell on our current feeling of lack or we can take that desire to be bigger and better to spur us to greater success: if it's possible for them, then it's possible for us too. That person you're admiring is one day going to be you.


5. Schedule time to do nothing

Put slots of time in your diary where you have nothing to do. Maybe this sounds a bit odd? But having nothing to do allows us to take a much needed break. Maybe you've run out of bread or milk (like me last week!) or you need a pair of shoelaces -- whatever it is -- now you get that chance to run to the shops. Or you can use it to just unwind and read a book or chat to a friend on the phone.

If you want to take it a step further you could also try doing absolutely nothing - for real.

Doing nothing can increase our productivity. By allowing your brain to rest you start to filter out what are the most important areas of your life that need attention. Regular periods of alone-time in silence, not interacting with anything or anyone can greatly increase your creativity too.


6. Unplug for whole days at a time

Physically unplug everything and then go out and have a great day out somewhere. Day-long breaks away from your usual life or routine are inspiring and invigorating. Getting away from technology forces us to engage in the 'now' too. When you come back to your business you'll enjoy an increase in clarity, attention-span, motivation and creativity.

7. Celebrate your successes

It's all too easy to bat away a compliment on your latest achievement with 'Oh thanks, but it was nothing'. Instead, celebrate in some way. This is one of the best ways to increase your confidence too, studies show. Treat yourself to something. It could be a new piece of clothing. It could be a trip to the movies with a friend to unwind. It could be a day out with your children. Or it could just be a walk in a park by yourself. Just remember to celebrate what you've achieved. Yes there may be times when it all goes wrong and you end up with a situation like having no food in the house. But being an entrepreneur is the most incredible journey and you're building something amazing for you and your family's future. So a few crackers topped with baked beans and tuna for dinner one night? It's so worth it.