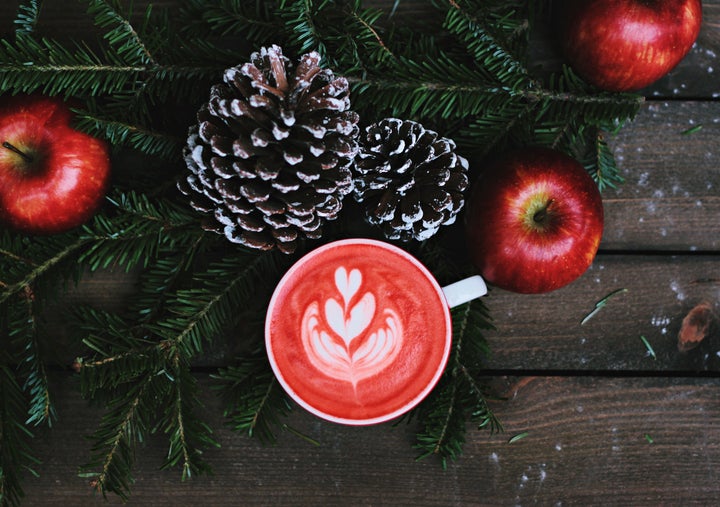 If we want to taste the flavors of this season, we need to add in what really matters and leave the rest behind.
It's hard to believe the holidays are here. In a house outnumbered by children, the season can feel like it's falling fast on you while the moments keep slipping right past you.
Is your holiday season looking (and feeling) overwhelming, exhausting, or just dreadfully busy? Do you have parties to attend, gifts to buy, gifts to wrap, people to make happy (umm, that doesn't really work), recipes to curate and homes to decorate?
Hi, my name is Zoë and I'm a mom to four children. I welcome the questions and comments (and the stares I return with a warm smile) when I'm out with all my children. The second most popular comment said to me, "I don't know how you do it all?" My response to the world, "I don't". I decide everyday to let go of many good things, so I can experience the best things. Especially during the holiday season.
My family and I enjoy gift-giving—year round. When we do give, we aim for practical gifts, focusing on quality over quantity and experiences over possessions.
How can we add in the wonderful holiday traditions this season while keeping our sanity and most of all, making the moments meaningful?
With the ingredient, simpler.
Keeping things simple gives more time for what matters most this season.
This year, add the ingredient of simpler into your holiday season (and someone else's!). I think you'll see that less really is more. To get you started I've listed some of my favorite ways to give the gift of simpler this year.
Simple Living e-Courses
Gift the gift of growing an intentional and simpler season with an e-course.
12 Days to a Simpler Holiday Season. A brand new email course curated by Rebecca from Simple As That and Erica at Let Why Lead. This course is designed to help you find more stillness, wonder, and JOY. You will be guided and encouraged by a community of women who are dedicated to re-making the holidays this year. These talented ladies will send you 12 lessons tackling the biggest barriers to a peaceful holiday season. Each day, they will cover a topic that is relevant to your journey. You'll also receive printable worksheets to keep your goal in sight (literally) and an invitation to a private Facebook group for encouragement on your journey to a simpler holiday. It's sure to be a uniquely special course, I'm personally looking forward to it!
Design a Simple Life. Not sure where to start, or if you even have the time? This 30 day email course from No Sidebar will bring you insightful daily emails with action plans and challenges, access to the private and encouraging Facebook group along with suggested reading on related topics. You can join in anytime! You can receive a discounted price for this helpful course, only offered HERE. I have personally taken this course and found the information very helpful and encouraging. It's perfectly packaged in a daily snack size.
Uncluttered Course. Got too much stuff? Joshua Becker's Uncluttered e-Course runs for 12 weeks. It'll bring you helpful live webinars, videos, articles, weekly challenges, and the most active and encouraging Facebook community I have yet experienced. This course is sure to provide encouragement, motivation and direction to help you unclutter your home! The transformations are amazing! You can read 25 ways it's changed lives. The next course starts Jan. 9th. Joshua was kind enough to offer my readers a coupon code, use MP25 for 25% off the course!
A Simple Year Course. Ready to get committed to simple living in 2017? This course is 12 months of guided simplicity, "designed to help you simplify your life gently and with purpose. You'll learn something new each month and focus on what matters most with a simplicity advocate that specializes in topics like clutter, food, money, relationships, and busyness." A Simple Year will provide live monthly webinars, private Facebook Group to ask questions and connect, optional homework assignments and a cup full of supportive connection and encouragement to make the change!
Experiences
Give the gift of an experience they'll always remember and never have to take care of. We give our children one experience git each Christmas. This year we've decide to give our kids a hot chocolate bar party with their neighborhood friends as their experience gift.
Cloud9 Living. This has been my personal favorite to book experiences for adults and is especially helpful when you don't know what activities are in the area.A few of the experiences you can gift are:
Flying Lessons
Food Tours
Wine & Beer Tour
Guided City Tour
Dinner Cruise
Spa Package
Tandem Hang Gliding Flight
Nascar Ride Along
Zip line Canopy Tour (So much fun!)
This is one of my favorites! Last year for Christmas my mom gifted our daughter a 7 week international cooking class and our son a 7 week pottery class. They loved them and nothing was brought into the house that I'd have to take care of (WIN!).
Find out an interest or hobby they enjoy and purchase a class for them.
Maybe they'd like an art class, writing class, photography class, cooking class, knitting class, business building class, public speaking class, or print making course.
Tis better to give than receive holds true. If we have in abundance maybe its purpose is to give in abundance. Consider donating to a charity on behalf of your loved one and invite your family members to do the same.
Samaritans Purse. A non-denominational evangelical Christian organization providing spiritual and physical aid to hurting people around the world.
The Hope Effect. A dedicated team of passionate individuals motivated by a single desire to find and implement new family-based solutions for orphan care around the world. I have just started my own fundraising campaign to raise 20k for this organization! I would be so grateful for any amount YOU donated!
World Vision. A global Christian humanitarian organization partnering with children, families, and their communities to reach their full potential by tackling the causes of poverty and injustice.
Heifer International. An organization dedicated to building and reviving local food systems to end hunger.
Your local food bank. Most local food banks especially need donations this time of year.
Cultivate thankfulness with gifts of gratitude. It's the simple gift that keeps on giving.
Handwritten note. Write a simple note of appreciation for the receiver. Include some things you love about them. This is also a great gift for children to give to their teachers, friends and family—no money required.
Gratitude project. Christine Carter, author of Raising Happiness, suggests turning your child's interests into a gratitude project. Have a jar of legos on hand, and every time your child expresses gratitude for something, have her add a lego to the project. It's motivating to see it grow!
Journal. A gratitude journal doesn't have to be fancy, especially for young children. You can even put together a journal with scrap paper from around the house.
A Picture. Draw a picture of something they love or of you together. My kids especially love this.
Volunteer. Volunteer together as a family. Nursing homes, shelters and soup kitchens are a few places to start.
A Gratitude list. Make your loved one a mini gratitude list of all the ways you're grateful for them. Include a photo or drawing. Purpose over perfect friends, It doesn't have to be fancy!
Gift a book that promotes simpler living. Here are a few of my favorites though there are many good books out there!
Essentialism: The Disciplined Pursuit of Less
The Joy of Less: A Minimalist Guide to Declutter, Organize, and Simplify.
Minimalist Baker's Everyday Cooking: 101 Entirely Plant-Based, Mostly Gluten-Free, Easy and Delicious Recipes
The More of Less: Finding the Life You Want Under Everything You Own. You can read my book review here.
I think we can't live more simply than giving of ourselves. Connecting with one another is what it's really about. Is there something you know how to do — sew, paint, cook, garden, build a web site, knit or declutter? Are you a hair stylist or cake baking expert? Maybe your an excellent listener, we all want to feel connected. Consider gifting a voucher for your services.
I hope this season is filled with fun, purpose and meaning for you!
Adding the ingredient simpler is sure to make your holiday season so much sweeter!
Zoë Kim is the author of Minimalism for Families and the voice behind the inspirational blog The Minimalist Plate ~ Encouraging others to clear the clutter and pursue the meaningful in everyday.