With Thanksgiving just around the corner, many will soon gather around their family dinner tables, hold hands, drink cider and affirm their gratitude. The warmth of loved ones close and fun-filled celebrations will make it easy to be grateful. And few of us will get through the night without releasing a deep sigh of satisfaction at the wondrous view of our lives.
That is, until Friday morning. Then it's back to work for some. For others it's the start of holiday shopping. All of a sudden, we become acutely aware that December is near. The prior night of praise will usher in a season of holiday feasts and family bonding - and with it, strained budgets, end-of-year deadlines and the stress of organizing events, making travel plans and checking off lists.  It is around this time that feelings of gratitude usually begin to make their exit, to be replaced by stress.  Then, oh, how quickly we lose sight of all those blessings we counted just the night before! And how taxing life begins to feel when we do.
But what if gratitude was our daily practice instead of just some holiday spice that we throw into a shared meal? After all, it does not have to be seasonal. Studies show that we stand to gain a great deal from regularly incorporating gratitude into our lives. Its proven benefits are numerous: better sleep, higher self-esteem; less aggression[1], less depression[2], and less stress[3]. In fact, practicing gratitude regularly can help increase our personal sense of happiness by 25%[4] .
So, why not make gratitude a regular part of your routine? Here are a few tips to help get you started:
There is always someone whose kindness has meant more than you've been able to express, or who you would like to thank again. Send a text, make a call, fill a "Thank You" card, or shoot them an email. Taking a minute or two to thank someone for his/her kindness will not only bring that person joy.  It will likely increase your feelings of happiness as well.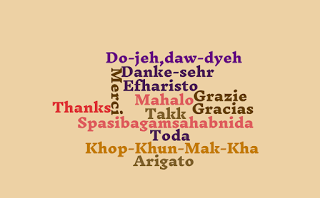 2. TAKE THE THANKFUL MOMENT.
So many acts of kindness befall us each day that we rarely allow ourselves the warmth of heart that should accompany, a "Thank you." You lift your hand in the rear-view to thank a stranger who let you into the exit lane at the last minute when your day-dreaming almost caused you to pass it. Someone holds a door open for you and you whisper "thanks" as you speed past. You get a nice comment on Facebook and casually hit the 'like" icon. But during how many of those moments do you actually stop, exhale deeply and FEEL thankful? How often do you let your chest fill up with that sensation that screams, "I'm so fortunate to be the recipient of all of this kindness"?
Allow yourself those moments.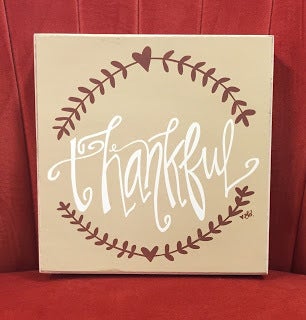 A common exercise used in gratitude work is G.L.A.D.[5]  Create a list for yourself that shows for today:
One thing for which you feel Grateful,
One new thing that you Learned,
One Accomplishment about which you feel proud and
One experience that you found to be absolutely Delightful.
Review the list once it's complete and focus on the good things happening in your life.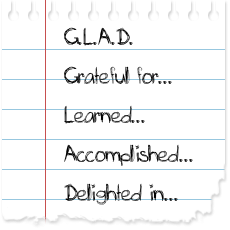 4. KEEP A GRATITUDE JOURNAL.
Jot down your life's positive aspects in a daily or weekly diary. Documenting the things for which you are grateful helps you to build optimism and feel better – emotionally and physically[6]. Try selecting categories from your life to focus the content of each page.  Perhaps dedicate one to every healthy part of your body and another to the best features of your partner. Or, maybe you want to fill one with the things that you love most about your family or the best times that you've had at work.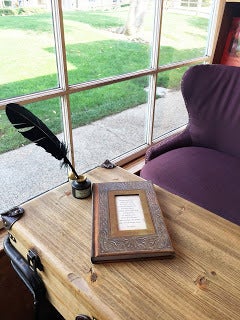 5. FLIP THROUGH PHOTO ALBUMS AND SCRAP BOOKS.
It's been said that a picture is worth a thousand words. Notes, lists and journal entries are great activities.  But photos, can also work to immediately transport you to a place and time that you most cherish. For a quick jolt of joy, find pictures from your favorite vacation, birthday or holiday celebration and bask in gratitude for having enjoyed those moments. Flip through an old album, create a new scrapbook or stitch together some digital photos.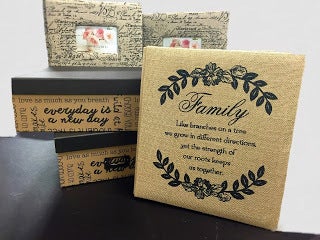 6. SURROUND YOURSELF WITH REMINDERS.
It is easy to get caught up in the hustle-and-bustle of your day-to-day. Prompt yourself toward greater gratitude by decorating your home and work space with plaques, wall art, throw pillows or even simply post-it notes that remind you to stay grateful.  You can also hang pictures of things that you are grateful for - sunsets, family, health, friendships, etc.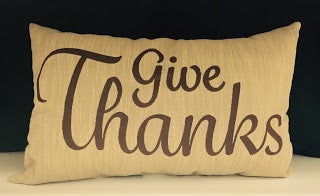 Gratitude is contagious! Performing acts of kindness for others is its own reward. But, being on the receiving end of someone's gratitude also triggers feelings of gratitude in you[7]. So take the time to do something nice for someone else.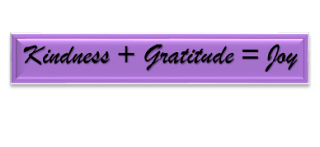 [1] Morin, A. "7 Scientifically Proven Benefits of Gratitude That Will Motivate You to Give Thanks Year-Round." Forbes Entrepreneurs. Forbes, Inc. 23 November 2014. 9 November 2015.
[2] Robbins, O. "The Neuroscience of Why Gratitude Makes Us Healthier." HuffPost Healthy Living. TheHuffingtonPost.com, Inc. 4 November 2011. 9 November 2015.
[3] Heubeck, E. "Boost Your Health With a Dose of Gratitude." WebMD Women's Health. WebMD, LLC. 11 January 2006. 9 November 2015.
[4] Dean, J. "Practicing Gratitude Can Increase happiness by 25%." PsyBlog. Spring.Org.Uk. 10 September 2007. 9 November 2015.
[5]Altman, D. (2014) The Mindfulness Toolbox: 50 Practical Tips, Tools & Handouts for Anxiety, Depression, Stress & Pain. Eau Claire, WI: PESI Publishing & Media.
[6] Miller, C. "In Praise of Gratitude." Harvard Health Blog. Harvard University. 21 November 2012. 9 November 2015.
[7] Leddy, C. "The Power of 'thanks'." Harvard Gazette. Harvard University. 19 March 2013. 9 November 2015.
Calling all HuffPost superfans!
Sign up for membership to become a founding member and help shape HuffPost's next chapter
This post was published on the now-closed HuffPost Contributor platform. Contributors control their own work and posted freely to our site. If you need to flag this entry as abusive,
send us an email
.