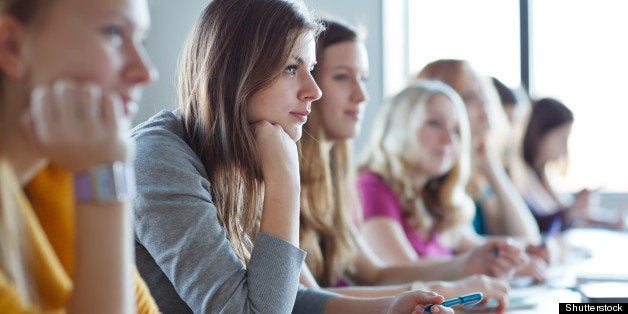 There may have been times throughout the year when you wanted to scream at your teachers or never set foot in their classroom again—whether they graded your paper super harshly, called you out for texting in class, or gave a lecture so boring that you fell asleep on your desk. Or you may have had one of the best teachers of your high school career, and the thought of ending class makes you more emotional than watching "The Notebook." Either way, your teachers have put a ton of time and effort into their job all year long, so it's important that you let them know you appreciate their work. Not sure of how you should go about thanking them? We've got you covered—all you have to do is choose which way works best for you!
1. Write a thank you note
We may be more used to Facebook chat than snail mail, but since you are probably (hopefully) not friends with your teachers on Facebook, a hand-written thank you note is an easy yet thoughtful way to show your appreciation for your teachers.
Get a nice piece of stationery—not just lined notebook paper—and write something meaningful. Instead of just writing a general, generic "thank you," try to pinpoint a few specific things that you enjoyed about the class and what you will take away from it.
For example, if your teacher showed funny YouTube clips that related to class material, mention how that helped reinforce concepts in an engaging way. Or, note that the monthly in-class essays taught you how to explore and analyze readings more deeply and kept you on top of your work, skills that you will definitely take to college. Teachers love to know that their class actually made an impact on you, so conveying that in your thank-you note will make them extra happy.
The best way to give your note would be in person at the end of the last class, but if that isn't possible then you could stick it in their office mailbox.
2. Give a gift certificate
Even though gift certificates are sometimes thought of as less thoughtful than a real present, they give your teachers the opportunity to get themselves something that they actually need or want. Your teachers probably don't need another coffee mug or pencil holder to add to their collection, but you can never have too many gift certificates!
You can make it more personal by getting a gift certificate to somewhere that you know your teacher likes. For example, if you know your teacher is into knitting, then you could get one to a craft store. Or, if you know they just got a new house, then maybe to a home goods store. If they've mentioned their love of Thai food, get one to the best Thai restaurant in town. If you can't think of anything, then gift certificates to nice restaurants, spas, coffee shops, or even Amazon are always good options.
If the card is to a coffee shop or café, a $10 gift certificate is fine. But, if you had a special relationship with this teacher (not the kind that Aria and Ezra had on Pretty Little Liars—we're talking about if the teacher wrote you a college rec or was one of your favorites), then you could upgrade to $20 – $30.
Baked goods not only show that you took the time to make something, but also they're delicious—it's a win-win situation for everybody. You could go with one of the classics like cake, cookies, or brownies but jazz it up by writing "thank you" in icing, or spelling it out with lettered toothpicks stuck into the goodies. If you know your teacher is health-conscious, try making one of these 7 skinny desserts. Also consider including a list of ingredients with your recipe in case they have food allergies.
4. Give them something to bake
Not a good baker? Give your teachers something that they can bake themselves! Taylor Southworth, a sophomore at the University of Michigan, explains that a lot of kids at her high school would give their teachers "Cookies In A Jar" at the end of the year.
REAL LIFE. REAL NEWS. REAL VOICES.
Help us tell more of the stories that matter from voices that too often remain unheard.
BEFORE YOU GO
PHOTO GALLERY
20 Things Not To Worry About Before You Turn 20