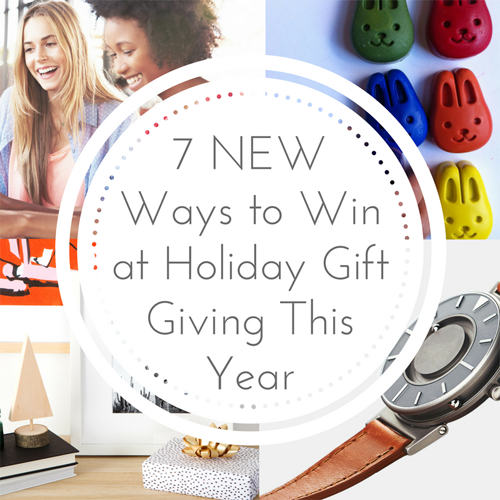 Let's be honest: buying presents for friends and family can get overwhelming. With only 7 weeks left before the Holidays, we've got you covered. We scoured through over 100 entries and rounded up the best gifts that will stand out this holiday season and can be purchased online. These gifts range from functional, to fun, to life changing.
Why we picked these gifts: not to sound sappy, but the Holidays is a great time to give back in a larger way. The gifts with an asterisk ( * ) have a larger social impact, helping you make your mark on another person's life while buying a gift for someone meaningful in yours.
This is a favorite of Technical.ly cofounder and Editorial Director, Christopher Wink, and we couldn't agree more. Framebridge is the simple way to custom frame everything you love, and the easiest way to be thoughtful this holiday season. Give a personal, handcrafted gift to anyone on your list - whether it's a photo of your wedding for your in-laws, an art print for your sister, or a photostrip for your best friend. With fast ordering, free shipping, dozens of beautiful frame styles and in-house design support, gifting has never been easier.
Learn more
Why we love this gift: This is the career secret weapon we wish we had 8 years ago. Instead of another stationery set, give the girl with big career goals 4 months of expert mentor matching. The Mentor Method membership offers 2 handpicked mentor matches emailed per month. Current mentors work for game changing companies including Hilton Worldwide, Social Tables, and Weddingwire. Most importantly, these change-makers and influencers are excited about mentoring the rising star in your life. Use code TMMSQUAD at checkout for 20% off.
Learn more
Why we love this gift: Eone believes inclusive design not only creates great products, but also promotes access and independence for everyone, including those with different abilities. Eone's first product, The Bradley, is an award-winning timepiece that allows people to both touch and see the time using two steel ball bearings and tactile markers. Bonus: they have timepieces for men and women.
Learn more
Why we love this gift: Karma Trik is a fabulous gift for the versatile, adventurous, and socially conscious woman. It's 1 garment that can be worn 15 different ways. Fun fact: Karma Trik garments are made from recycled plastic bottles collected in Haiti. Proceeds from every purchase fund projects to clean up waste and promote jobs.
Learn more
Why we love this gift: Meticulously crafted in Washington, D.C., these handmade chocolate bars are imbued with a distinctive Brazilian flavor profile and have beautiful packaging. Harper Macaw was founded by a Brazilian chocolate maker and a U.S. Marine Veteran with an ambitious yet tangible objective: To turn chocolate into a force for tropical reforestation.
Learn more
Why we love this gift: Help the kiddos in your life be the coolest ones at the kids' table this holiday season. These crayons come in fun shapes and colors, and are handmade using natural, non-toxic and eco-friendly soy and bees waxes. Fun and safe? Sold.
Learn more
Why we love this gift: It's under $25, incredibly useful, and is perfect for showing effort without being the coworker that goes over the top. Plus, this coffee is one our favorites in DC. Each of Compass Coffee's blends is a mixture of beans grown all over the world.
Learn more
Calling all HuffPost superfans!
Sign up for membership to become a founding member and help shape HuffPost's next chapter