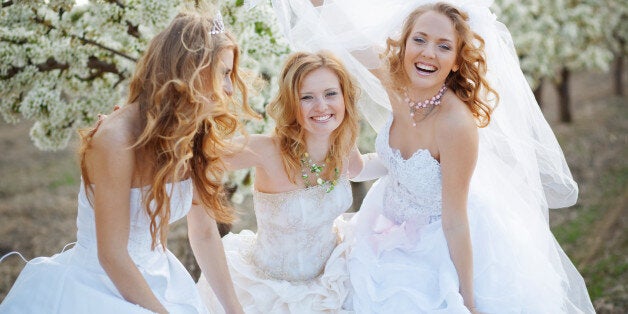 Shopping for a wedding gown is one of the most exciting experiences you'll likely have in your life. But, like any crucial task, it's rife with the possibility of error.
The blunders I'm talking about, however, have little to do with the type of dress you buy (the shape, the style, and so on) and more to do with the overall process, which can be quite overwhelming. (This shopping excursion will be unlike any you've had before!)
While some of the following mistakes may sound like they could be avoided simply by having some common sense, I have often found common sense to be in fact the least common of the senses. Especially when you're in the midst of wedding planning.
Since you already have so much on your mind by the time you're ready to try on some gowns, here's my advice for making your shopping experience as smooth as possible--and some insider tips on how to avoid the biggest mistakes brides make while trying to find their dream dresses.
1. Not wearing great undergarments. Certainly, you won't purchase your wedding undergarments before you've chosen a gown, but you do need excellent support for the gowns you're trying on to look great. (And if you are not sample size, as most women are not, an ill-fit will be exacerbated without them.) A well-fitting strapless bra is often key.
You also will be in and out of the gowns for at least 30 to 60 minutes and in-between you may stand there in nothing but your skivvies. So your undergarments should at least be clean and without tears.
2. Not wearing deodorant. I'm going to be perfectly frank: The excitement of the salon experience could likely cause more "shvitzing" than you typically experience. You don't want to be nervous about sweating all over the gorgeous gowns. Plus, imagine the person before you trying on the same merchandise and stinking up the dresses you're trying on. You don't want to be that person.
3. Not having clean hair. This is another case of courtesy. Typically, you will try on veils with the gowns, but you may even just run into a salon on your lunch break and without a shopping buddy. Remember that every veil you try has been put on by many others and all you can hope for is that they were courteous and had clean hair, too. Pay it forward. 4. Ordering a gown in a projected size. Today, you may be five, ten or even twenty pounds bigger than your "ideal" wedding day weight. Your professional stylist, however, will try to dissuade you from ordering any size other than the size you would fit into today--and you should listen to him or her. A gown can always be altered to fit perfectly. But it will be a disaster if the gown arrives too small.
5. Buying a gown without knowing your anticipated heel height. It is always best to shop with a heel that's the approximate height of what you will wear on your wedding day--and not just to see the general way a gown falls but for the sake of alterations. You want to make sure that if there is any intricate lace on the hemline, it won't be compromised.
Often, a lace hem is separate from the actual lace on the skirt and you can request to send "hem lace separately" to avoid costly removal and adjustment in alterations. And, if the designer's standard "hollow to hem" is too short for you to begin with, it is best to have the heel height right so that even the most experienced stylist doesn't overlook this extremely critical detail. Human error can happen and it can really be a nightmare to fix later on.
6. Not having a budget in mind. This typically happens because the majority of brides have no idea what things cost, so it's important to look at gown shopping as a perfect opportunity to educate yourself and ask questions. If you can add to your budget once you're in the salon, great! But to try on gowns that are over-budget and risk falling in love--only to have to severely compromise later--will leave you feeling dissatisfied.
7. Not knowing the religious standards of the officiant marrying you. Often, we know that if a wedding is to be held in a church or synagogue there may be a dress code to follow. But if the ceremony is to be off-site, it is best to clarify any requirements with your officiant well in advance of the buying trip. This way, you can ask the stylist what ideas he or she might have if the neckline or sleeves on a gown you love are not quite right for your clergy.