"You should go," my husband says. I hesitate, he knows why.
This weekend was sealed with a beautiful May day -- Minnesota's reward for surviving winter -- but I've been working my way through it.
Deadlines loom and pull and tug me away from the sunshine, and plant me, firmly, at my writing desk.
But our windows are open wide and sunshine streams through them in slices, framing the views I love most.
Our puggle Louie stretched inside one. My girls and their friends painting at the kitchen table are inside another. Mismatched bottles of paint in purples and pinks, blues and greens line the table in a third. I ignore the mess, note their glitter instead.
My son and my husband are playing catch outside. One of the two of them has dreamed of this day for so very long. The thwap of the ball hitting the mitt makes a perfect background noise.
When I check off my last to-do of the day, I want to curl into them with every fiber of my being -- except one. My writerly friend is going to hear Jennifer Weiner speak tonight at a synagogue just 30 minutes away.
I say "just" like I mean it, don't I? But I don't. 30 minutes is far for me, but Jennifer Weiner is so worth it.
She's the author I've loved the longest, found the most inspiration in, and I've read every single book she's written -- twice.
So I (shockingly) listen to my husband and go, and I'm so, so very glad that I did.
She was funny and personable and charmingly surprising. Writer Nina Badzin said, "The bima has never heard so many f-bombs," and I'm sure she was right! She was also so social media savvy that when we accosted her for photos she said, "Make sure you Tweet that!" (We so did.)
Besides the laughs and a little fan girl indulgence, I also gleaned seven writing lessons from her talk. Here they are.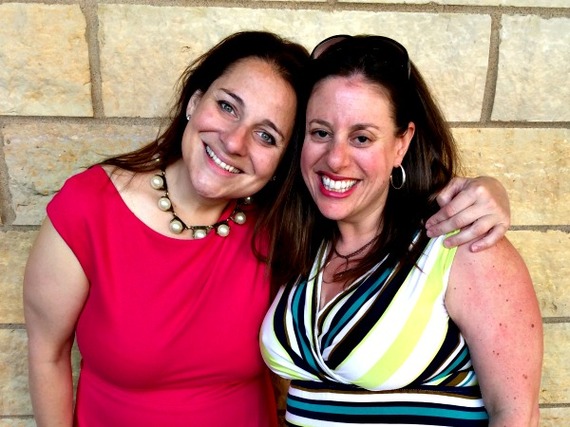 1. Face raised to ceiling, Jennifer used her haughty voice to talk about the "M" word: Muse. "Waiting for my muse," is code for "procrastination," she told us. Cut that out.
Quote from Jennifer: "When you have an editor with deadlines and you wait for a muse to get you there, you're going to be out of a job."
My takeaway: Writers need discipline. Make a plan for when you're going to write what and stick to it.
2. Jennifer's career started off with a big bang after Good In Bed. But the inspiration for the book came from a bummer of a break up. Soon after the book deal, and with a new guy on her arm, she ran into the guy who broke her heart. And she did something scary -- she faced him.
Quote from Jennifer: "Eleanor Roosevelt once said do something that scares you every single day."
My takeaway: Get out of that comfort zone. Your very best is just outside of it. Write something new, try a different kind of character, follow up with that contact, make a ballsy phone call. Thought leader Ann Imig calls the nerves you feel doing these scary things "magic sparkler energy." Scary is where the possibility of greatness lies.
3. When Jennifer's mother was ready to announce that she was a lesbian, she decided to tell everyone. And everyone included Jennifer's sweet, funny and sassy Nana. Jennifer's response was singular: Can I come?
Quote from Jennifer: "'Can I come?' is the only possible response for a writer faced with a situation like this."
My takeaway: Show up and pay attention. Forget the muse, your writing material is right there. There's a story inside every moment.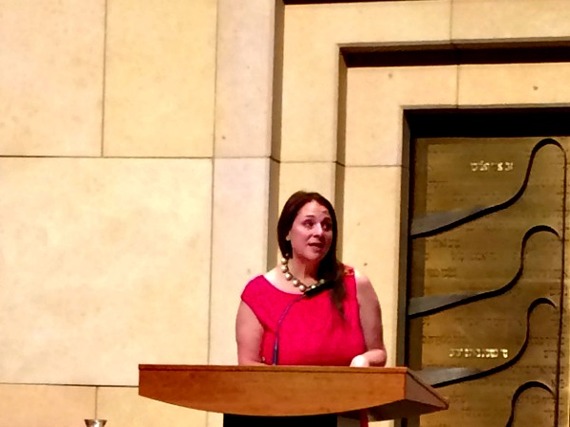 4. Jennifer spoke of growing up in a house full of books that she could read at her fancy (as long as she could explain what was going on inside them!).
Quote from Jennifer: "I grew up reading stories, so I know how to tell them."
My takeaway: Read. Read a lot. Read inside and outside your genre, be able to list your favorite authors on demand and keep a running list of what people you meet are reading. If they like it, there must be something to it. Also, beware of a writer who says they don't have time to read. There's something fishy going on there.
5. At the end of the talk, Jennifer (wittily) fielded a few questions from the audience. One of them was, "What suggestions do you have for aspiring writers?" She said that she used to tell writers to start off at a small, unknown and new-to-them newspaper. (One of Jennifer's first jobs was writing the Education beat at a small paper.) But acknowledging that the world is changing and newspapers are having a hard time keeping up, she said you can swap "small newspaper" for "small website."
Quote from Jennifer: "Even if you're offered topics that you're not the most interested in writing, write them, write a lot of them. Learn how to write and how to tell a story."
My takeaway: Writing begets better writing. Tell a compelling story about lunch menus today (figure out the lede, the arc, the closing), write the great American novel tomorrow. So write a lot. You're not above that assignment. (You're really not.)
6. Jennifer spoke about not being afraid to experience not just things and moments, but people and feelings, too. When you allow yourself to connect and to feel, you create empathy.
Quote from Jennifer: "That empathy becomes a believable character."
My takeaway: Step into feelings. Within all of the discipline and reading and writing required to be a good writer, the crux of it all is your voice, your take, your heart. And that only comes from a life well-lived. Go hear the talk. Visit the sick family member. Celebrate the birthday party. Have the awkward conversation. Then step into the feelings you have while you're there. Details separate us, but feelings -- curiosity, grief, joy, discomfort -- are universal and are what thread us together. Use what you feel inside the nooks and crannies of real life to make your reader feel inside your words and pages.
7. There were so many other gems she shared -- learn to love social media, for one -- but my absolute favorite was this: Storytelling is powerful. You're the only one who can tell your story, so do it.
What's your favorite writing advice?
Related
Popular in the Community