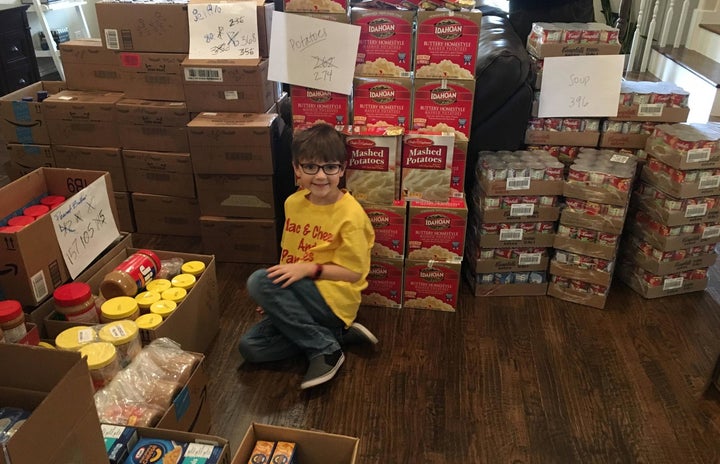 A 7-year-old boy in Texas is showing that you're never too young to serve your community and help people in need.
First-grader Kaden Newton of Rockwall is the founder of "Mac & Cheese and Pancakes," an initiative through which he donates "kid-friendly" foods to his local food pantry.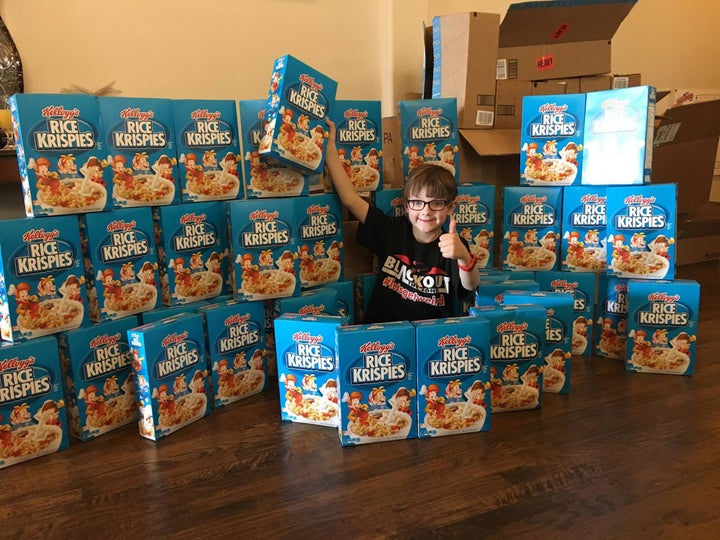 Kaden's mom, Diana, told The Huffington Post that her son had been donating to the food pantry at Helping Hands of Rockwall County for almost three years before he came up with the idea for "Mac & Cheese and Pancakes" in November 2016.
"Kaden has a wonderful heart. He came to me at 4 years old, while still in preschool, and mentioned that he wanted to start a 'company' to feed the poor," Diana recalled. "My husband and I are still not sure what he heard or witnessed to feel this way at such a young age. At the time our children were approximately 4, 3, and 1 year old, and we were just trying to make it through those tough toddler years," she added.
"So, we appeased his request by pulling some food out of our own kitchen and taking him down to the local food pantry to donate it."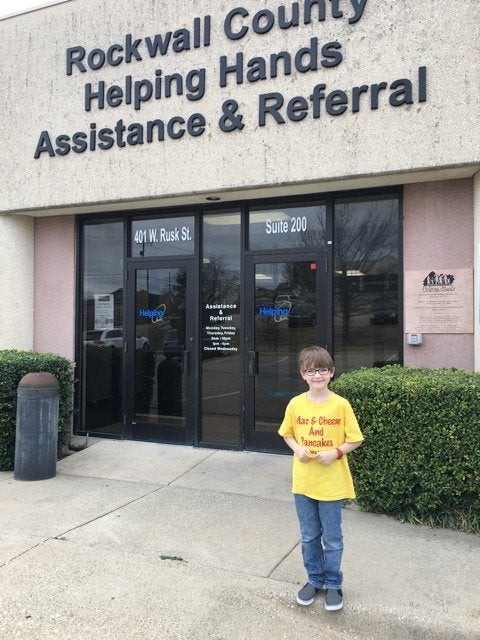 Kaden loved how it felt to donate food and asked to go back to the food pantry, so for the next three years, the Newtons continued to visit on a regular basis. During that time, Kaden expanded his role from dropping off food to touring the food pantry and becoming even more emotionally invested in the process.
"He was very aware of the families sitting in the waiting room waiting on their food and specifically would inquire to me about the young children there," Diana recalled. "He also was very aware that many of the food items were not items that those kids could look forward too. Many areas of the shelves sat empty and desperately needed donations in order to get the particular food to the people in need. He grew to have a special place in his heart to take care of those young kids that he had seen waiting on their next meals."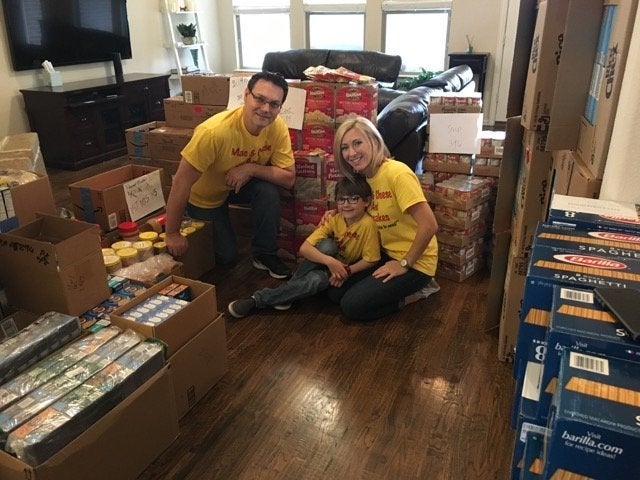 Thus, on February 2, 2017, Kaden officially launched "Mac & Cheese and Pancakes" ― the "company" he'd envisioned at age 4. The process for the initiative is simple: He created an Amazon wish list with some of his favorite "kid-friendly" foods like the namesake mac & cheese and pancakes ― as well as things like spaghetti, peanut butter and Chef Boyardee products.
Anyone can donate through the wish list, and the products are shipped directly to Newtons' "Mac & Cheese and Pancakes" headquarters.
Kaden promoted the Amazon wish list on the "Mac & Cheese and Pancakes" Facebook page and started coordinating "in-person" food drives to take place in his Texas community. The first-grader also asked his school administrators, extracurricular activity instructors, family, friends, church leaders and more for donations and other assistance with his project and was pleased with all the enthusiastic, positive responses.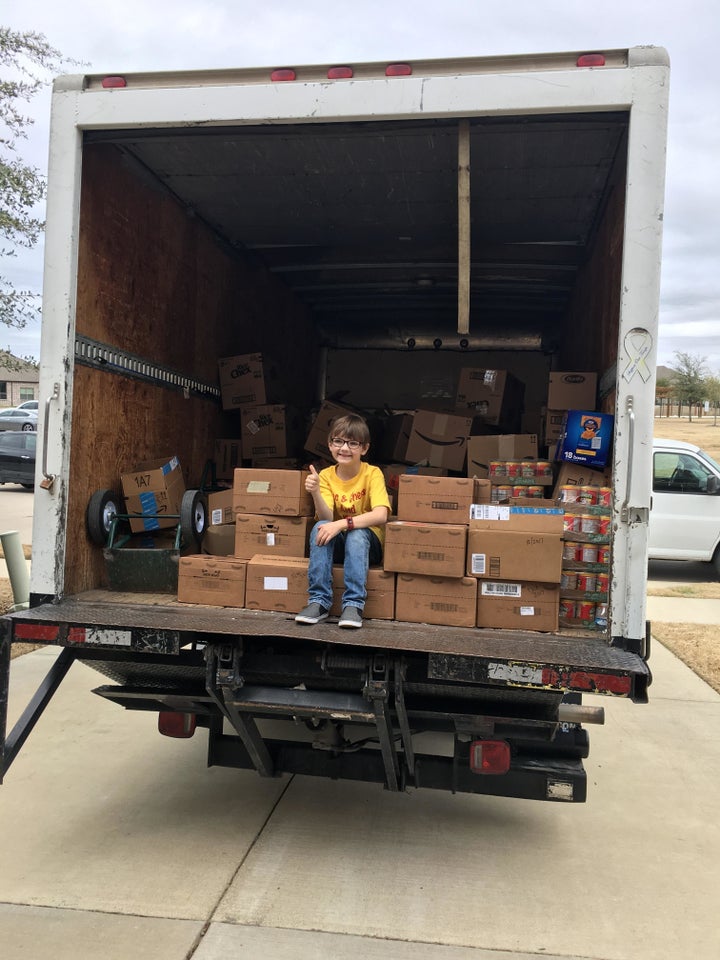 Within a week of its official launch, "Mac & Cheese and Pancakes" received over 5,000 items from across the country. Local newspapers and television stations shared Kaden's story and by week two, he'd reached over 10,000 items donated.
"His initial goal for 'Mac & Cheese and Pancakes' was about 5,000 items, of which 1,000 he hoped could come from the Amazon Wishlist," Diana told HuffPost. "As of February 19th, the total tally was in excess of 10,300 items, approximately 12,360 pounds."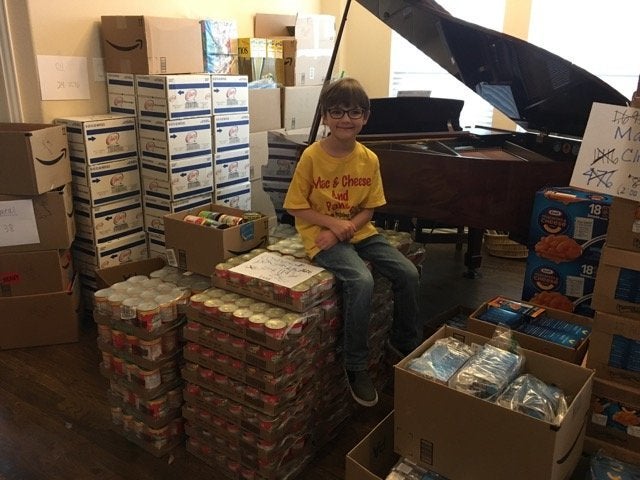 Though the Newtons have asked their son repeatedly if he feels his work is done now that he's surpassed his goal, his answer is always no.
"Kaden has decided to continue work on 'Mac & Cheese and Pancakes' and bring food to as many families as possible," Diana said. "He is a goal-oriented child who finds tremendous joy whenever a goal is met. He is also super-sensitive and intuitive and wise beyond his years."
Kaden's mom said she hopes his story helps raise awareness about childhood hunger in the U.S. "One in every four children here in North Texas live with food insecurities," said Diana. "This statistic is startling. In America as a whole, one out of every five children is affected. We had NO idea until Kaden's heart changed us and forced us to confront this awful and unacceptable reality."
Kids like Kaden are making the world a better place!