In 2016, 7-year-old Bana al-Abed gave the world a glimpse into the violent siege of Aleppo, Syria, on her Twitter account. She's since been named "our era's Anne Frank" and amassed over 300,000 followers, communicating the horrors of the Syrian civil war from a child's perspective.
Now, al-Abed will be writing a memoir detailing her life under siege, as well as her journey to overcome it, Entertainment Weekly reports. Dear World, published by Simon & Schuster, will be released in the fall of 2017.
"I hope my book will make the world do something for the children and people of Syria and bring peace to children all over the world who are living in war," al-Abed told EW in a statement.
Al-Abed and her family were able to flee Syria in December and are currently rebuilding their lives in Ankara, Turkey. The little girl is only slightly older than the six-year conflict in Syria and has suffered flashbacks of her traumas in Aleppo, according to CNN.
"I have dreams that I am still in Aleppo and there were more airstrikes," al-Abed told CNN. "I was seeing how children are dying. I get sad and cry."
Fatemah, al-Abed's mother, was an English teacher before the war and is responsible for managing her daughter's Twitter account. After al-Abed watched one of the "Harry Potter" movies, her mother tweeted at J.K Rowling, informing her of the girl's desire to read the series.
Rowling responded by sending the young author-to-be the "Harry Potter" eBook series. Al-Abed tweeted a thank-you video as well as pictures of herself reading the series on a cell phone to her younger brothers, Noor and Mohammed.
"Harry Potter" can be interpreted as a story about war and division, in which Potter fights to end the influence of the violent Lord Voldemort. The series, and its lessons, have come to define an entire generation of readers, so it's not surprising that al-Abed would find a connection with its characters.
But while Potter faced a fictional fight, al-Abed's traumas are real ― and they aren't going away anytime soon. She's been called the face and voice of Aleppo, bringing humanity to destruction.
"Recalling iconic young heroines such as Malala Yousafzai, Bana's experiences and message transcend the headlines and pierce through the political noise and debates to remind us of the human cost of war and displacement," Christine Pride, a senior editor for Simon & Schuster, told EW.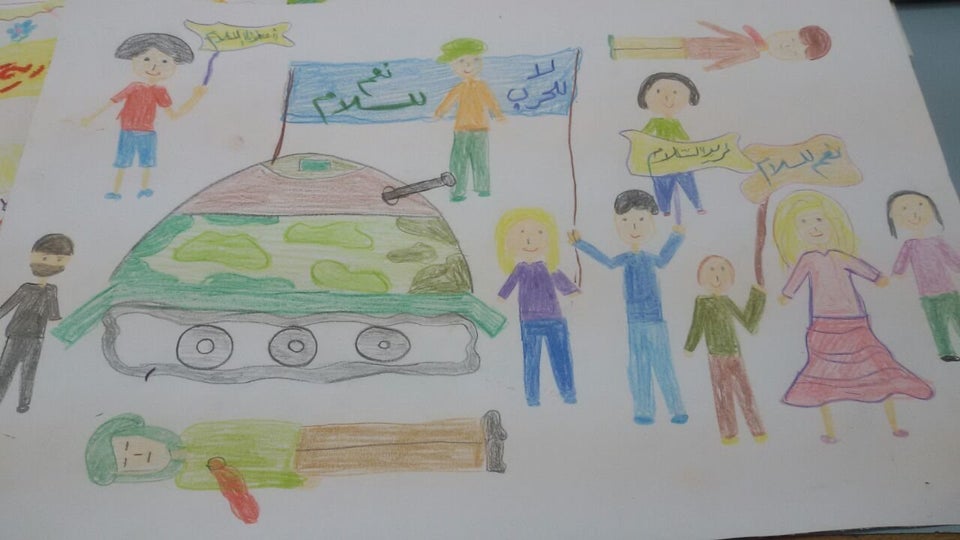 Syria's Children Draw Messages For Peace