You can save $193 a night on your next vacation to Miami Beach by simply traveling in September instead of March. It's that easy!
Hotel search trivago.com analyzed the average price per night for hotels in 70 of the world's most popular cities over the past year and found that strategically scheduling your getaways can save you hundreds of dollars.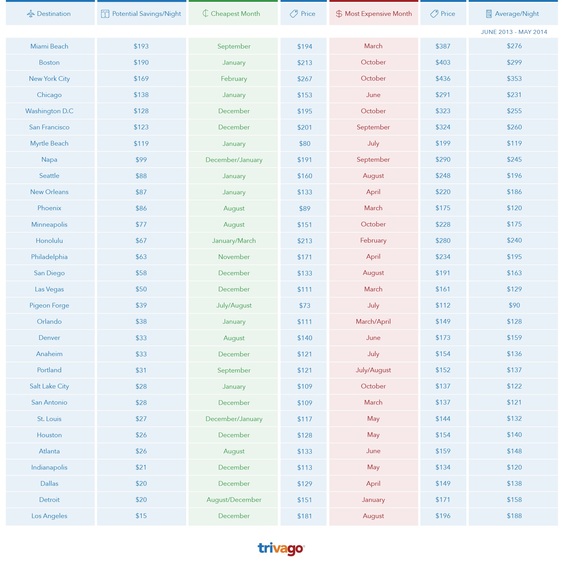 Of the 30 U.S. cities analyzed above (click here to enlarge), Miami Beach is the destination with the most savings potential. For example: Taking a 7 day/6 night trip to Miami Beach in September verses March can save travelers $1,158 per week. Why so cheap? Fewer families are traveling as school is back in session and hurricane season runs through November in Florida, so potential for a storm exists.
Weather is a major factor in hotel price fluctuation in the U.S. Travelers willing to brave chilly winters can save hundreds by visiting Boston, NYC and Chicago in January/February, while those willing to endure the heat can save hundreds by going to New Orleans, Phoenix and Las Vegas in July/August.
To help you save money no matter where your travels take you, trivago has created Travel Advice Calendars (seen below) for 46 of the world's most popular destinations - breaking down the cheapest and most expensive months to visit.

To start planning your next vacation on the cheap, download/view the calendars HERE.
Connect with trivago on Twitter: @trivago